Worst Hockey Injuries – What Was The Most Scary Hockey Injury?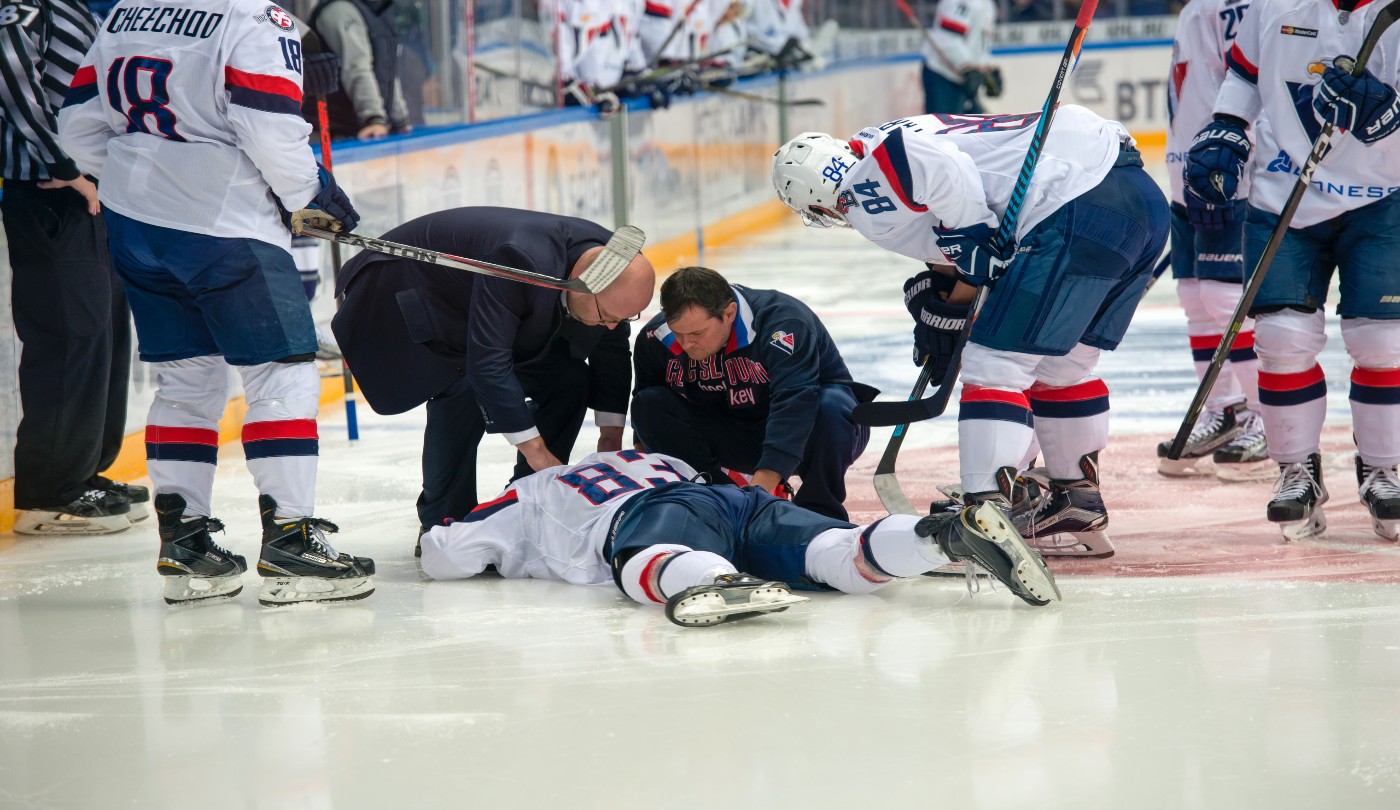 15 minutes
Last Updated: October 27, 2023
Some of the worst hockey injuries ever have happened on NHL ice. Unfortunately, injuries are a big and integral part of professional sports. Even when humans aren't competing, like in the Kentucky Derby, injuries can happen.
So what are the worst NHL injuries of all time? As this list suggests, we've been robbed of a lot of talent due to unforeseen circumstances. So let's run them down. These are the worst hockey injuries to date.
Worst Hockey Injuries of All Time
Hockey in general is a very dangerous physical sport, especially at the professional level. Whoever thought it was a good idea for grown men to speed at each other on slippery ice with sharp blades attached to their feet, should have probably reconsidered.
Players can get just about any kind of injury. But what we tend to see the most are lower body fractions in the legs, feet, and ankles. Then there are the upper body alignments, which usually affect hands, shoulders, arms, and of course the head. Similarly to NFL running backs, concussions remain a very big problem in the sport of hockey.
What is the most gruesome injury in NHL history?
The most gruesome hockey injury ever sustained has to be the one Clint Malarchuk suffered in 1989. Not only was it a severe and life-threatening predicament, but it also affected him for the rest of his life.
01. Clint Malarchuk Injury – Hockey Accident Throat Cut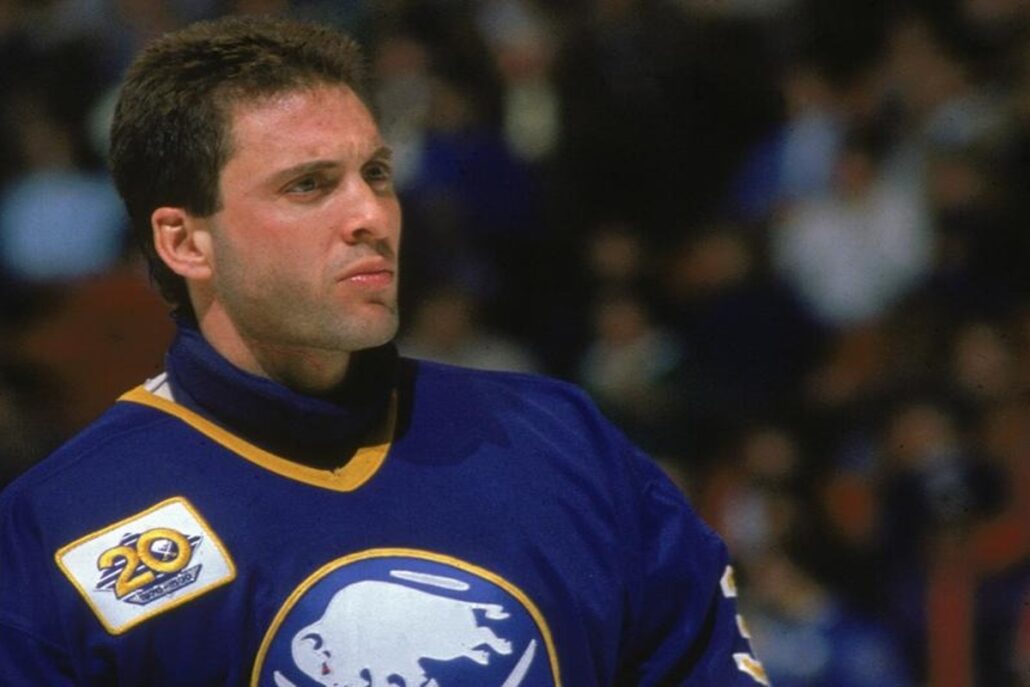 On March 22, 1989, one of the worst hockey injuries ever would occur on national television. The horrifying incident unfolded during an NHL game broadcast between the Buffalo Sabres and the St. Louis Blues.
This event forever etched Clint Malarchuk's name in hockey history, for better or for worse. In a collision between the Blues' Steve Tuttle and Sabres' Uwe Krupp in the goal crease, Tuttle's skate blade struck the right front side of Malarchuk's neck.
Malarchuk, who was the Sabres' goalie, had his carotid artery severed and partially cut his jugular vein. The result was a gory scene. With blood pouring onto the ice, shocking players, and fans, and even causing some to faint and have heart attacks.
Remarkably, Malarchuk managed to survive and leave the ice amidst one of the worst NHL injuries ever. Thanks to a rapid response by the Sabres' athletic trainer, Jim Pizzutelli, who was a former US Army combat medic with experience in Vietnam. Pizzutelli's quick and decisive actions saved Malarchuk's life.
He rushed onto the bloody ice, applying pressure to the wound, pinching off the vein, and stabilizing the injury until medical professionals arrived. The game was halted temporarily, resuming only after receiving news of Malarchuk's stable condition.
In the hospital, Malarchuk underwent surgery, requiring 300 stitches to close the 6-inch wound. Astonishingly, he lost 1.5 liters of blood but remarkably returned to the ice just ten days later. Which is unheard of in competitive sports, especially considering the severity of the worst NFL injuries sustained.
This near-death experience deeply affected Malarchuk, as he suffered from PTSD and OCD for the rest of his life. This led to him becoming an alcoholic and even attempting a suicide attempt where he survived a self-inflicted gunshot wound to the head.
Top 10 Worst Hockey Injuries
02. Bill Masterton Injury – Hockey Player Who Died on Ice
William Masterton better known as Bill Masterterton, is the first and only player in NHL history to die directly due to injuries sustained during a game. This Canadian-American professional ice hockey center, tragically had his life cut short prematurely on January 13, 1968.
During a game between the Minnesota North Stars and the Oakland Seals, in the first period of the match, Masterton suffered a severe internal brain injury. After a collision with Seals' defensemen Larry Cahan and Ron Harris, Masterton started bleeding from his nose, ears, and mouth after hitting his head on the ice.
According to reports, the force of the impact caused Masterton to lose consciousness before he even hit the ice. Others also suggest that in those brief moments of consciousness, he uttered the words, "Never again, never again," leaving a chilling memory of his final moments on the ice.
In what would go down as one of the worst NHL injuries ever, Masterton immediately slipped into a state of coma. Despite immediate medical attention, including treatment on the ice and in the dressing room, he never regained consciousness and tragically passed away 30 hours after the hit.
His death shook the hockey community, sparking a significant debate about player safety, particularly the use of helmets. At that time, most players, including Masterton, did not wear helmets. The incident highlighted the urgent need for better protection for players during games.
In response to this tragedy, the NHL instituted the Bill Masterton Memorial Trophy in 1968. With it they annually award a player who demonstrates exceptional dedication to the sport of hockey. While it lowered the frequency of the highest scoring NHL games, it took the NHL 11 more years before helmets became mandatory for all new players starting from the 1979–80 season.
03. Steve Moore Vertebrae Injury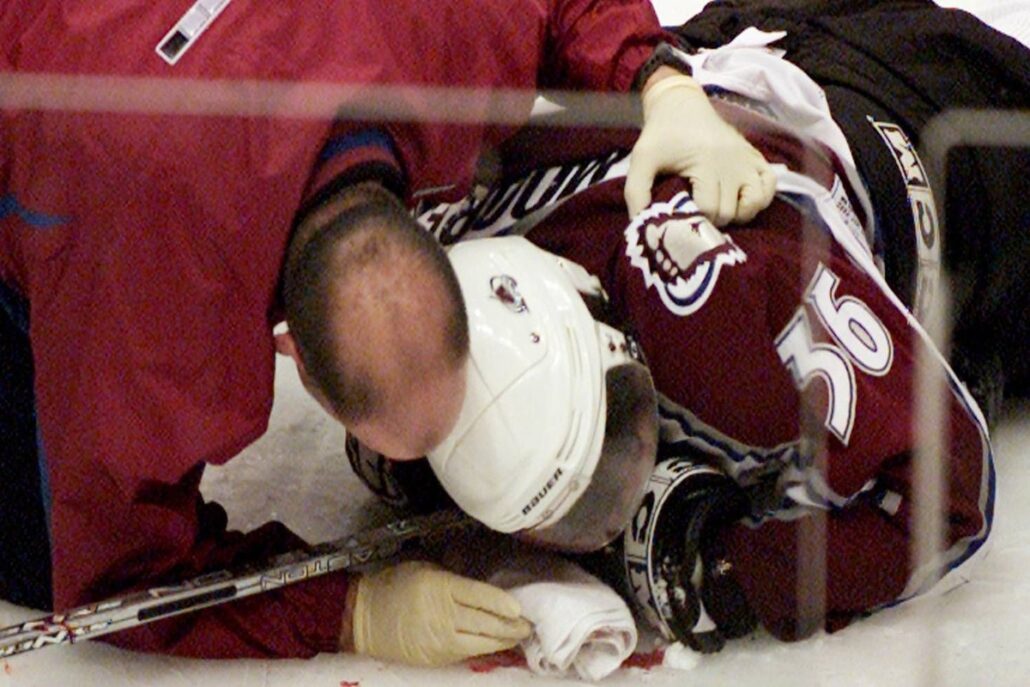 One of the worst NHL injuries to show up on the NHL injury report happened on February 16, 2004. The infamous incident that unfolded would forever mark the careers of both Todd Bertuzzi and Steve Moore.
Moore, a Canadian former professional ice hockey center for the Colorado Avalanche, became the victim of a brutal and deliberate on-ice attack by Bertuzzi. The incident occurred in retaliation to a game in which Moore allegedly targeted Canucks' captain Markus Naslund. Seeking retribution, Vancouver Canucks forward Bertuzzi, started instigating a confrontation from the get-go. After failing to initiate a fight with Moore, he sucker-punched him from behind and drove his face into the ice.
Two other players quickly joined in the onslaught as Moore laid motionless on the ice for ten minutes, eventually needing to be carried off on a stretcher. The consequences were devastating for Moore, as the attack resulted in three fractured neck vertebrae, facial cuts, and a concussion. This effectively ended his NHL career.
On the other side, Bertuzzi faced severe consequences from all directions. He was suspended by the league and International Hockey Federation for the rest of the competitive year. Criminal charges and a civil lawsuit were quick to follow, as the entire ordeal escalated in mainstream media.
Moore's injuries were significant and had a profound impact on his life. He wore a neck brace for a year and underwent physical therapy to address his neck injury and concussion. The incident had broader repercussions as well, as it ended his promising NHL career in his rookie season.
Moore wasn't one of the youngest NHL players at the time, but he still had a promising career ahead. The legal battle that ensued over a decade, finally concluded in the summer of 2014 when both parties agreed on a settlement.
04. Bryan Berard Eye Injury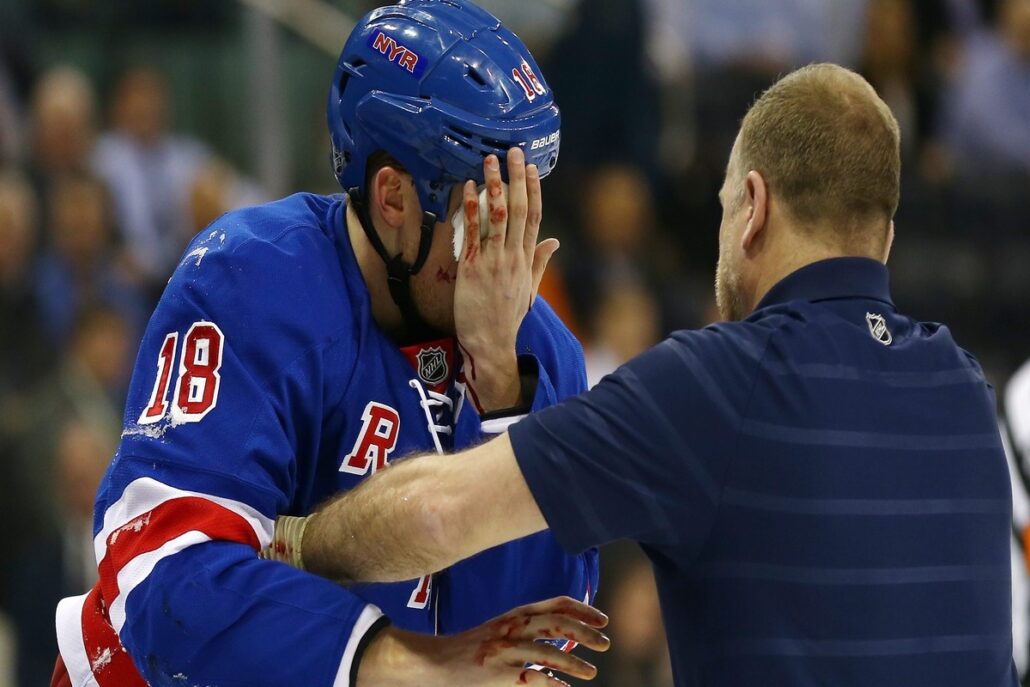 On March 11, 2000, Bryan Berard got the short end of the stick when he suffered one of the worst hockey injuries imaginable. During a fierce matchup between the Maple Leafs and the Senators in the battle of Ontario, defenseman Bryan Berard's life changed forever.
In an unpleasant turn of events, Berard was struck in the right eye by the stick of Ottawa's Marian Hossa. Berard immediately dropped to the ground, with blood spilling onto the ice. The chaos not only signaled the end of the game but potentially the end of his career.
It was later revealed that Berard had suffered a retinal tear and a detached retina in his eye, as a consequence of a fractured orbital bone and a cut cornea. The severity of the injury not only jeopardized his hockey career but also raised fears that he might lose his eye altogether.
At 33 years old, Bryan Berard wasn't among the oldest NHL players. But the outlook of continuing his career looked bleak. In the hospital, even after being told he might lose his eye, he defiantly expressed his resolve to play hockey again.
It took seven eye surgeries to salvage his vision and, in turn, his life and career. But throughout his recovery, Berard maintained his passion for the game and was determined to return to the ice.
After missing the entire 2000-01 season, Berard forwent the $6.5 million settlement he received from his insurance company. Berard's resilience paid off when he was fitted with special contact lenses that enabled him to meet the NHL's minimum vision requirement of 20/400.
This paved the way for his return to the NHL and the sport he loved, finishing his competitive play in Europe in 2009.
05. Richard Zednik Injury – Worst Hockey Injuries Throat
One of the worst hockey injuries to ever take place in an NHL match happened on February 10, 2008. Slovak ice hockey winger Richard Zedník was on the receiving end of destiny during a game between the Florida Panthers and the Buffalo Sabres.
Zedník, who had established himself as a consistent performer during his 15-year career in the National Hockey League (NHL) for multiple teams, faced a life-threatening situation when his teammate Olli Jokinen accidentally injured his neck with a skate blade, severing his carotid artery.
On a play during the game, Jokinen fell to the ice after being knocked down by Sabre' Clarke MacArthur. As he fell, his skate came up and cut Zedník's throat, slashing his carotid artery and narrowly missing his jugular vein.
As the highly pressurized blood vessel carrying oxygen to his brain started spritzing all over the ice, Zednik had the presence of mind to rush to the Panthers bench. There, an immediate response from the medical team and paramedics, stabilized Zedník while controlling the loss of blood.
Despite losing a significant amount of blood, 2,3 liters to be exact, Zedník displayed alertness and responsiveness treatment during his state of shock. Zedník's injury led to a 20-minute delay in the game. During this he was rushed to the hospital, where emergency surgery was performed to repair the artery.
By the end of the game, it was announced that Zednik was in stable condition. But while the doctors at Buffalo General Hospital managed to save his life, they advised against his return on the ice. This forced Richard Zednik to miss the remainder of the 2007-08 NHL season.
After a week in the ICU, he was released and he spent the last 3 years of his career playing in Europe.
06. Trent McCleary Throat Injury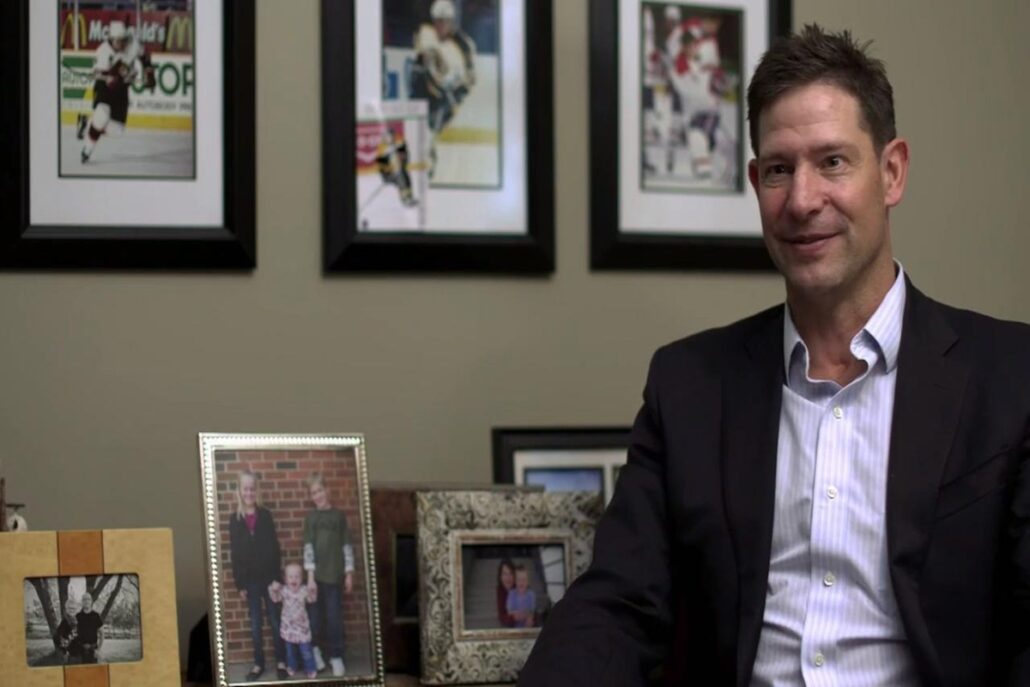 Trent McCleary, a Canadian professional ice hockey player, had his promising NHL career abruptly halted due to one of the worst NHL injuries in recent history. In a game between the Montreal Canadiens and the Philadelphia Flyers on January 29, 2000, McCleary went for a defensive play that would forever alter his life.
While trying to block a powerful slapshot by Chris Therien, McCleary received a direct hit to the throat. The impact caused a fractured larynx and a collapsed lung, dropping him to the ice and leaving him unable to breathe.
The severity of McCleary's injury quickly became apparent to everyone in the building, as medical staff from both teams quickly rushed to the spot where he collapsed. They managed to partially open his airway in the hallways of Molson Centre and he was rushed to the hospital in a life-threatening condition.
There he would undergo an emergency tracheotomy, while in his skates and full hockey gear. McCleary's surgeon would later note the tight rope that Trent had walked saying, he had come "as close … as you could come to dying".
It took multiple surgeries in the span of 6 weeks to help McCleary regain his ability to speak. In the meantime, he was communicating with the press and his teammates using notepads. Even in the hospital, Trent made his desire to the field clear, something that would not be possible.
The Canadiens signed him to a one-year $300,000 contract but after finding out he was unable to play a full shift without running short of breath in an exhibition match, he officially retired.
After further examination by doctors, it was confirmed that the impact and subsequent procedures had narrowed his air passage by 15 %, making it too dangerous for him to partake in physical activity.
07. Kurtis Foster Femur Injury
Nearly all of the best NFL tight ends have suffered severe leg injuries. But what happened to Kurtis Foster on March 20, 2008, has to be one of the worst hockey injuries ever. The Minnesota Wild defender suffered a horrifying injury during a game against the San Jose Sharks.
While trying to prevent an icing call, Foster raced behind his own net before colliding with Torrey Mitchell, a center for the Sharks. The impact happened just after Kurtis touched the puck, sending him flying into the boards due to the momentum.
It was one of the nastiest NHL injuries to date, resulting in a broken left femur that would sideline him for more than a year. Foster's kneecap bore the brunt of the hit, and as he recollects, his leg wasn't moving even though he thought he could.
The severity of his condition became apparent in the hospital, where he would undergo a 9 hour long surgery. During the procedure, doctors implanted a rod, wires, and screws in his leg, in order to stabilize his shattered bone.
Following his surgery, Foster spent the next year going through an extensive and challenging recovery process. He spent multiple hours each day in a specialized machine designed to restore flexibility and movement to his knee.
Despite the medical interventions and his efforts, significant swelling persisted, alongside pain, bruising, tenderness to touch, and visible deformity. Although these are common symptoms in high-energy collision injuries like the one Foster suffered, extensive home care was also needed.
5 months later, Kurtis returned to the Minnesota Wild lineup for the final 10 games of the 2009 NHL season, before becoming a free agent. He would go on to play for another 7 teams in 4 years before finishing his career in Europe.
08. Borje Salming Face Injury
Like many entries on this worst hockey injuries list, Swedish hockey legend Borje Salming finds himself on it due to a face injury. Namely, in a gruesome incident during a 1986 game against the Detroit Red Wings, Salming sustained an injury that would forever reshape his appearance. Salming was a renowned defender, who found himself on the wrong side of Gerard Gallant skate blade. In an unfortunate twist of events, Borje was lying in front of the goal when the opposing team player, accidentally stepped on his face.
The impact resulted in a sharp and long laceration on Salming's face, that required immediate medical attention. After extensive facial surgery and an estimated 250 stitches to close the wound, Salming's face would still be slightly dented.
Despite the excruciating pain and the traumatic nature of the incident, Salming was back on the ice practicing with his team just three days after the injury. This further proved the resilience and determination hockey fans have grown accustomed to during his illustrious career.
Spanning over 23 seasons, he played professionally for multiple teams, most notably with the Maple Leafs, where he spent an impressive 16 seasons. During his tenure with the Maple Leafs, Salming's contributions earned him several accolades and records.
"The King" played a pivotal role in breaking barriers as one of the first European players to leave an indelible mark in the National Hockey League (NHL). And if you thought that one of the worst hockey injuries ever would keep him grounded, you had another thing coming. This legend was more influential to the sport of hockey than Tom Brady's first SuperBowl ring.
09. Ted Green Skull Injury
As we already mentioned, helmets weren't still a thing back in the late 1960's. So when Ted Green and Wayne Maki got into a swinging match, fans got a chance to witness one of the worst NFL injuries in history.
During a 1969 exhibition game, Boston Bruins enforcer Ted Green got into an altercation with St. Louis Blues forward Wayne Maki. Things escalated quickly as Maki struck Green on the head.
The impact was so severe that it resulted in Green suffering a fractured skull and brain damage. This left him paralyzed and with a metal plate inside his head. This incident occurred after Green's stellar 1969 season. During this he was recognized with a spot on the Second All-Star Team.
The aftermath of the incident cast a big shadow over the NHL. Both Green and Maki faced assault charges. This marked the first instance in NHL history where players were held accountable for on-ice violence.
The NHL suspended Green for 13 games. And although Green couldn't officially claim the Stanley Cup that his Bruins teammates won that year. He still received a portion of the prize money and had his name engraved on the trophy.
A year later he was back on the ice and helped the Bruins claim another Stanley Cup in 1972. After which he transitioned to the World Hockey Association (WHA). There he clinched three Avco Cup Championships, establishing himself as a force to be reckoned with in the hockey world. He served as a head coach with the Edmonton Oilers. Also held assistant coaching positions with both the Oilers and the New York Rangers.
10. Vladimir Konstantinov's Spinal Cord Injury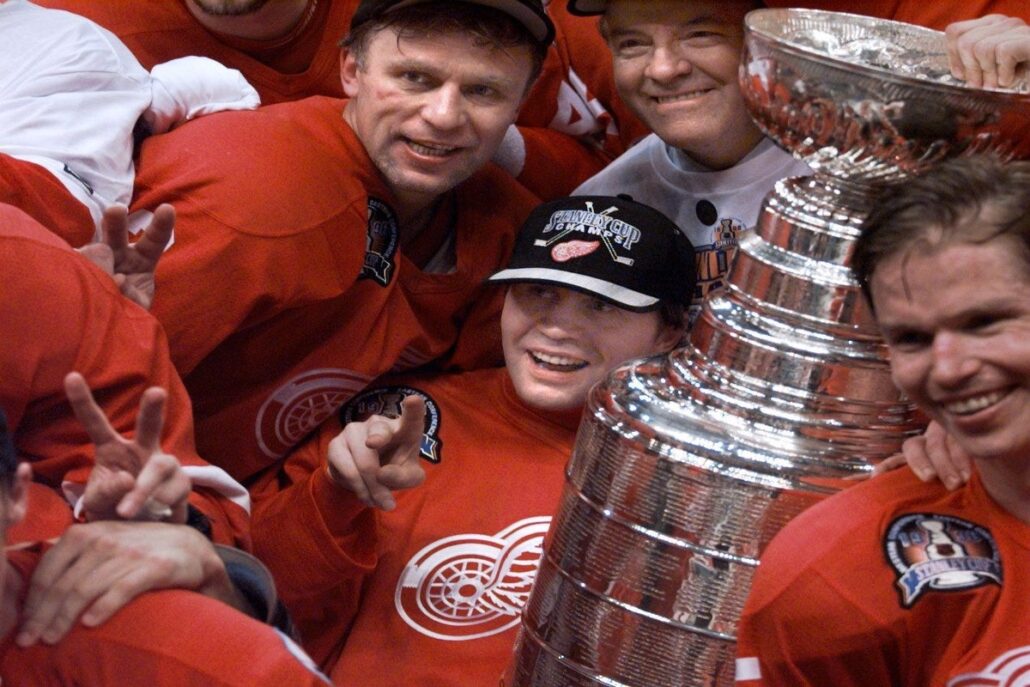 And at last, we have one of the most impactful injuries in NHL history, that didn't take place on the ice. Vladimir Nikolaevich Konstantinov is a Russian professional ice hockey player who etched his legacy in the NHL with the Detroit Red Wings.
After defecting from the Soviet Union with help from the Red Wings owner, Konstantinov played for the team from 1991 to 1997. His journey, however, took a tragic turn in June 1997 following the Red Wings' Stanley Cup victory.
While traveling back from a golf getaway with fellow hockey legend Viacheslav Fetisov and team masseur Sergei Mnatsakanov, tragedy struck. They hired a limousine to drive them home. Which was unfortunately chauffeured by Richard Gnida, who had a history of drunk driving.
According to reports, Gnida lost control of the limousine and crashed into a tree on Woodward Avenue in Birmingham, Michigan. All passengers suffered severe injuries with Konstantinov ended up in a coma.
Both Konstantinov and Mnatsakanov suffered significant head injuries and spent time in a coma. Meanwhile, Fetisov sustained relatively minor injuries, allowing him to resume his career the following season.
Due to the injuries sustained, Vladimir was permanently paralyzed after coming out of the coma. Despite not playing at all during the 1998 NHL season, the Red Wings continued to honor Konstantinov as an integral part of their team.
After they successfully defended the Stanley Cup in 1998, Konstantinov was wheeled onto the ice in a wheelchair to celebrate the victory surrounded by his teammates. Throughout the playoffs, the team wore a patch with the word "Believe" in both English and Russian alongside the initials of Konstantinov and Mnatsakanov to show support.