Worst NFL Injuries – Who Had The Biggest Injury in NFL?
13 minutes
Last Updated: October 10, 2023
Some of the worst NFL injuries ever have happened during Monday Night Football. Call it cursed or whatever you want. But this means that millions of fans have witnessed horrific scenes on nationally broadcasted games.
So now, we're rewinding to some of those gruesome moments. Even during this 2023 NFL season, we have seen some notable contributors get sidelined due to an injury.
If the Taylor Swift mania or Miami hanging 70 on the Broncos in one of the highest scoring NFL games ever hasn't gotten you to tune into this NFL season, just know you are missing out.
Worst NFL Injuries of All time
The worst injury in NFL history is one that remains etched in the collective memory of many sports enthusiasts. It was an incident so gruesome that it's still remembered vividly even after three decades. In that fateful Monday night football game between the Washington Redskins and the New York Giants in 1985, Joe Theismann's NFL career would come to an end.
0.1 Joe Theismann Leg Injury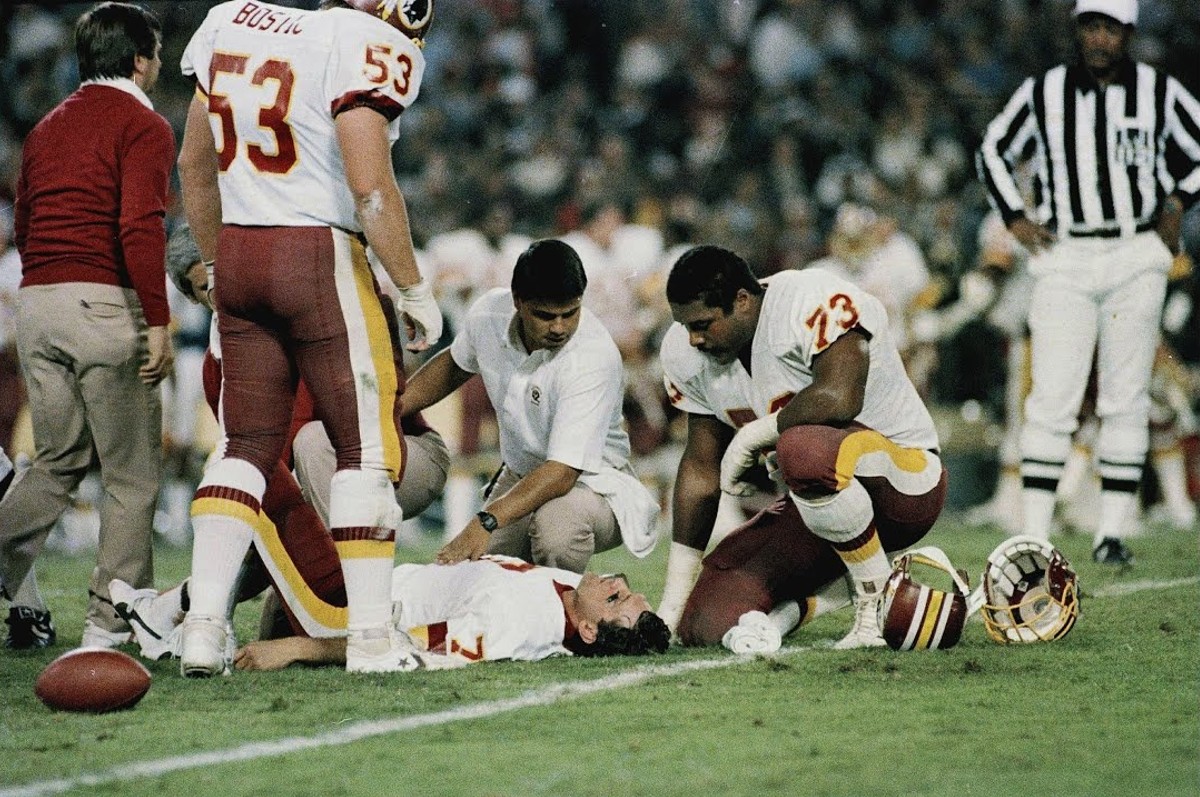 Joe Theismann's leg injury has to be at the top of the worst NFL injuries ever. With 12 seasons under his belt, this Washington Redskins quarterback was heading into a heated division rivalry game on national television with playoff implications.
Despite previously leading his team to a glorious Super Bowl victory in 1983, the 1985 season had been unkind to him. Troubled by a drastic decline in performance with so much pressure on the line, Theismann found himself facing the barrel of destiny on that ill-fated night of November 18, 1985. 
Lawrence Taylor, the greatest NFL linebacker ever and the most menacing pass rusher of his generation, lined up on the opposite side with Theismann in his crosshairs. When Theismann attempted a daring flea flicker, hoping to outmaneuver the Giants' defense in a crumbling pocket, disaster struck.
In a split second, Taylor's 243-pound frame ended on the quarterback's right leg, which buckled under the immense pressure. In what would Theismann describe as, the sound of snapping breadsticks. Although the adrenaline made sure Theismann couldn't feel anything below his knee, everyone in the USA could see what just happened.
Theismann's leg suffered a comminuted compound fracture, a ghastly injury in which his broken tibia and fibula protruded grotesquely through his skin. Unknowingly what had just occurred, the nationally televised ABC Monday Night Football broadcast showed 2 replays of the ordeal.
This made sure that millions of fans never forgot this moment when Joe Theismann's NFL career ended. Despite multiple procedures, Theismann's right leg was left shorter than his left. 
And this makes it stand out from the worst NFL injuries of all time, not just for its severity, but also for its long-lasting impact.
Top 10 Worst NFL Injuries in History
These are some of the worst injuries in NFL history, many of which have turned out to be career ending. The good part is that most of these players managed to survive the ordeal, even if it meant suffering permanent consequences.
42 years ago this evening…Raiders safety Jack Tatum delivered a catastrophic hit on Patriots WR Darryl Stingley during a preseason game in Oakland. Stingley would never walk again.

Without question, one of pro football's darkest hours. pic.twitter.com/RgRGufNx5n

— Kevin Gallagher (@KevG163) August 12, 2020
0.2 Darryl Stingley Injury (1978)
In one of the worst NFL injuries ever, few incidents are as tragic and impactful as the one involving New England Patriots wide receiver Darryl Stingley. The devastating hit not only altered Stingley's life forever but also played a significant role in shaping the rules and regulations of the NFL that we see today.
During a preseason game against the Oakland Raiders at Oakland Coliseum on August 12, 1978, Stingley found himself on the receiving end of a devastating hit from Raiders defensive back Jack Tatum. While Stingley was trying to catch a high throw, he stretched out for the ball just as Tatum lunged toward him with full force. 
Despite the hit being totally legal back then with a helmet to Stingley's shoulder rather than his head or neck, the consequences were catastrophic. The force of the hit compressed Stingley's spinal cord and caused fractures in his fourth and fifth cervical vertebrae, rendering him motionless on the field. 
In a cruel twist of destiny, instead of signing an extension to become the highest paid NFL player at his position in the league after the road trip ended, Stingley was left paralyzed below his neck for the rest of his life. 
Stingley died in 2007 due to complications of the quadriplegia he sustained, with Tatum never apologizing or speaking with him on the matter. The vicious hit marked the end of his football career and, more significantly, altered the course of his entire life.
This prompted the NFL to take immediate action to make the game a lot safer. On the other side, the NFL Players Association made a significant contribution to ensure the Patriots covered Stingley's living expenses and his children's education.
0.3 Johnny Knox Injury (2011)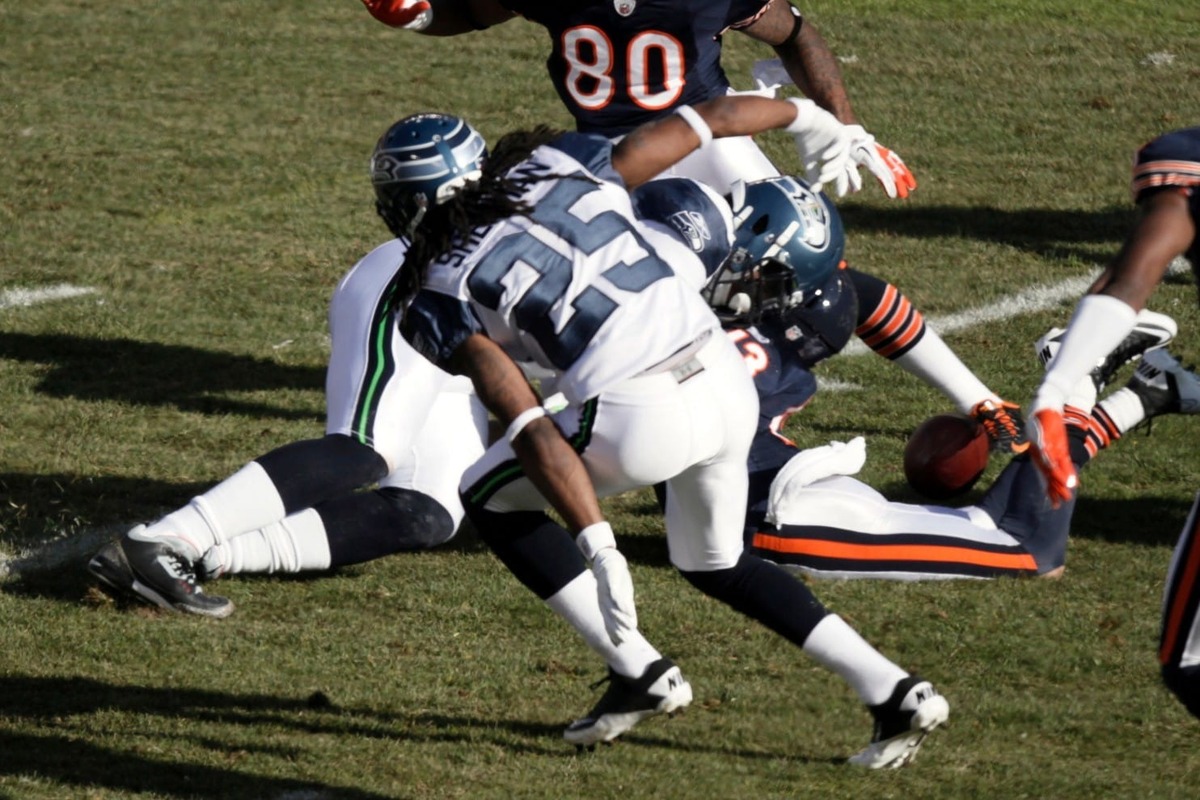 Similarly to Stingley, a ferocious tackle on a seemingly routine play led to the premature end of a promising career. Such was the case for Johnny Knox, a wide receiver for the Chicago Bears drafted in the fifth round of the 2009 NFL draft.
On December 18, 2011, just four minutes into a late-season game against the Seattle Seahawks, Knox caught a pass over the middle from quarterback Caleb Hanie. The play seemed ordinary until Seahawks safety Kam Chancellor knocked the ball loose, prompting Knox to dive in an attempt to recover the fumble.
In a split second, Knox's path intersected with that of Anthony Hargrove, a 6-foot-3, 272-pound defensive end from the Seahawks, both players desperately reaching for the loose ball.
The head-on collision caused Knox's back to be horrifically bent, almost touching his rear end. Replays captured the grim moment, revealing the extent of the damage. He suffered multiple vertebrae fractures and nerve damage, necessitating immediate spinal-fusion surgery. 
Despite maintaining sensation in all limbs following the incident, Knox's NFL career was inevitably cut short. Sustaining one of the worst NFL injuries ever robbed Knox of his exceptional speed and route running ability that endeared him to Bears fans.
To this day, Knox walks with a limp and is unable to stand without discomfort. This is despite 
extensive rehabilitation efforts alongside the Bears' medical staff which helped him in the following 1,5 years he spent on the team's PUP (physically unable-to-perform) list. 
0.4 Napoleon McCallum Injury (1994)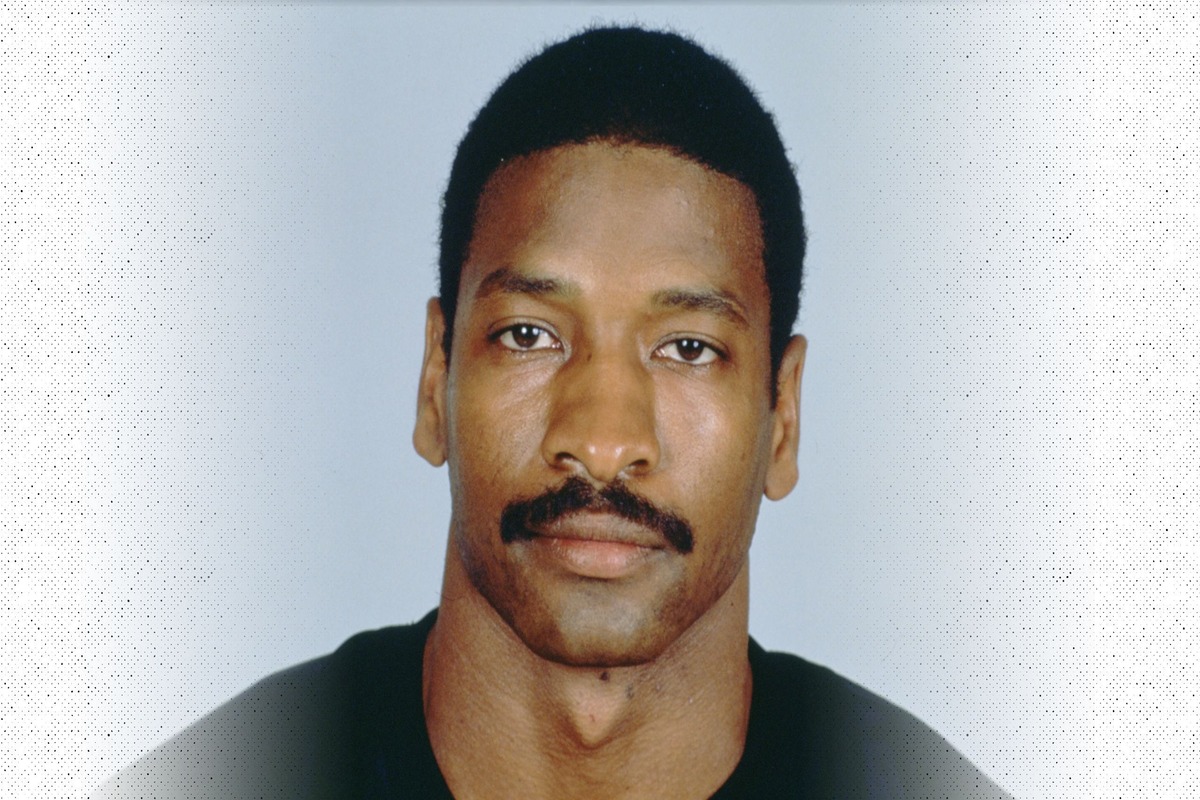 Monday Night Football seems to be a common setting for some of the worst NFL injuries ever. Back in 1994, the victim was Napoleon McCallum, a talented running back for the Oakland Raiders. In that Silicon Valley derby, his promising NFL career came to an abrupt end during a nationally televised game against the San Francisco 49ers.
On September 5, 1994, a night meant to mark the beginning of a new NFL season for the Raiders, McCallum would have his life forever changed. With 49ers linebacker Ken Norton Jr going for a routine tackle McCallum's football dreams would be shattered in the most gruesome manner.
As Norton pulled him downward, McCallum's leg hyperextended, with millions of eyeballs across the country witnessing the horror. McCallum's left knee suffered a complete hyperextension, contorting almost to a right angle.
The impact ruptured an artery in his knee, tore three ligaments, and mercilessly ripped the calf and hamstring muscles from the bone. To compound the agony, McCallum endured nerve damage in his knee, further complicating the already dire situation.
It took 6 surgeries to fix McCallum's leg, which completely neutered his optimism of ever returning to the game he loved.  In fact, if the surgeries hadn't been successful, he would've probably had his leg amputated. Doctors reportedly told him that they rarely see that much damage apart from horrific car accidents.
While Napoleon McCallum didn't become one of the best NFL running backs ever, he at least had a semi-productive career. Suffering one of the worst injuries in NFL history is a tough break, but at least he fulfilled his dreams and duty in the NFL and Navy.
Remember former Steelers RB Destry Wright pic.twitter.com/jafFknZQp9

— SteelerNation (@SteeIerNation) October 19, 2017
0.5 Destry Wright Injury (2000)
There's a reason why NFL running backs rarely have careers long enough to make it on our oldest NFL players list. The nature of the position brings a huge physical toll on their bodies, making them susceptible to some of the worst NFL injuries ever.
Destry Wright's NFL journey was another tragically short-lived tale of an NFL running back.. This undrafted standout had earned a spot on the Pittsburgh Steelers roster. But his career came to a crashing halt on July 30, 2000, when he suffered a career-ending injury in a preseason game between the Steelers and the Cowboys. 
In that play, Wright not only broke his right leg but also dislocated his ankle so severely that it was pointed in the opposite direction of the healthy one. This haunting moment was immortalized with a picture that gained widespread attention and became a symbol of the brutality the NFL brings.
Following the gruesome injury, he underwent multiple surgeries in an attempt to repair the damage. But his return to the field was out of the question. Although he was officially part of the Steelers for a season, he never had the opportunity to set foot on the pitch during his short-lived career.
0.6 Alex Smith Injury (2018)
On that fateful November 18, 2018, exactly 33 years after Joe Theismann suffered the worst NFL injury ever, it was time for Alex Smith's life and career to take a drastic turn for the worse.  During a game against the Houston Texans, as he dropped back, a devastating blitz by Kareem Jackson and reigning DPOY J.J. Watt, resulted in a sack.
What the audience didn't know was that under the pile of bodies, Alex Smith's right leg suffered a catastrophic injury. Similarly to Theismann, both his tibia and fibula were broken, leading to a compound fracture.
This severe injury required a complex medical approach, including Plate and Screw Fixation, involving numerous screws to stabilize the bones. However, the complications didn't end there. Following the initial surgery, Smith contracted a flesh-eating bacterial infection, making his blood septic and full of toxins.
The infection threatened his leg to the extent that amputation seemed like the only option but even worse, his life was on the line. Remarkably, Smith not only survived the ordeal but underwent a staggering 17 surgeries to salvage his leg. 
Smith's journey toward recovery was grueling. The loss of his anterior tibialis, a crucial muscle for controlling the descent of the foot, posed significant challenges. Daily rehabilitation became his routine, as he tirelessly worked to regain strength and control over his leg.
But eventually the extensive medical intervention and Smith's relentless determination paid off. Against all odds, he made a triumphant return to the NFL in 2020, starting 6 of the 8 games he was cleared for.
Smith retired later that year, putting an end to a very productive NFL career. He might have never had a top 10 TE of all time like Brady, but he won a harder battle.
I simply cannot believe that Alex Smith came back and played actual football in the NFL 🤯 pic.twitter.com/0q6o83BRNm

— Brian Renick🎙️ (@brenick77) June 8, 2023
0.7 Dak Prescott Injury (2021)
Just hours after Alex Smith played his first NFL snap in 693 days, horror struck again. In a devastating turn of events during Week 5 on October 11, 2020, Dak Prescott, the star quarterback of the Dallas Cowboys, suffered a horrific ankle injury that instantly sidelined him for the season. 
The injury occurred as Prescott attempted to escape the pocket, only to be tackled by Giants defensive back Logan Ryan. The impact of the tackle immobilized Prescott's talocrural joint, causing a compound fracture and a dislocation of his right ankle. The severity of the injury was evident right away. Prescott's foot was seen dangling from his leg, turned at an unnatural angle, indicating a complete joint disruption.
This type of compound fracture, where the skin is broken and the bone is exposed, presents significant risks. It's an injury fraught with complications like infections and blood loss, as exemplified by Alex Smith's similar experience in 2018.
Prescott's style of play, marked by his ability to escape the pocket and create dynamic plays with his feet, was now at risk due to this injury. He had been evolving into a more strategic pocket passer each season but retained the agility that made him a standout player. His knack for keeping plays alive, even after the pocket collapses, was a crucial aspect of his MVP-worthy performances. However, with the loss of explosiveness in his right ankle, these attributes could suffer, impacting his overall performance on the field.
While Cowboys' fans were hoping Dak could become the youngest QB to win a Super Bowl, behind their terrific O Line and running back Ezekiel Elliott, suffering one of the worst NFL injuries of all time certainly derailed their championship expectations.
Worst NFL Injuries 2022
Without a doubt, the worst NFL injury that shook the league during the 2022 NFL season was Damar Hamlin's cardiac arrest. It's not rare to see NFL players get carted off the field. But it's not often to see it happen due to heart failure as well.
Damar Hamlin Injury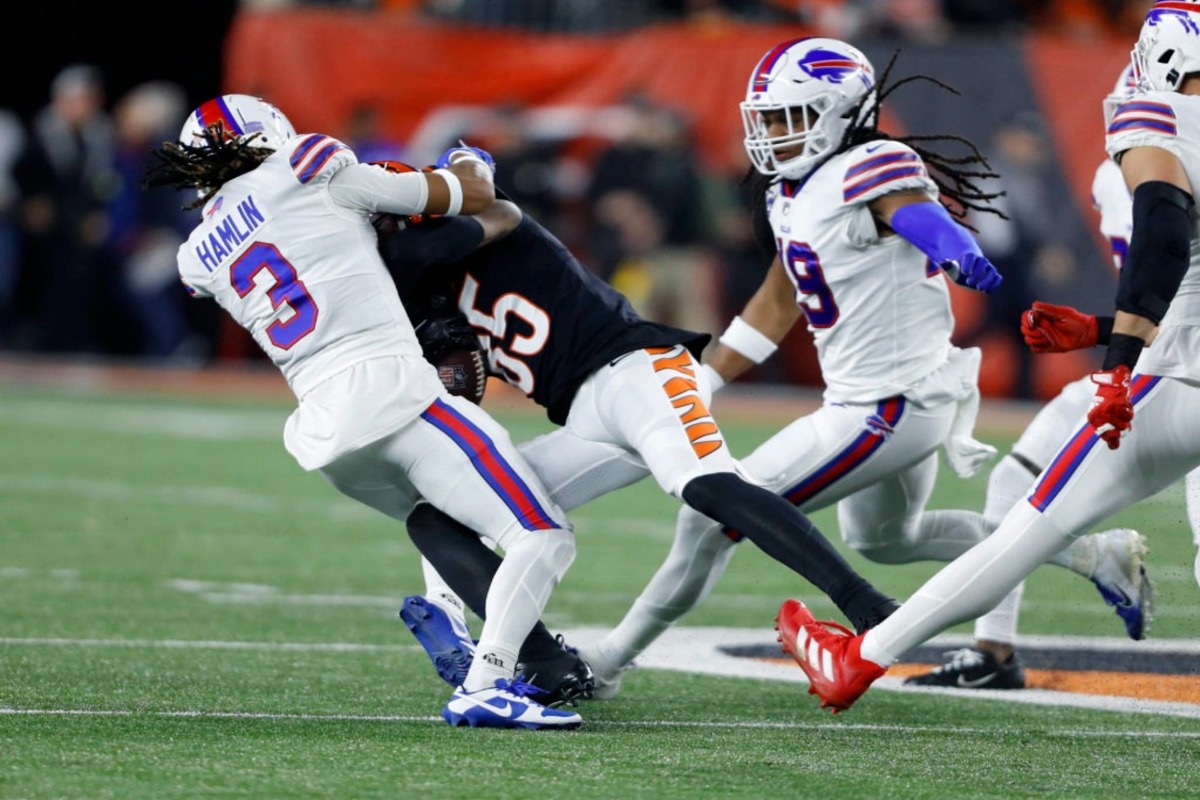 Monday Night Football set the stage for another tragic accident that shook the NFL.  Buffalo Bills safety Damar Hamlin recently made a triumphant return to the football field after a near-death experience the prior season.
In January 2023, Hamlin suffered a cardiac arrest during a game in Cincinnati, where he collapsed on the field and needed to be resuscitated. This was a terrifying moment for everyone involved but his journey back is a testament to his resilience and determination.
During the Week 17 game against the Cincinnati Bengals, Hamlin attempted to tackle Bengals wide receiver Tee Higgins. After a successful routine play, Hamlin took 2 steps forward before collapsing on the field.
Investigations later showed that Higgins' right shoulder struck Hamlin's chest, causing a cardiac arrest that rendered Hamlin unconscious on the field. First responders, including team trainers and paramedics, rushed to his aid immediately, initiating CPR, automated external defibrillation (AED), and other crucial treatments. 
It was later revealed that Hamlin suffered from commotio cordis, an exceedingly rare condition where a blow to the chest disrupts the heart's electrical cycle, leading to cardiac rhythm disturbances. Thanks to the swift reaction of the medical team, Damar Hamlin is still among us today. Considering the condition is 97% fatal if not addressed within three minutes.
Due to the nature of the injury on a nationally televised game, many NFL fans felt emotionally invested in his return. Some would even say that it's a more important moment than Tom Brady's first Super Bowl win. Regardless, suffering one of the worst NFL injuries ever and recovering within a year deserves a lot of praise.
Worst NFL Injuries 2023
During the 2023 NFL season, throughout 5 weeks, there have been many injuries to notable players. One of them is Cleveland Browns running back Nick Chubb, who suffered a terrifying knee injury.
Nick Chubb Injury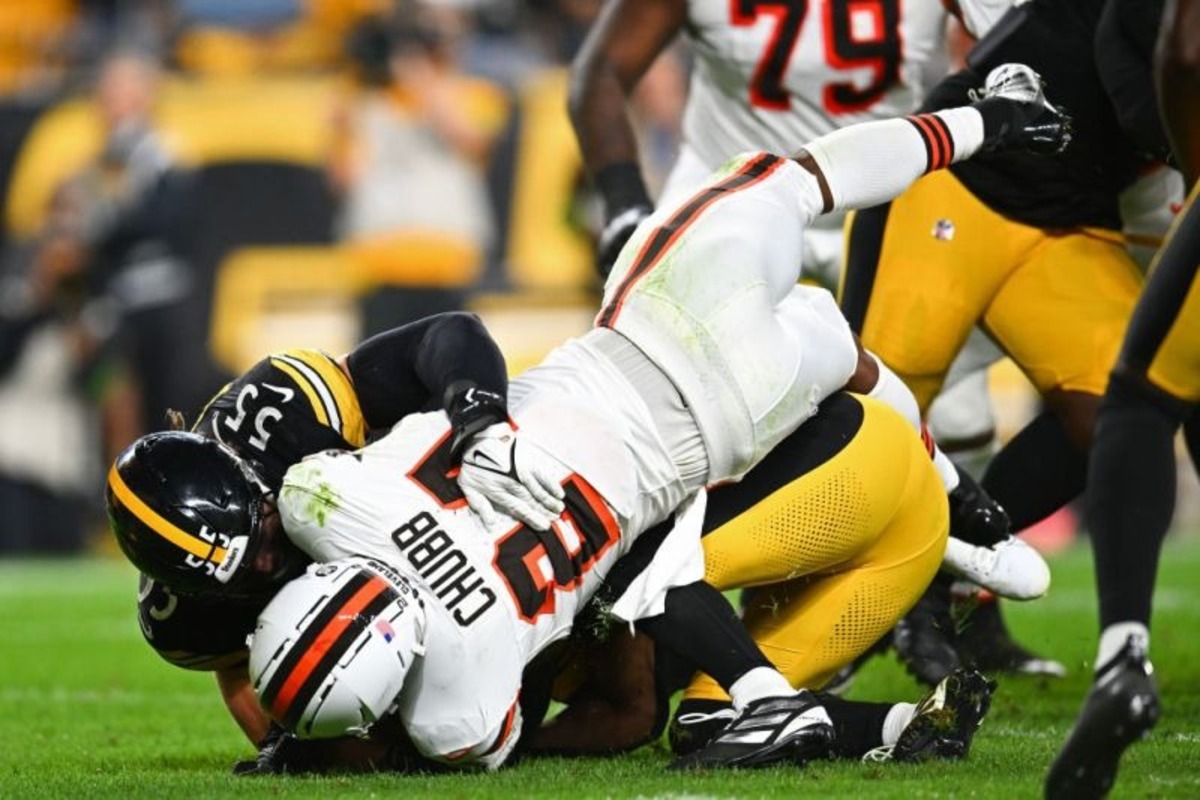 And as always, Monday Night Football delivers the shivers once again. Nick Chubb, the beloved Cleveland Browns running back, who has been the heart and soul of the team for half a decade, suffered a devastating injury in a week 2 game against the Pittsburgh Steelers.
The 27-year-old, with 4 Pro Bowl nods under his belt, suffered a gut-wrenching injury in the second quarter, ending his sixth NFL season prematurely. Steelers safety Minkah Fitzpatrick delivered a low tackle that caused Chubb's left knee to buckle underneath him, resulting in a major injury similar to that of Napoleon McCallum.
This incident brought back haunting memories for Chubb, who had previously endured a significant knee injury in 2015 during his college years at Georgia, involving a dislocation and three torn ligaments. The sight of Chubb writhing in pain on the field was difficult for everyone to witness, and ESPN chose not to replay the distressing moment.
The initial tests revealed that Chubb had torn his left MCL, and while his ACL was stretched, doctors did not believe it was torn. Surgery was on the horizon, with hopes that further damage wouldn't be discovered. Chubb's recovery timeline was estimated to be six to eight months.
While Chubb's absence is a big loss for both fans and teammates, it's great to hear that he'll be back on the pitch soon. Being one of the fastest NFL players at that size and position requires a lot of effort. But knowing how hardworking Nick Chubb has been throughout his entire career, we're sure he'll give it all.