Tom Brady First Super Bowl Win – When He Won The First Title?
Tom Brady's first Super Bowl win is the story of legends. Just like many entering the depths of NFL live betting, he was facing a juggernaut in front of him. But thanks to some fortune, late-game heroics, and a few clutch field goals, Tom Brady first SuperBowl win became etched in history.
Brady's first Super Bowl didn't make him an NFL wiseguy overnight. But rather, he would have to come up big time and time again. Even when all wagers were against him, he rose to the occasion. And this is how it all started.
What Year Was Tom Brady First Super Bowl Win?
Tom Brady's illustrious career has become synonymous with winning. After all, it's what made him the most paid NFL player of all time. But after so much time in the spotlight, you are probably wondering what year did Tom Brady win his first Super Bowl ring?
Well, Tom Brady won his first Super Bowl championship during the 2001 NFL season. If you want to be exact, when did Tom Brady win first super bowl, it was on February 3, 2002. Tom Brady led the New England Patriots as their starting quarterback to a 20-17 Super Bowl win against the St. Louis Rams. Super Bowl 36 took place at the Louisiana Superdome in New Orleans, the state of Louisiana.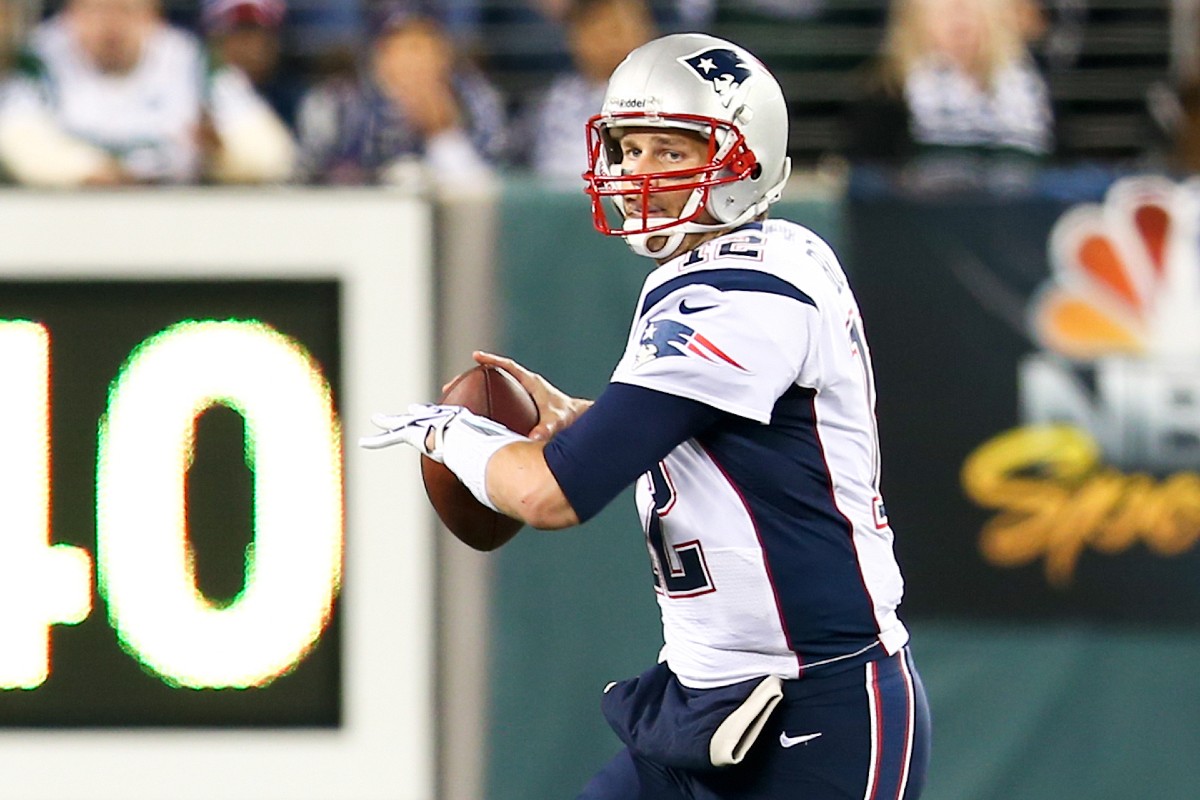 Who Did Tom Brady Beat In His First Super Bowl?
Many have fallen victim to Tom Brady's reign of terror during his time in the NFL. In his first Super Bowl championship game, Tom Brady faced off against quarterback Kurt Warner and the "Greatest Show on Turf".
The 2001 St. Louis Rams were one of the most dominant teams in the NFL at the moment, whose playstyle would change the league in the decades to come. With head coach Mike Martz drawing up an offensive scheme that prioritized a high-octane passing attack, the NFL got a glimpse of the modern-day NFL.
The 2001 St. Louis Rams finished with the league-best 14-2 record, securing them first place in the NFC West. They led the league in scoring, averaging 31.4 points per game, and boasted the league's second-best passing offense. This was unsurprising given the firepower they boasted on the offensive side of the field.
Quarterback Kurt Warner had just won his second league MVP award for his amazing 2001 season. Warner's accuracy, strong arm, and quick release made him a perfect fit for the Rams' aggressive passing scheme. He'd just won his first one 2 years prior, during the 1999 NFL season, in which he led the St. Louis Rams to an NFL Super Bowl win. 
Quarterback Kurt Warner also shared the backfield with running back Marshall Faulk, who won the 2000 NFL MVP award the year prior. He excelled as a rusher and receiver and his versatility at that position allowed the Rams to keep defenses off balance and exploit mismatches. This is why he is widely regarded as one of the best NFL running backs of all time.
Enjoy these week 1, 2000 #stlrams highlights. The reigning champion St Louis Rams bested the Broncos on Monday Night Football. pic.twitter.com/O9Rhbb8l0r

— St. Louis Rams History (@STLRamsHistory) August 11, 2023
Who did Tom Brady Win His First Super Bowl Against?
The 2001 Rams also had a dynamic group of playmakers at the wide receiver position. Isaac Bruce and Torry Holt formed a formidable duo that could capitalize on the extra pressure Faulk was exerting. They used their speed and route-running ability to stretch defenses and create big plays downfield, off of Marshall Faulk's dual-threat capabilities. 
With 3 consecutive NFL MVPs on their roster and on the same side of the ball, the 2001 St. Louis Rams were a joy to watch. The team earned the moniker "The Greatest Show on Turf" due to its ability to move the ball effectively through the air.
In the playoffs, the 2001 Rams defeated the Green Bay Packers in a thrilling NFC Divisional Round game. The 45-17 routing the Rams delivered after forcing 8 turnovers in a playoff game might not be among the highest-scoring NFL games of all time, but it sure is up there in terms of dominance. This set up the 2001 Rams for a matchup against the Philadelphia Eagles in the NFC Championship. Despite a hard-fought contest, the Rams secured a trip to the Super Bowl with a 29-24 victory.
But they ran out of gas just at the finish line, which should be credited to second-year head coach Bill Belichick. Unfortunately for the "Greatest Show on Turf", they had just run into the soon-to-be greatest NFL head coach of all time.
The 2001 Rams were the landslide favorites to win their 2nd Super Bowl title. Nearly everyone anticipated that the "Greatest Show on Turf" would wipe the floor with this young quarterback and head coach combination. But the Rams were stunned to suffer a 20–17 loss after Patriots kicker Adam Vinatieri knocked in the game-clinching field goal after both teams were tied 17-17.
I played for the name on the front of my jersey and the name on the back of my jersey. I played for my friends, my family & our community – every single one of you – that have given me what I have today.

I love you all. Thank you ALL for making this incredible journey possible pic.twitter.com/3jmNWid9ZB

— Tom Brady (@TomBrady) February 3, 2022
Did Tom Brady Win The Super Bowl As A Rookie?
Technically, Tom Brady did NOT win Super Bowl 36 championship as a rookie. Tom Brady was selected by the New England Patriots in the sixth round of the 2000 NFL Draft, with the 199th overall pick. 
Brady started the 2000 NFL season as the fourth-string quarterback on the depth chart. Incumbent starter Drew Bledsoe was first with backups John Friesz and Michael Bishop following up. 
But by the end of the 2000 NFL season, Tom Brady was number two on the depth chart behind Bledsoe. During his rookie season, in a 34–9 blowout loss to the Detroit Lions on November 23 in week 12, Tom Brady was subbed into the game. 
It marked his first career snap in an official NFL game, as he replaced Drew Bledsoe in garbage time. Brady threw 4 passes, one of which was incomplete due to a penalty. He was 1-for-3 on the day for six yards with tight end Rod Rutledge catching Brady's first and only completed pass of the season.
This is the only playing time Tom Brady saw in his official rookie year during the 2000 NFL season. The New England Patriots finished with a 5-11 record, which wasn't nearly enough to secure a playoff spot, let alone a Super Bowl bid.
1st pass, incomplete screen.

2nd, maybe the worst pass of my career, should've been 6 the other way.

3rd, ineligible downfield. (@damienwoody got held 😉)

4th, FINALLY my guy Rod Rutledge for 6 yards.

It was almost over before it started for your guy 😂😂 https://t.co/pkSeCmLtxz

— Tom Brady (@TomBrady) November 23, 2022
Did Tom Brady Win a Super Bowl His First Year?
But the following season is when the magic started happening. Tom Brady was the designated backup quarterback to 9-year veteran Drew Bledsoe since training camp. Bledsoe had just inked a 10-year contract extension to be the New England Patriots starting quarterback for the foreseeable future. 
But when New York Jets linebacker Mo Lewis caused him a near life-threatening injury in week 2 of the 2001 NFL season against the New York Jets, it was Brady's time to shine. 
Tom Brady took over the starting role, leading the New England Patriots to an 11-3 record over the remainder of the 2001 NFL season. This was Tom Brady's first full year of play in which he won his first Super Bowl ring.
It was the first of many for the franchise with Brady at the helm. And the start of their long reign of terror over the AFC East division. Tom Brady became one of the oldest NFL players ever rocking a Patriots jersey, and he played 2 more seasons after that.
You never forget your first 😌

20 years ago today, @TomBrady won his first of seven. pic.twitter.com/zh1r2WWwXA

— NFL Films (@NFLFilms) February 3, 2022
Tom Brady First Super Bowl Win Age
One of Tom Brady's greatest assets throughout his storied career was always his maturity and poise in the big moments. You don't become the NFL quarterback with the most Super Bowl wins by chance. Many even regard Tom Brady as the best clutch performer in all professional sports.
Given that he won his first NFL Super Bowl in his first year of play, on a game-winning drive with 1:30 left of the clock, it's clear he was mature beyond his age. So how old was Tom Brady when he won his first Super Bowl? 
Tom Brady won his NFL Super Bowl championship at the age of 24 years and six months. This made him the youngest quarterback in NFL history to win a Super Bowl, surpassing legends like Joe Namath and Joe Montana. 
Tom Brady First Super Bowl Win Stats
It's important to provide context when looking at Tom Brady first SuperBowl win. He was a rookie quarterback drafted in the sixth round the year prior. Despite the label, he rejuvenated the team after being slotted into the starting lineup. Going from 0-2 to 11-5 and a Super Bowl berth in your first year is impressive. 
This was head coach Bill Belichick's second year at the helm. And he was leading a team that existed prior to the Super Bowl era. In those 40 years, the Boston and then New England Patriots mustered only 2 Super Bowl appearances and no wins.
But here they were, facing a juggernaut in the 2001 St. Louis Rams or "The Greatest Show on Turf". With the best record in the league and the most potent offense with the last 3 NFL MVPs on their side, nobody gave the Patriots a chance.
But here came Tom Brady, who efficiently managed the Patriots' offense. Tom Brady completed 16 of 27 passes for 145 yards and a touchdown during his outing in Super Bowl 46. Not eye-popping by any standards, but he also didn't make any costly mistakes.
He had no interceptions, was sacked only once, and had a QB rating of 86.2. And thanks to the infamous Tuck rule, his fumble was overturned as an incomplete pass. He was the game manager the Patriots defense and rushing game needed until it was time to step up and seal the deal.
Tom Brady First Super Bowl Win Highlights
Tom Brady First Super Bowl Game Winning Drive
With 1:30 left on the game clock, the Patriots then got the ball back at their own 17-yard line with no timeouts remaining. Sportscaster and former Super Bowl-winning coach John Madden was live on television arguing that the Patriots should run out the clock and try to win the game in overtime.
But Tom Brady first SuperBowl win was not going to be denied. On the final drive, Brady made key completions to wide receivers Troy Brown and Jermaine Wiggins, to secure two crucial first downs. He managed to push the Patriots' offense down the field to the Rams' 31-yard line before setting up kicker Adam Vinatieri for a 48-yard field goal attempt with seven seconds left. 
Vinatieri had previously proved why he's one of the best kickers in NFL history, with multiple clutch kicks in his repertoire. The 48-yard kick sailed through the uprights as time expired, and gave the Patriots their first-ever Super Bowl victory.
This put a fitting end to a Cinderella season by Brady, Belichek, and the Patriots. It also meant the start of a long-lasting dynasty that would see Tom Brady outmatch every QB rivalry, including Drew Brees.
"What Tom Brady just did, gives me goosebumps."

John Madden was a part of our football watching lives forever. A coach. A commentator. And a video game. RIP.

My favorite Madden memory? Listening to him slowly be blown away by Brady at the end of SB 36.

What's yours? #ForeverNE pic.twitter.com/WCqggxQo12

— Paul Gallant (@GallantSays) December 29, 2021
How Much Is Tom Brady's First Super Bowl Ring Worth?
It's hard to put a price point on pieces of memorabilia, but we'll do our best to price Tom Brady first Super Bowl ring. By many estimates, Super Bowl rings generally start at $30,000 and then go up in price based on how the team decides to customize them. 
Let's say that on average, each of Tom Brady's rings cost around $35,000 to manufacture. The outlier here probably is the New England Patriots Super Bowl 51 ring.  That's when Tom Brady and the Patriots came back after being down 28-3 in the third quarter against the Atlanta Falcons. So that ring has 283 diamonds on it to symbolize the team's major act of resilience.
That one might cost more to make, but how much are these rings worth if Tom Brady first SuperBowl win is attached to it? Well we'll probably never know, but this is as close as it gets. A relative of Tom Brady's sold a Super Bowl ring at an auction for $344,927 in 2018. This was not Tom Brady's first Super Bowl ring but rather a secondary tier called a "friends and family" ring. It was from the same Super Bowl 51 collection but instead of 283 diamonds like the player rings, this one had 265 diamonds.
Over his illustrious career, Tom Brady has accumulated so much wealth that the hardware he earned will probably never go on sale. But if it did, there are a lot of people out there willing to drop a few million dollars for them. And considering this one was from Tom Brady first SuperBowl win, it might be even more than that.
How it started vs How it's going pic.twitter.com/wbzeQNgjnX

— Tom Brady (@TomBrady) July 23, 2021
Tom Brady First Year in NFL
Brady's first Super Bowl holds great value for a multitude of reasons. Not only was it the Patriots and Tom Brady first SuperBow win together, but it was also the start of a dynasty. And the opening scene of it was so spectacular, it presented a preview of the entertainment we would witness over the next two decades.
Upon assuming the starting quarterback role for the New England Patriots, Tom Brady enjoyed immediate success.  He led the New England Patriots to a 44–13 win over the Indianapolis Colts in his first start. The following month of the 2001 NFL regular season served as a period of acclimation for the new power duo.
Following their loss to the Rams at home, the Patriots dropped to a  5–5 record. But once the training wheels were off, the Patriots didn't lose a single game the rest of the season. Finishing with an 11–5 record and riding high off a 6-game winning streak, the New England Patriots locked in their first-round bye in the AFC playoffs.
Brady's poise and leadership played a big role in the team's turnaround. He completed 63.9% of his passes for 2,843 yards and 18 touchdowns, albeit with 12 interceptions to boot in just 14 games. 
2001 New England Patriots roster
These numbers weren't anything earth-shattering but it was enough to get him selected in the 2001 NFL Pro Bowl. Brady's pairing with veteran Pro Bowl wide receiver Troy Brown turned out to be a fruitful one. The wideout finished the 2001 NFL season with 101 receptions for 1,199 yards and 5 touchdowns. He also added another 413 yards and 2 touchdowns by returning punts for the special team. His 14.2 yards per punt return made him the best kick returner in the NFL at the time.
While strong kicking and special teams play would become a trademark of most Bill Belichek-coached teams, it's on the defensive side where Tom got most of his help. 
The defense ended the season ranked 6th in scoring, but 24th in total yards allowed. And while they were ranked the 13th best-rushing defense that year, it was their creative scheme that got them the chip.
The Patriots linebackers and safeties often baited and gambled on plays, in order to create turnovers to aid the offense. This left the secondary prone to big plays, but as their defensive rating shows, they were stifling opponents in the endzone area. 
Tom Brady First Super Bowl run
After having a week off, the 2001 New England Patriots faced off against the Oakland Raiders in the AFC Divisional Round. The Patriots barely scraped by the Oakland Raiders with a 16–13 during a raging Massachusets snowstorm in the last outing at Foxboro Stadium. 
This match would go down in history as the "Tuck Rule game", which is a highly contested topic to this day.
Tom Brady Tuck Rule Game
With just under two minutes left in regulation and no timeouts, Tom Brady and the Patriots were trailing the Raiders 13–10. Raiders defensive back Charles Woodson pierced around the corner on a blitz action and took Brady down with the ball coming loose.
The initial call was a recovered fumble, with possession going over to the Oakland Raiders offense, all but ending the Patriots season. But then referee Walt Coleman reversed the call, declared the play an incomplete forward pass, and gave possession back to New England.
According to the Tuck Rule, which lasted from 1999 to 2013, if a player loses the ball while in a forward passing motion or while trying to tuck it in and run with it, any loss of possession is considered a fumble.
The replay clearly showed Brady beginning a forward passing motion before stopping and touching the ball with his off hand, before having it knocked loose. Fans and the official broadcast noted that this was a blown call, but the Patriots got the ball.
This led to kicker Adam Vinatieri making a 45-yard field goal which barely cleared the crossbar in the fierce snow blizzard to send the game into overtime. The Patriots won the toss in overtime and advanced on another Vinatieri field goal from 23 yards. Those were the overtime rules at the time, and Oakland's offense never got a chance to win it.
2001 AFC Championship Game
For a spot in the 2001 Super Bowl, the New England Patriots had to go through the Pittsburgh Steelers, who were coming off a 27–10 win over the previous season's Super Bowl champion Baltimore Ravens.
In the 2001 AFC Championship Game, the Patriots got off to a good start on a 55-yard punt return touchdown by Brown. But then disaster struck again in the second quarter, as Tom Brady was knocked for the rest of the game with a sprained ankle. 
Ironically he was replaced by Drew Bledsoe in his first game since being injured in September which resulted in Brady being inserted into the lineup. Bledsoe made quick work of the Steelers defense, throwing an 11-yard touchdown pass to Patten to give the Patriots a 14–3 halftime lead. 
The Patriots special teams were once again the center of attention after a blocked kick and a lateral pass that went 60 yards down the field for a score of 21–3. Pittsburgh didn't back down and scored two third-quarter touchdowns to make the score 21–17. 
However, the Patriots ended the comeback attempt by scoring a field goal in the fourth quarter and picking off Steelers quarterback Kordell Stewart twice in the final 3 minutes of the game. This enabled Tom Brady first SuperBowl win with enough time to rest his injured ankle and gameplan for the juggernaut that was  "Greatest Show on Turf". A giant obstacle he would must overcome to become one of the youngest QBs to win a Super Bowl MVP.