Top 10 Passers in NBA History – Who Are The Greatest NBA Passers Ever?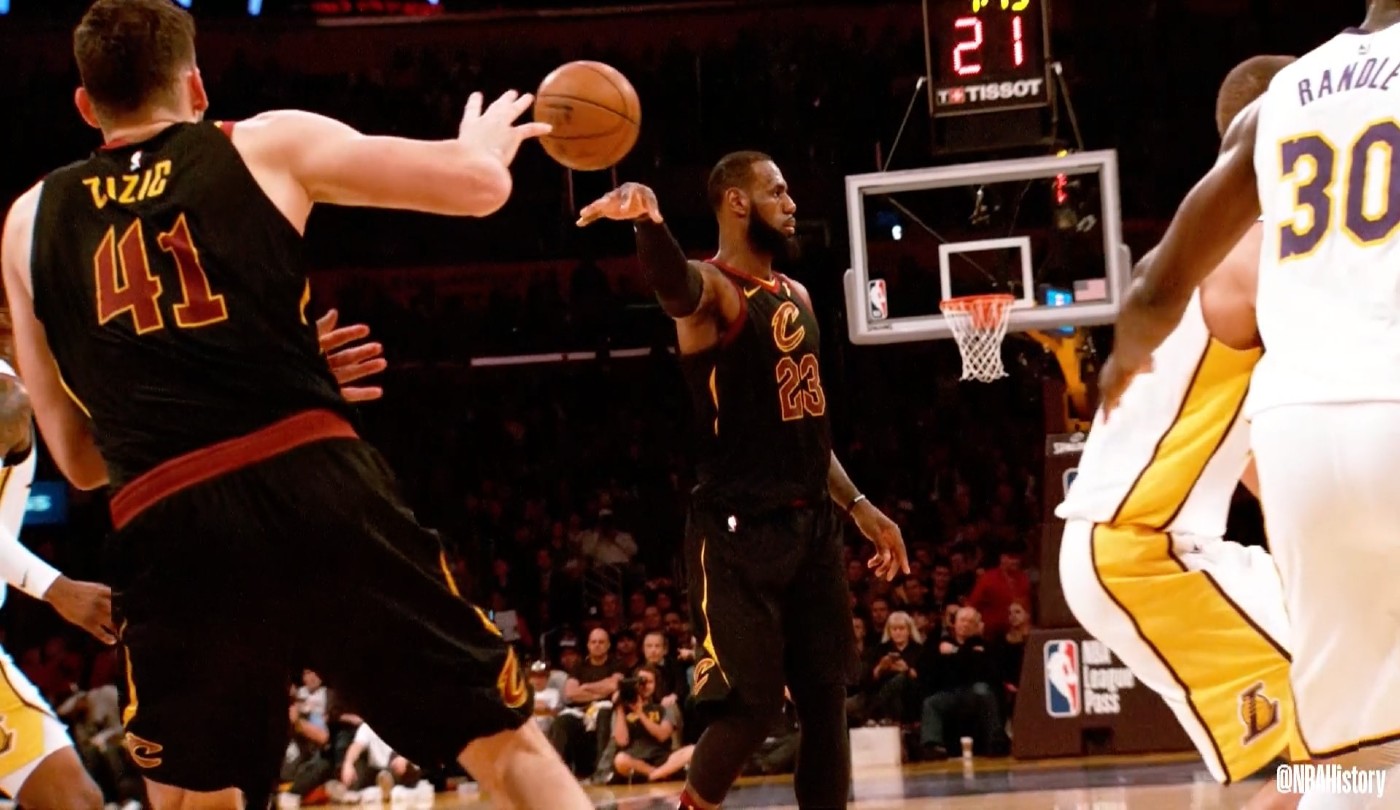 20 minutes
Last Updated: October 2, 2023
If you're reading this, you've probably had the luxury of witnessing some of the greatest NBA passers ever do their magic on the hardwood. But unlike the best NBA rebounders of all time, passing is a lot more than effort, height, and athleticism.
There are passes that lead to scores on set plays, and then there's threading the needle on a dime. Most of the best NBA point guards ever have high assist totals due to running NBA offenses for decades. 
But who are the greatest NBA passers ever that didn't rely on a system? Who are the players you can give the ball to and let them create magic? Apart from supreme ball handling, great passing also relies on instinct. Let's run them down!
Whos the Greatest NBA Passer of All Time
While it might be a question to some, most NBA fans would agree that Magic Johnson is the greatest NBA passer of all time. Being a top 10 NBA player of all time while averaging the highest assists per game average in NBA history with 11.2, should be enough to convince you otherwise.
Even if you try to look past his godly statistics and assist totals, Magic Johnson also passes the eye test as the best NBA passer of all time. There have been amazing passes prior to Magic entering the league. But none can eclipse the creator of the "Showtime" Lakers. 
Having Pat Riley on the sideline as one of the greatest NBA coaches in the making certainly helped. But it was Magic leading the show and making every call. More often than not, only he could see a gap in the defense that didn't exist at the time.
01. Magic Johnson
Career Stats:

17,707 points (19.5 ppg),6,559 rebounds (7.2 rpg),10,141 assists (11.2 apg)
Teams:

1979–1991, 1996 Los Angeles Lakers
Accolades:

5× NBA champion (1980, 1982, 1985, 1987, 1988), 3× NBA Finals MVP (1980, 1982, 1987), 3× NBA Most Valuable Player (1987, 1989, 1990), 12× NBA All-Star (1980, 1982–1992), 2× NBA All-Star Game MVP (1990, 1992), 9× All-NBA First Team (1983–1991), All-NBA Second Team (1982), NBA All-Rookie Team (1980), 4× NBA assists leader (1983, 1984, 1986, 1987), 2× NBA steals leader (1981, 1982)
If you aren't convinced why Magic Johnson should sit above the greatest NBA passers ever, let me tell you why. Not only did he have the physical tools necessary. But he also made passing look cool.
Standing at an impressive 6'9″, he defied conventions by handling and making plays like no one else at his size. His unique blend of size, strength, and speed gave him a significant advantage over anyone on the court.
As soon as Magic got the board, it was a foot race down the other end. And his exceptional passing ability allowed him to dominate his opponents, without even looking at the rim. The numbers speak for themselves.
Magic is seventh on the NBA all-time assist leaderboard and the seventh member of the exclusive 10,000 assists club. He managed to achieve this despite playing just 907 regular season games.
For context, that's a few hundred fewer games than anyone on that short list. Combined with the highest career assists per game average in NBA history with 11,2 and you get the picture. This is even more impressive considering he played the era with the slowest pace the NBA has ever seen. 
Five years after his retirement, Magic Johnson returns and catches 'em with a *filthy* pass-fake. #BestOfLakersWarriors pic.twitter.com/4rAxxqLLa7

— Los Angeles Lakers (@Lakers) April 8, 2020
Magic Johnson Rings
So if anything, his numbers are actually deflated when compared to the rest of the legends. We can rave about him leading the NBA in assists 4 times during that period, but what matters most is his impact.
Magic led the NBA in steals in 2 years. Combining this with his 7.2 boards per night throughout his career and a natural knack for pleasing audiences, and you have the "Showtime" LA Lakers. 
Running up and down the court in a fast-paced style of basketball that mixed "no-look" passes and pin-point alley-oops from halfcourt, amused the star-studded audience of the Staples Center every single night.
And it wasn't just empty calories, those stats led to wins. A whole lot of them. Magic Johnson became a 5 time NBA champion during the 1980s decade. Having a double-digit assist average for nine consecutive seasons from 1983 to 1991, certainly played a role in that.
He was an All-NBA First Teamer for a decade straight, with 12 All-Star appearances on top of his 3 regular season and 3 Finals MVP trophies. 
Magic Johnson also owns a boatload of records some of which include:
the single-game playoff record for assists with 24;

the Finals record for assists in a game with 21;

most playoff career assists with 2,346;

being the only player to average 12 assists in an NBA Finals series, and doing it six times;

the All-Star Game single-game record for assists with 22;

and the All-Star Game record for career assists with 127;
Putting in that much work on the court certainly gets your jersey sent to the rafters and the Naismith Basketball Hall of Fame. Unfortunately, Magic's illustrious career was cut short by his HIV diagnosis. Every one of the greatest NBA passers ever probably wished to be like Magic.
Top 5 Passers in The NBA All Time
02. John Stockton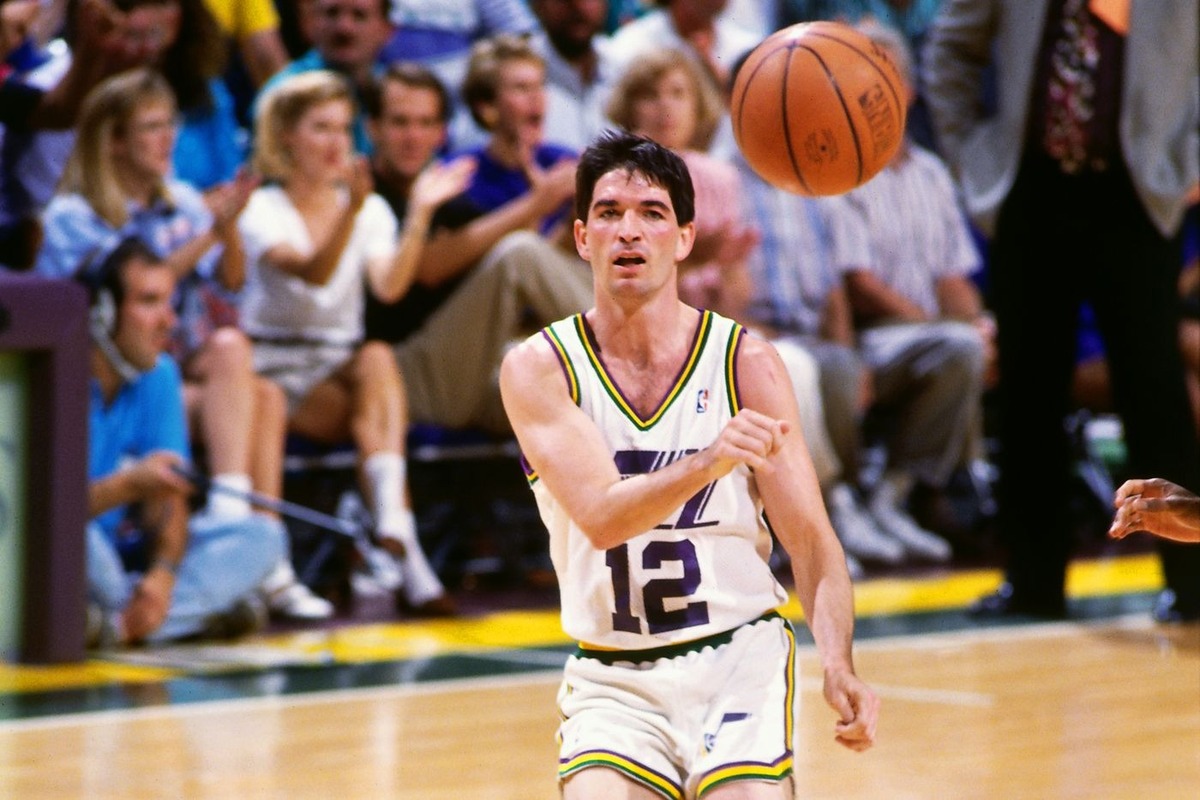 Career Stats:

9,711 points (13.1 ppg), 15,806 assists (10.5 apg), 3,265 steals (2.2 spg)
Teams:

1984–2003 Utah Jazz
Accolades:

10× NBA All-Star (1989–1997, 2000), NBA All-Star Game MVP (1993), 2× All-NBA First Team (1994, 1995), 6× All-NBA Second Team (1988–1990, 1992, 1993, 1996), 3× All-NBA Third Team (1991, 1997, 1999), 5× NBA All-Defensive Second Team (1989, 1991, 1992, 1995, 1997), 9× NBA assists leader (1988–1996), 2× NBA steals leader (1989, 1992)
Let's not act like we can't understand the fans who claim John Stockton is the greatest NBA passer ever. The best ability is availability and this guy missed 22 games in 19 years of professional basketball.
John Stockton etched his name as the league's top assist man, despite his relatively small stature at 6'1″ and 170 lbs. His achievements are even more remarkable considering the physicality of the era he played in, highlighting his tenacity and prowess on the court.
Opponents might have voted Stockton as the second dirtiest player after Rodman. But that didn't matter as long as he won. And with Karl Malone by his side, Stockton became the NBA all time assist total leader with 15,806 and one of the oldest NBA players ever.
The two played a record 1,412 regular season games together as teammates, forming a dynamic partnership that enabled them to achieve great success. Stockton became the NBA all time assist total leader by perfecting the pick-and-roll game, with its effect being felt in modern NBA offenses to this day.
John Stockton became the first player to reach 10,000 and 15,000 career assists and still has a sizable lead of 3700 more assists than the second best.
28 years ago today, John Stockton passed Magic Johnson & became the NBA's all-time assist leader. His AST & STL records will NEVER be broken.

ASSISTS
Stockton: 15,806
Kidd: 12,091
CP3: 11,246
LeBron: 10,338

STEALS
Stockton: 3,265
Kidd: 2,684
MJ: 2,514 pic.twitter.com/Vvw5zEu5yY

— Ballislife.com (@Ballislife) February 1, 2023
Stockton Malone Pairing
Kevin Porter and Isiah Thomas are the only two players to have recorded over 1000 assists in a season, but John Stockton has done it 7 times.
If you're still questioning Stockton's passing acumen, he also holds the record for the best passing season in NBA history. During the 1990 NBA season, Stockton dished out 14,5 assists per game. 
That in itself is an amazing feat considering how slow NBA basketball was back then. But Stockton averaged over 14 assists twice in his career. It wasn't a one-off. After all, he led the NBA in assists for 9 consecutive seasons.
Stockton was a model for consistency, suiting up for all 82 games in 16 out of his 19 seasons. Apart from making him one of the greatest NBA passers ever, this longevity helped him become the NBA all time steals leader.
All of this resulted in 10 All-Star appearances, multiple All-NBA selections and a lot of wins. Most of what separated Stockton from Magic was the lack of flair and postseason success. Stockton might have been more efficient with the basketball, but he also ran a well-oiled machine.
Unfortunately, their well-oiled machine couldn't win an NBA championship. You might have heard of that Michael guy who became the greatest NBA shooting guard. But it wasn't just the Bulls dynasty that stopped them.
Regardless, this doesn't discredit the body of work that Stockton has put in on NBA courts. And it's what makes him one of the greatest NBA passers ever, good enough for number 2 on our list.
03. LeBron James
Career Stats

: 38, 652 points (27.2 ppg), 10.667 rebounds (7.5 rpg),10,420 assists (7.3 apg)

Teams

: Cleveland Cavaliers (2003–2010), Miami Heat (2010–2014), Cleveland Cavaliers (2014–2018), Los Angeles Lakers (2018–present)

Accolades

: 4× NBA champion (2012, 2013, 2016, 2020), 4× NBA Finals MVP (2012, 2013, 2016, 2020), 4× NBA Most Valuable Player (2009, 2010, 2012, 2013), 19× NBA All-Star (2005–2023), 3× NBA All-Star Game MVP (2006, 2008, 2018), 13× All-NBA First Team (2006, 2008–2018, 2020), 3× All-NBA Second Team (2005, 2007, 2021), 3× All-NBA Third Team (2019, 2022, 2023), 5× NBA All-Defensive First Team (2009–2013), NBA Rookie of the Year (2004), NBA scoring champion (2008), NBA assists leader (2020)
The LeBron vs. MJ arguments may never subside. Or we're just taking LeBron's greatness for granted. Even if nostalgia plays a role, LeBron's legacy is set in stone. He's the NBA all time leading scorer and is fourth in total assists all time. For us, the debate ended a long time ago.
His portfolio of accolades would have been longer had we not edited some defensive awards out. But what makes LeBron greater than Michael is his ability to make everyone around him better. And this trait is what makes James one of the greatest NBA passers ever. 
LeBron has been in the media spotlight since his junior year in high school. And apart from his apparent physical attributes, his passing has always been the differentiator. While MJ and Kobe played in a triangle system under the greatest NBA coach of all time, LeBron had to take a different route.
The former gave up the ball only when there was no other option, while James has quarterbacked every offense since his rookie year.
I'm still tryna comprehend how tf LeBron made this pass. pic.twitter.com/6ex8isj73g

— LeBron History 🏀 (@bronhistory) August 16, 2023
LeBron Assist Leader
In the mold of Magic Johnson, at 6'9″ and 250 lb (113 kg), LeBron has made a career out of bulldozing to the basket before hitting an open shooter. With over 20 years of experience and as the greatest NBA small forward ever, James can read defenses better than anyone currently in the league.
Not only can LeBron see the play before it develops, but he also has the strength and height to make any pass on the court on notice. This has translated to his team's success, as every team with LeBron becomes a title contender regardless of the surrounding pieces.
10 Finals appearances and 4 rings make the point clear, as LeBron is the second all time in playoff assists. When LeBron has the ball in his hands, guys like Matthew Dellavedova become positive contributors in Finals games against the greatest NBA team ever.
With his passing out of the post taking a leap, LeBron was able to lead the league in assists in year 17. His delivery and technique are the stuff of legends, as we continue to take his cross-court passes for granted.
Throughout his NBA career, LeBron has consistently finished in the top 15 for total assists in every season. And while he still somehow gets some flack for making the right basketball play and passing in clutch moments, I guess it must come with the territory. 
LeBron is the highest-ranked non-point guard in assist rankings, and will probably be the undisputed GOAT when enough time has passed. But it won't be because he played so many seasons, or scored so many points. It will be undisputable because he's one of the greatest NBA passers ever.
04. Steve Nash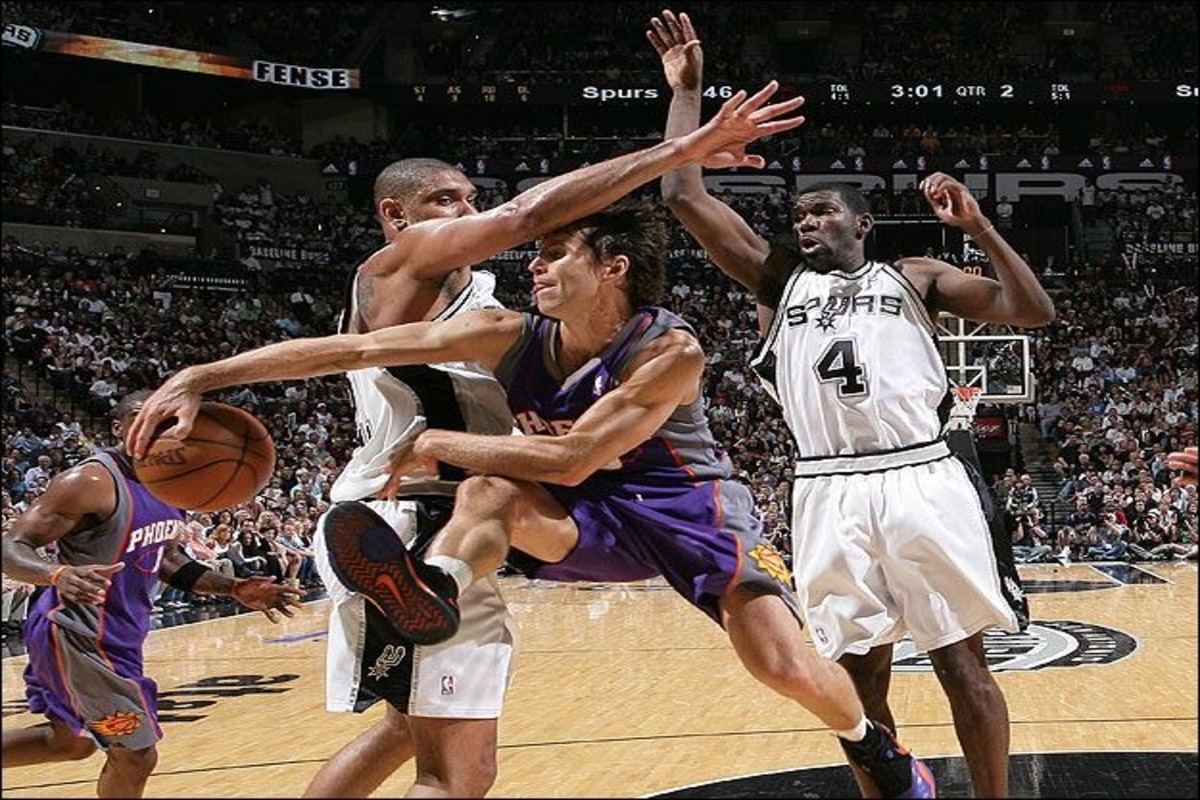 Career Stats

:17,387 points(14.3 ppg), 3,642 rebounds (3.0 rpg), 10,335 assists (8.5 apg)

Teams

: Phoenix Suns (1996–1998), Dallas Mavericks (1998–2004), Phoenix Suns (2004–2012), Los Angeles Lakers (2012–2015)

Accolades

: 2× NBA Most Valuable Player (2005, 2006), 8× NBA All-Star (2002, 2003, 2005–2008, 2010, 2012), 3× All-NBA First Team (2005–2007), 2× All-NBA Second Team (2008, 2010), 2× All-NBA Third Team (2002, 2003), 5× NBA assists leader (2005–2007, 2010, 2011), 4× 50–40–90 club (2006, 2008–2010)
At number 4 on our greatest NBA passers list, we have the maestro of the 7 seconds or less offense. The Phoenix Suns went from a 29–53 record in 2003–04 to 62–20 in 2004–05 by having Steve Nash handle and distribute the rock.
Although he never clinched an NBA championship, Nash left an indelible mark on the hearts of fans worldwide with his incredibly imaginative passes. His court vision and creativity were unparalleled, probing defenses with expert precision and maneuvering into spaces that most guards would avoid. 
I've seen Steve Nash with a bloodied nose so many times that I would hold my breath every time he would make a pass around someone's back. Nash managed to get the uu's and aa's from the crowd every time he set foot on the floor with perfect no-look passes being a common occurrence throughout his career.
Standing at 6'3″ and weighing 195 lbs, Nash had to utilize his ball handling, precision, and change of pace to get open. But all of that would go to waste without his supreme vision. He was a master of angles, delivering the ball with both hands to spots that weren't even open when the ball left his hand.
Two Hall-of-Fame point guards, Steve Nash & Jason Kidd were masters at passing the ball 🤝#NBAAssistWeek pic.twitter.com/WHN922EvtC

— NBA UK (@NBAUK) August 12, 2019
7 seconds or less offense
Nash's numbers might be a bit inflated, but he was the head of the snake. Those Phoenix Suns rosters with head coach Mike D'Antoni at the helm, changed how the game is being played today. 
Playing at a frenetic pace with shooters and slashers on the wings was only possible because Nash could get them the ball every time. His pick and roll chemistry with Amar'e Stoudemire rivaled that of Stockton and Malone, but it wouldn't be possible without Nash's shooting prowess.
Nash is only the fourth player in NBA history to enter the exclusive 50-40-90 club. And he did it a record 4 times. Notable greats like Larry Bird and KD are the only other players to have done it more than once.
Nash is fifth all-time in total assists and became one of the few guards in NBA history to win back-to-back MVPS in the 2004-2005 and 2005-2006 seasons. He averaged over 11 assists per game 5 times, leading the league in each of those NBA seasons. 
The beautiful thing about Nash's career is that despite being a lethal shooter, he would often prefer to set up his teammates. His former head coach Don Nelson, even threatened to fine him if he didn't attempt a minimum of 10 field goals per game.
But with Nash at the helm, the Suns led the league in field goal percentage for half a decade straight. With Nash pulling the strings, 7 of his teammates had career highs in scoring alongside him in Phoenix.
That's the impact one of the greatest NBA passers ever can have on a franchise. Playing the beautiful game as we know it, with passing, shooting, and movement incorporated at every step.
Top 10 NBA Passers of All Time ESPN
05. Jason Kidd
Career Stats

: 17,529 points(12.6 ppg), 8,725 rebounds (6.3 rpg), 12,091 assists (8.7 apg)

Teams

: Dallas Mavericks (1994–1996), Phoenix Suns (1996–2001), New Jersey Nets (2001–2008), Dallas Mavericks (2008–2012), New York Knicks (2012–2013)

Accolades

: NBA champion (2011), 10× NBA All-Star (1996, 1998, 2000–2004, 2007, 2008, 2010), 5× All-NBA First Team (1999–2002, 2004), All-NBA Second Team (2003), 4× NBA All-Defensive First Team (1999, 2001, 2002, 2006), 5× NBA All-Defensive Second Team (2000, 2003–2005, 2007), NBA Co-Rookie of the Year (1995), NBA All-Rookie First Team (1995), 5× NBA assists leader (1999–2001, 2003, 2004)
Now that we have gone over the cream of the crop when it comes to the greatest NBA passers ever, it's time we J Kidd some props. While most NBA fans on Twitter know of him and his antics as a coach, everyone should be aware of Kidd's passing acumen.
During his 19-year career, Jason Kidd dished out a total of 12 091 assists, which is good for second all time just behind Stockton. All that unselfishness led to winning, as Kidd made the playoffs in 17 seasons.
Not coincidentally at all, Kidd ranked in the top 10 for assists per game in each of those seasons. With Kidd having the fourth most triple-doubles, and being second all time in steals and assists only to Stockton, the game plan was simple. Give Kidd the ball and let him run.
And it worked, as Kidd made 3 Finals appearances before becoming an NBA champion in 2011 with the Dallas Mavericks. His 10 All Star appearances and 5 NBA assist crowns proved you didn't need to be a scorer to carry your team. But it couldn't be done if Jason Kidd wasn't one of the greatest NBA passers ever.
06. Chris Paul
Career Stats

: 21,755 points(18 ppg), 5457 rebounds (4.5 rpg), 11,501 assists (9.5 apg)

Teams

: New Orleans Hornets (2005–2011), Los Angeles Clippers (2011–2017), Houston Rockets (2017–2019), Oklahoma City Thunder (2019–2020), Phoenix Suns (2020–2023), Golden State Warriors (2023–present)

Accolades

: 12× NBA All-Star (2008–2016, 2020–2022), 4× All-NBA First Team (2008, 2012–2014), 5× All-NBA Second Team (2009, 2015, 2016, 2020, 2021), 2× All-NBA Third Team (2011, 2022), 7× NBA All-Defensive First Team (2009, 2012–2017), 2× NBA All-Defensive Second Team (2008, 2011), NBA Rookie of the Year (2006), 5× NBA assists leader (2008, 2009, 2014, 2015, 2022), 6× NBA steals leader (2008, 2009, 2011–2014)
You can say what you want about Chris Paul's lack of NBA championships and his personality. But nobody can deny that CP3 makes every team he's on better. Being one of the greatest NBA passers ever does that to a lot of franchises.
Standing at 6'0″(1.83 m) tall and weighing 175 pounds (79 kg), Paul is the quintessential "Point God". Known for his exceptional passing skills, CP3 possesses impeccable game awareness that helps him dictate the pace of the game. 
Unlike most entries on this list, Paul prefers to run a half-court offense. Especially now in the later stages of his career due to his prolonged injury history. CP3 takes pride in his efficiency and consistently high assist-to-turnover ratio.
With 2.4 turnovers and 9.5 assists per game over his career, CP3 is the floor general every GM wants. Paul is third all-time in total assists and fourth in assists per game, amazing huge assist tallies in his Lob City and New Orleans Hornets days.
With 5 assist titles to his name and a career-high 11.6 assists per game in the 2007-2008 season, CP3 is one of the greatest NBA passers ever.
07. Isiah Thomas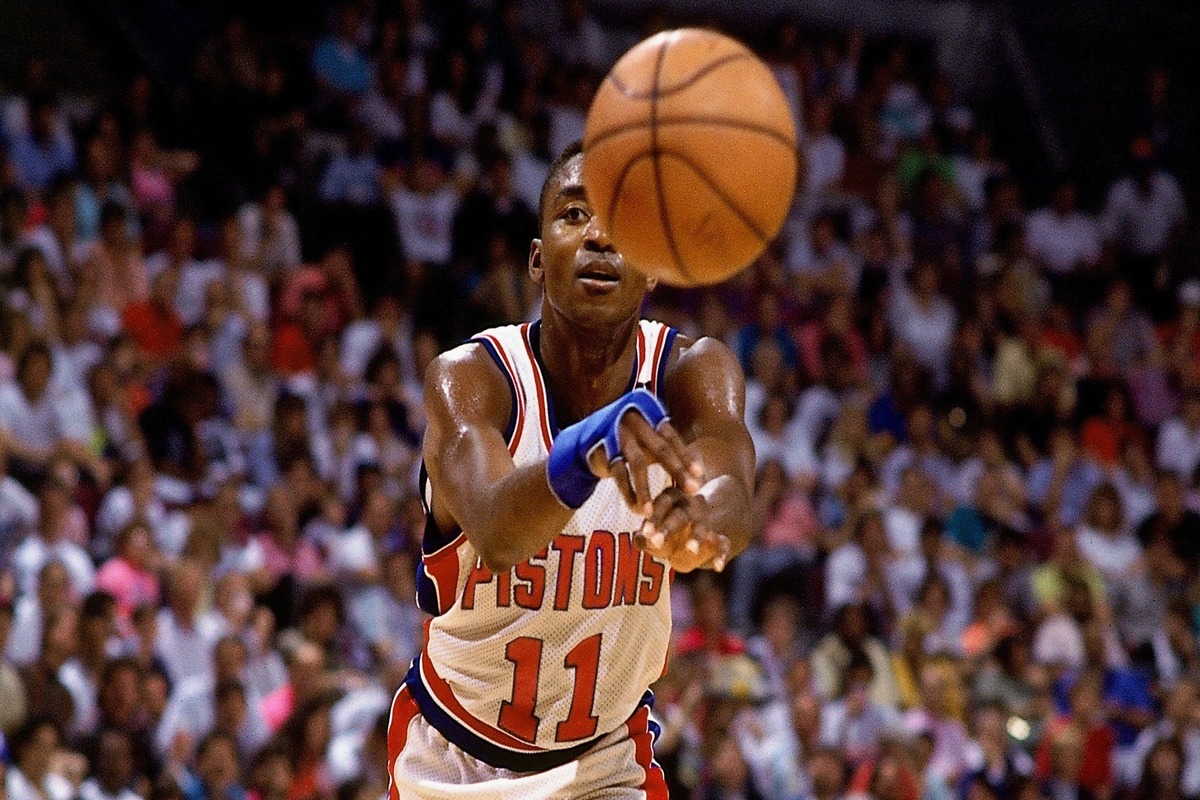 Career Stats

: 18,822 points (19.2 ppg), 9,061 assists (9.3 apg), 1,861 steals(1.9 spg)

Teams

: Detroit Pistons (1981–1994)

Accolades

: 2× NBA champion (1989, 1990), NBA Finals MVP (1990), 12× NBA All-Star (1982–1993), 2× NBA All-Star Game MVP (1984, 1986), 3× All-NBA First Team (1984–1986), 2× All-NBA Second Team (1983, 1987), NBA assists leader (1985)
Isiah Thomas might be a bit taller than CP3, but they both have made an NBA legacy as the greatest small players. And most of that comes down to their ferocity on the playing field and their passing capabilities.
Despite being a 6'1″ speedster, Thomas became a standout player for the Pistons, where he spent his entire career. He was the tip of the spear for the Bad Boy Pistons, probing defenses and maneuvering around defenders, en route to high scoring and passing totals.
Doing so in an era known for it's punishing physicality, is a feat on it's own. At the same time, his interior and post entry passes were crucial in running the Pistons' offense, with the occasional patented bounce pass alley-oop to the delight of many fans.
In the 1984-1985 season, Thomas led the league in assists with an impressive average of 13.9 assists per game. However, his relatively short career and high turnover rates prevented him from ranking higher on the list.
Despite this, Thomas became a two-time NBA champion, earning the Finals MVP during their second championship. He was a 12-time All-Star and a 5-time All-NBA player throughout his career.
Zeke is fifth all time in assists per game and tenth all time in total assists, being overtaken by 3 active players. All of this makes him one of the greatest NBA passers ever.
08. Larry Bird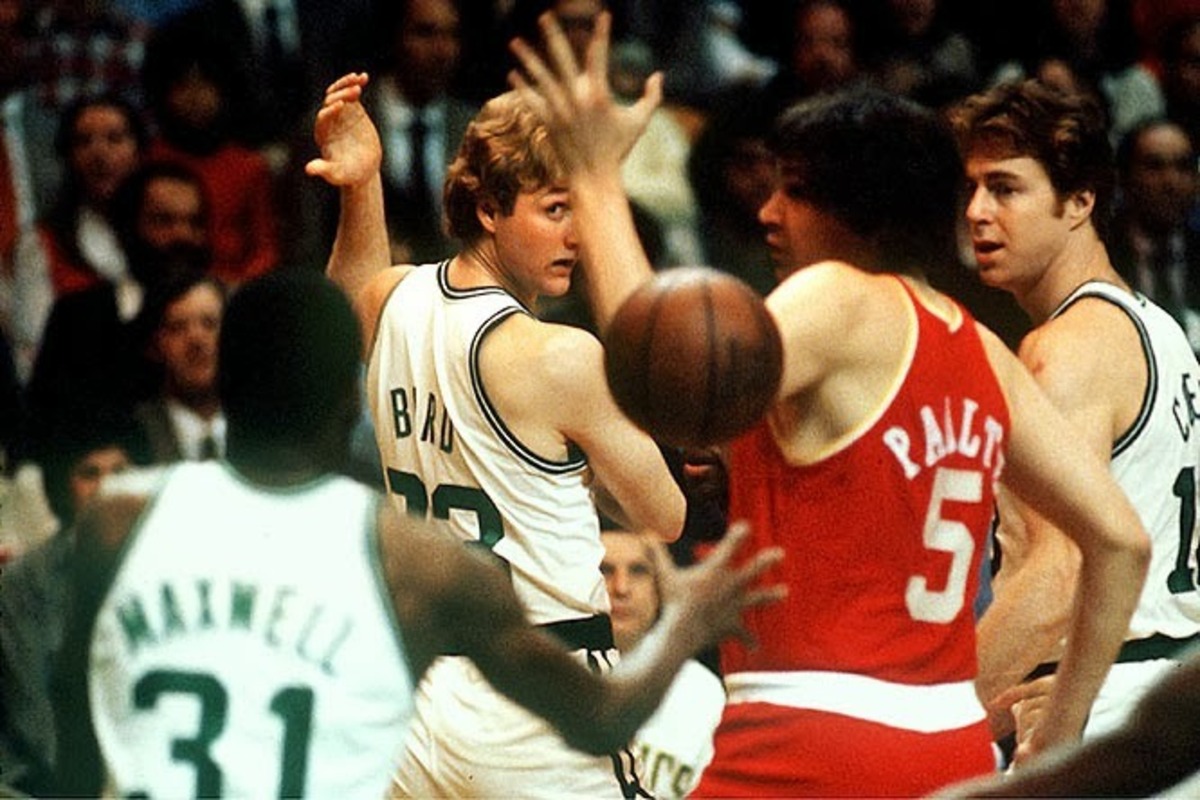 Career Stats

:

21,791 points (24.3 ppg), 8,974 rebounds (10.0 rpg), 5,695 assists (6.3 apg)

Teams

: Boston Celtics (1979–1992)

Accolades

: 3× NBA champion (1981, 1984, 1986), 2× NBA Finals MVP (1984, 1986), 3× NBA Most Valuable Player (1984–1986), 12× NBA All-Star (1980–1988, 1990–1992), 9× All-NBA First Team (1980–1988), All-NBA Second Team (1990), 3× NBA All-Defensive Second Team (1982–1984), NBA Rookie of the Year (1980), 3× NBA Three-Point Contest champion (1986–1988), 2× 50–40–90 club (1987, 1988)
Larry Bird is one of the greatest players to grace the hardwood, often celebrated for his shooting prowess. But he was also an exceptional passer, earning him a well-deserved spot on our list of the greatest NBA passers ever. 
The three-time MVP was not just a scoring machine from anywhere on the court; he also possessed an innate ability to set up teammates with his perfect touch passes and precise dimes. Despite his capability to score on every possession, Bird took immense joy in orchestrating plays and creating opportunities for his fellow Celtics.
Standing at 6'9″, Bird's passing skills were particularly potent from the post and off-the-catch situations. His remarkable court awareness, combined with his height advantage, allowed him to see over defenders and deliver dimes. 
Bird's exceptional passing abilities earned him several accolades, including three MVP awards and two Finals MVP titles. Throughout his 13 seasons, he consistently appeared in the top 20 for total assists, showcasing his consistency as a playmaker. Despite never leading the league in assists, his impact as a shooting forward who wasn't the primary ball handler is undeniably impressive.
With a larger-than-life persona, elite trash-talking capabilities, and sniper accuracy resulting in multiple 50-40-90 club entries, Bird's passing acumen often gets overlooked. But not by us, as he's one of the greatest NBA passers ever.
09. Nikola Jokic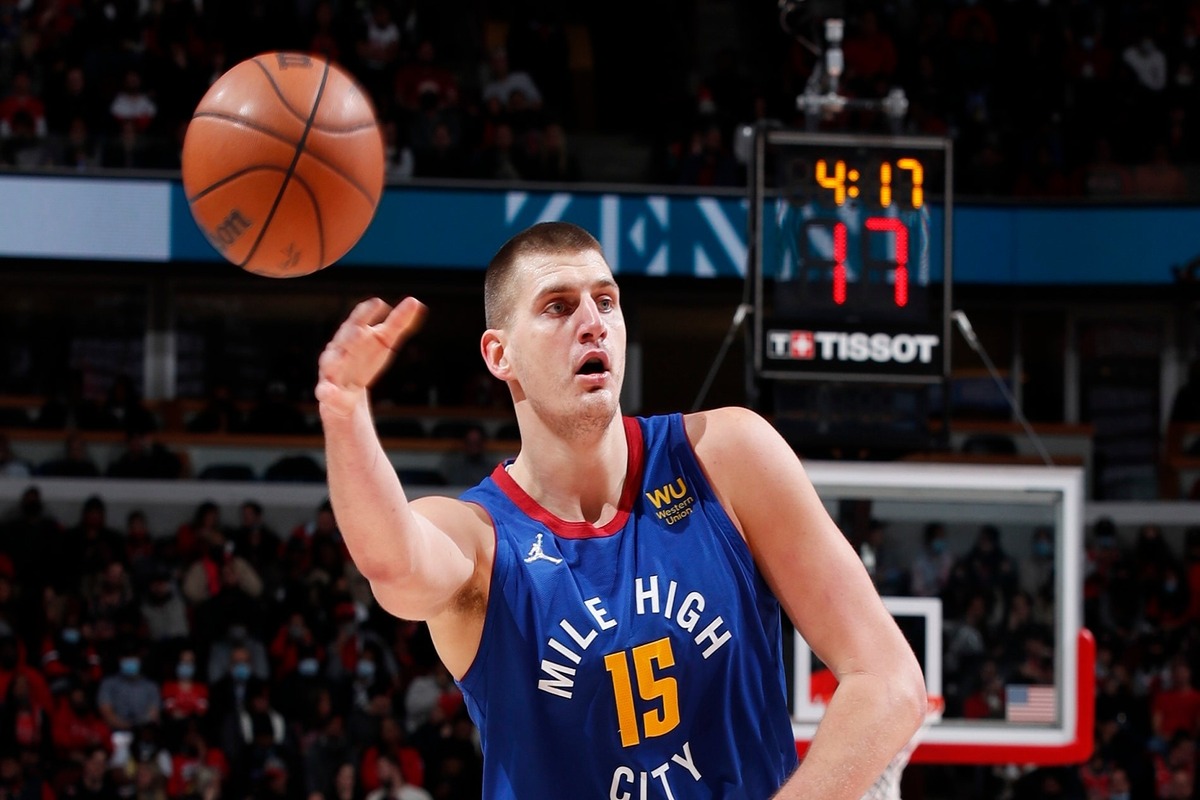 Career Stats

: 12,054 points (20.3 ppg), 6,273 rebounds (10.5 rpg), 3,959 assists (6.6 apg)

Teams

: Denver Nuggets (2015–present)

Accolades

: NBA champion (2023), NBA Finals MVP (2023), 2× NBA Most Valuable Player (2021, 2022), 5× NBA All-Star (2019–2023), 3× All-NBA First Team (2019, 2021, 2022), 2× All-NBA Second Team (2020, 2023)
I really don't want to be disrespecting Mark Jackson like this. But after seeing what Nikola Jokic can do on a basketball court, am I at fault for being a prisoner of the moment? Yes, I'm from the Balkans and you can call me biased all you want.
What Luka Doncic and Nikola Jokic are doing with the ball is wizardry Mark Jackson has never seen, nor can he properly appreciate given his latest MVP voting ballot. Jokic is the sole center on our list, who has rapidly established himself as one of the most exceptional passers in NBA history within just eight seasons in the league. 
Standing tall at 7'0″, the "Joker" has become the key offensive cog for the Denver Nuggets. He led them to the 2023 NBA championship with his extraordinary no-look passes to cutting teammates and high-arching shots. 
His ability to locate and dish out to teammates from any corner of the arena is unparalleled, making him arguably the most gifted big-man passer in NBA history. The 2 time MVP excels at every pass imaginable. From touchdown outlet passes, cross-court skips from the post, and running the pick and roll as the ball handler, Jokic can do it all.
His impeccable touch passes and feeds off the high post, making him a nightmare to deal with. 
Despite a relatively short career so far, Jokic's play style should age like wine, making him one of the best NBA centers ever.
Best Passers in NBA history
Best Flashy Passers in NBA History
The best flashy passer in NBA history has to be Jason Williams. Nicknamed the "White Chocolate",  Williams had a short but dazzling NBA career marked by his flashy passing style. Apart from his exceptional ball-handling skills, no-look passes, behind-the-back dribbles, and creative dimes, fans around the NBA loved him for his unfiltered personality.
(2000) Jason Williams with the nasty behind-the-back bounce pass to Chris Webber. Effortless. pic.twitter.com/FPrFzdo80p

— Timeless Sports (@timelesssports_) August 18, 2018
Best Alley Oop Passers in NBA History
The best alley oop passer in NBA history has to be Chris Paul. Even before his infamous Lob City days, CP3 was feeding center Tyson Chandler with easy buckets on the New Orleans Hornets.
After he was traded to the LA Clippers, Chris Paul helped Blake Griffin and DeAndre Jordan become nightly mainstays on Sports Center. So many iconic slams have occurred on Chris Paul passes, that's even hard to quantify. 
Even with the Houston Rockets, Chris Paul was still throwing a fair share of lobs. Apart from being reunited with an athletic wing like Trevor Ariza, Paul had a new consistent lob threat. Center Clint Capela got so many easy buckets by crashing the board and catching lobs from CP3, that he should've given him a portion of his check.
Greatest Outlet Passers in NBA History
The greatest outlet passer in NBA history has to be Kevin Love. Nikola Jokic might be a worthy contender, but let's not forget about Kevin Love on the Minnesota Timberwolves. Before he was traded to the Cleveland Cavaliers to aid their championship aspirations, Kevin Love was the offensive hub for the Wolves, much like the Joker.
That bulkier version of Kevin Love was still limited defensively. But boy did he make up for it. Love was an animal on the boards, especially on the defensive end. Once Love got the ball, it wasn't rare to see his quarterback touchdown passes 80 feet down the floor.
Corey Brewer is probably the biggest beneficiary of Love's cannon for an arm, as he routinely got a few easy buckets every game from Love's passing brilliance.
Full court Kevin Love chest pass! 👀 pic.twitter.com/uneOUScH5p

— NBA (@NBA) April 22, 2021
Best Passer in NBA 2023
The best passer in the NBA right now has to be Luka Doncic. We already gave Nikola Jokic his props, although he and Tyrese Haliburton are worthy mentions. On the other hand, Luka has been called Luka Magic more and more often.
That's some high praise for any NBA player, but Luka is probably one of the few guys that can earn and justify it. Most players wish they could make the passes Luka makes on a daily basis. His highlight reel from 10 regular season games is probably more impressive than the career passing highlights of most NBA players.