Best UFC Women Fighters – Discover Top 10 Females in This Sport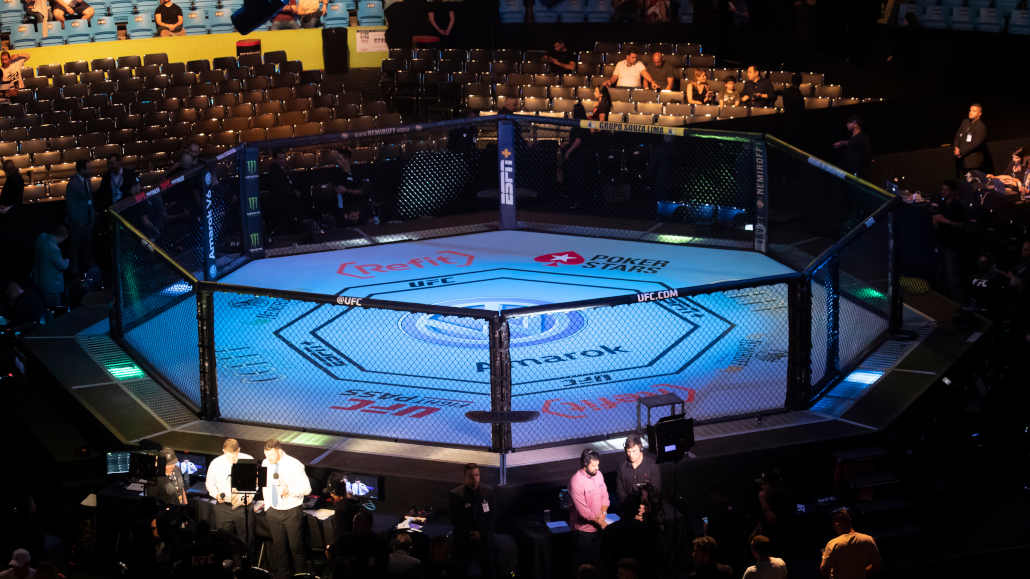 Women fighters have been disregarded by UFC for many years, while some MMA companies welcomed them and even created female-only competitions.
The biggest protagonist for female fighters was Strikeforce and when it was bought by UFC, many were worried about what the future holds.
Still, Invicta FC was founded soon after and it dedicated full focus to women's MMA to show off UFC opening doors to female fighters.
Most of them moved by the end of 2013 and UFC women fighters now have a decade of successful competition behind them, quickly catching the eye of aficionados with the increased popularity of the sport among women too.
We now take a look at some of the biggest stars among female UFC fighters and pick the best of the best!
Amanda Nunes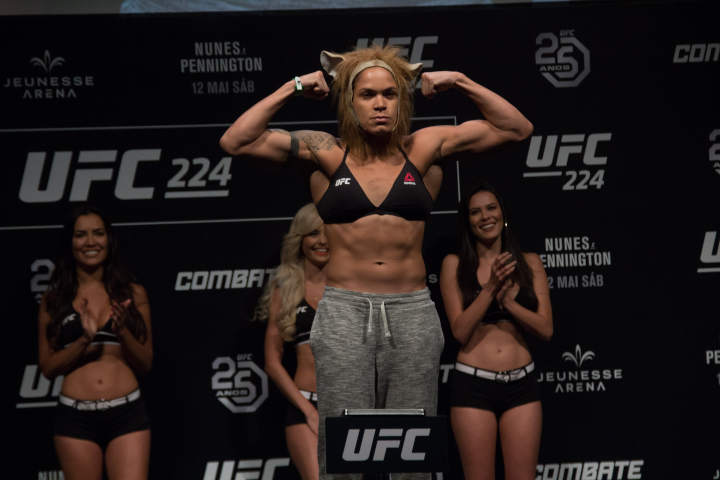 Topping our list and topping the list for many in the know, Amanda 'Lioness' Nunes is widely considered the best female MMA fighter ever.
She is the first woman to hold two UFC titles and the first (and only) fighter to defend them while holding both, being both Featherweight and Bantamweight champion.
Nunes holds a black belt in Brazilian Jiu-Jitsu as well as a brown belt in Judo, starting her career in MMA back in 2008. While it started with a loss to Ana Maria, it was all glitter and gold since.
Lioness had connected a streak of 12 amazing wins from 2015 to 2021, where she beat Valentina Shevchenko (twice), Ronda Rousey, Holly Holm, Miesha Tate, and many others.
Julianna Pena recently ended her streak through submission, which was her only second fight in 2021.
Amanda Nunes has since left American Top Team and opened a private gym, training to challenge Pena for the UFC Bantamweight title again on a date yet to be determined.
Many have questioned the decision but she ultimately disclosed she had been injured and that she felt she should be able to do what she wants.
Cristiane Justino
Image courtesy of The Denver Post
Another Brazilian to the list and following close behind in our honest opinion, Cristiane Justino has seen just two losses in her pro career.
Justino started out with a loss too as Erica Paes beat her back in 2005 but only Amanda Nunes managed to win it against her since (also winning the UFC Women's Featherweight Championship that Cris Cyborg defended twice beforehand).
Cris Cyborg earned 25 wins along the way and 20 of those came by KO / TKO.
She's a Muay Thai expert with a black belt in Brazilian Jiu-Jitsu, best known as a striker with an amazing punching technique.
Cyborg has held UFC, Strikeforce, and Invicta FC Featherweight belts and is the only mixed martial arts fighter to be a grand slam champion (a quadruple belt holder).
She switched to Bellator in 2020 after a very public rift with Dana White, which partly tainted her legacy with UFC. Cyborg is now the Bellator Women's Featherweight Champion, where she's defended the title three times already and last beat Sinead Kavanagh in November.
Ronda Rousey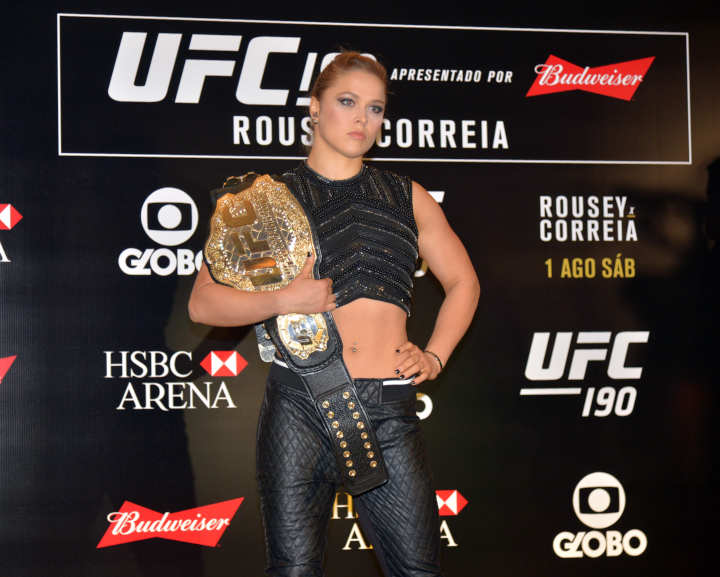 Ronda Rousey started her career in MMA back in 2011, just three years after winning Olympic bronze in Judo.
She soon signed with Strikeforce and became Women's Bantamweight Champion. She made history as the first woman to sign with UFC and there was no stopping her for quite some time, being the first champion and the only woman to defend the title six times.
Rousey recorded 12 wins in a row and became famous for her submission, typically through Armbar that many feared. The win over Miesha Tate in 2012 goes down as one of her career highlights.
Her demise was orchestrated by Holly Holm, who snatched the title in a dominant fight, and the loss as she challenged Amanda Nunes for the title the following year meant retirement.
Rowdy turned to WWE in 2018 and was a headliner at the first all-women pay-per-view event, defending her belt and extending the second-longest reign in history.
Her legacy in UFC is undeniable and Ronda Rousey enjoys her spot as the first female fighter to be inducted in the promotion's Hall of Fame. She has discussed potential retirement altogether but WWE fans will surely hope her return will last a bit longer.
Valentina Shevchenko
One of the best-rounded fighters ever, Valentina Shevchenko is UFC's Women's Flyweight Champion ranked #1 pound-for-pound female fighter ahead of Amanda Nunes, as of January 2022.
She's a 2nd dan black belt in Taekwondo and a master of sports in Muay Thai, Boxing, Kickboxing, and Judo.
Nicknamed Bullet, she's known for elbows and striking but it would be impossible to say she's a stranger to submission.
The Kyrgyz fighter earned seven of her 22 wins through submission and two of her three losses came through decisions against Amanda Nunes – where she certainly showed off as a worthy opponent.
Shevchenko beat Jessica Andrade and Lauren Murphy in two 2021 fights and both came through TKOs, which ultimately had many touting another rematch against Nunes in 2022 after a lengthy hiatus.
Joanna Jedrzejczyk
Joanna Jedrzejczyk has had her share of amazing fights for the titles and is certainly one of the biggest names in UFC at the moment.
She's a former Strawweight Champion and has returned to the division in 2019, making a boom in doing so. The Pole had defended the belt five times before dropping it to Rose Namajunas.
Jedrzejczyk challenged Weili Zhang for the belt again in March 2020 after beating Michelle Waterson, winning the hearts of many but losing the fight through a split decision.
This was the Fight of the Year and many rate it as one of the best fights in the Women's UFC ever.
The Polish fighter has thus lost four of her last six fights, though, and was sent to a two-month medical suspension with a no-contact clause.
Known for her violent approach despite being a seemingly kind person, Jedrzejczyk is known as a great kickboxer and Muay Thai artist.
She's a master of significant strikes and leg kicks. She won five Muay Thai World Championship gold medals from 2009 to 2013. She's a tactician too, though, and most of her wins in MMA (11 out of 16 in total) came through decisions.
Rose Namajunas
On to the next Strawweight Champion, Rose Namajunas stands at #3 in UFC's pound-for-pound rankings as of January.
Her first reign was short after beating Jedrzejczyk, as Jessica Andrade snatched the belt with a brutal slam KO in 2019. Many felt the vertical drop should have been illegal but it has made for one of the most spectacular KOs UFC has ever seen.
Still, Namajunas bounced and took it back in 2020. She is the current champion and has defended the belt twice against Weili Zhang in 2021.
Nicknamed the Thug, the US fighter mixes Taekwondo and Brazilian Jiu-Jitsu with kickboxing while she's also a master grappler.
Namajunas earned Performance of the Season and Fight of the Season when she just signed with UFC and while she's been a thrill to watch, many predict great things only to come.
She's a real character and many fans love her personality too, calling her wholesome and easy-to-love. The 29-year-old fighter certainly has at least a couple of years in the top left and we can only hope for a couple of amazing bouts with Andrade and Zhang to start with.
Holly Holm
Image courtesy of Albuquerque Journal
Holly Holm is widely recognized as one of the best female boxers of all time, defending her title 18 times in three different weight divisions.
She's hardly one of the biggest superstars in female UFC but she earned her spot on our list through one of the biggest upsets the sport has ever seen.
Holm beat Ronda Rousey to strip her of the Bantamweight Champion title and set her for a great downfall. Best known for boxing and kickboxing,
Holm dominated and only needed two rounds for a KO through head kick and punches.
However, it wasn't all glittery and gold since, although the Preacher's Daughter showed off as more than just a worthy opponent to many of the biggest stars.
She suffered losses to Miesha Tate, Valentina Shevchenko, Germaine de Randamie, Cris Cyborg, and Amanda Nunes in nine bouts over the course of the last six years.
Still, Holm returned and is scheduled to fight Ketlen Vieira in May on the back of two wins earned in 2020. She certainly still attracts attention as one of the best-known names in MMA.
Miesha Tate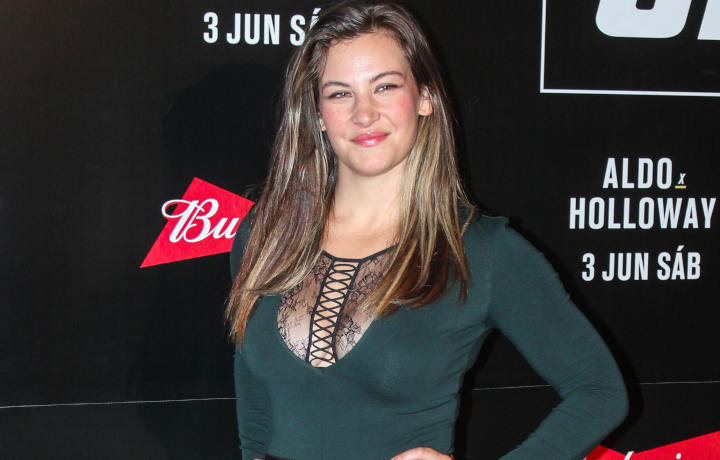 Miesha Tate is a former UFC Bantamweight Champion known for her grappling and wrestling submission. Tate won her first Strikeforce title by beating Marloes Coenen and was widely recognized as tough to the point of no return.
She only lost the belt with a dislocated shoulder in a fight against Ronda Rousey, where she waited far too long to tap.
Tate later beat Holly Holm to become the UFC champion but was battered by Amanda Nunes in a three-minute bout to lose it in her first defense.
She retired in 2016 stating it's not her time anymore but returned after four years – beating Marion Reneau in July 2021 and suffering a loss to Ketlen Vieira.
Nicknamed Cupcake, Tate is still known to enjoy ground-based arts and she often has full control with many fighters giving praise for it.
She is scheduled to UFC Fight Night 209 bout against Lauren Murphy in May, as many can't wait to see the contrast in styles and how Tate actually bodes at the moment. She certainly has more than her records of 19 – 8 – 0 would suggest and we're hoping for a spectacle.
Claudia Gadelha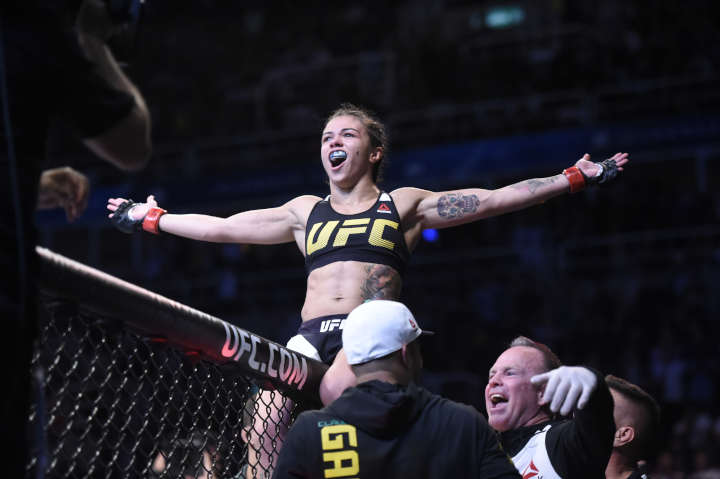 Retired in December 2021, Claudia Gadelha is more of an honorable mention on the list. She's had trouble with injuries throughout her career and it often felt she could have made a lot more if it wasn't for the bad luck in training.
Gadelha was one of the pioneers in UFC's Strawweight competition and was certainly a force to be reckoned with 2008 through 2014.
However, painful losses to Joanna Jedrzejczyk in 2014 and 2016 certainly left a mark and was tough to bounce back from despite some top performances since.
All of her five losses came through decisions, but four of those came unanimously.
She's been known for her Jiu-Jitsu skills as a great grappler but it must be noted Gadelha often lacked stamina in longer bouts, which showed crucial against Jedrzejczyk.
Her performances dropped in later rounds more often than not and this cost her although the downside could be credited to injuries. The Brazilian star remains devoted to UFC even after retiring from the sport, set up to work on fighter development in Brazil.
Jennifer Maia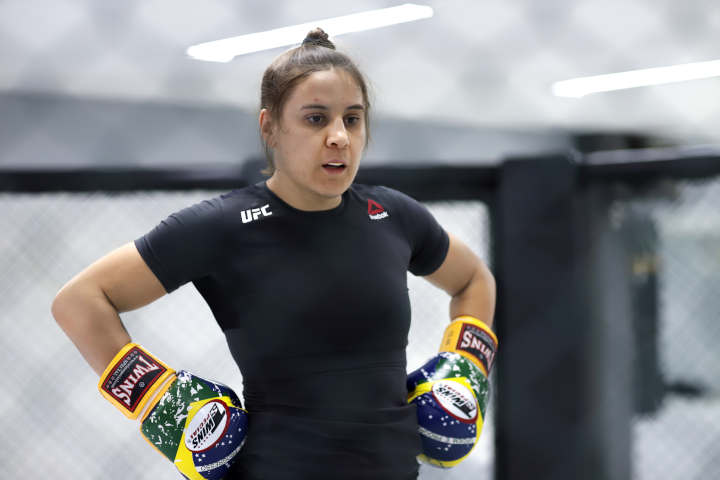 Former Invicta FC Flyweight Champion of the World, Jennifer Maia could have hardly missed her place on our list.
Another Brazilian star on it, she's currently signed with UFC and is ranked #4 in Women's Flyweight.
Maia is a black belt in both Brazilian Jiu-Jitsu and Muay Thai, offering a great mixture for MMA and being known as a great striker.
She's great at countering submissions and has no trouble going to the ground, which is a testament to her well-rounded nature as a fighter.
We do feel this earns her a spot towards the end of anyone's list although Maia has had trouble coping with some of the biggest stars in the Flyweight division of UFC.
She's earned a Performance of the Night award as she beat Joanne Calderwood, showing all she can do before going to challenge Valentina Shevchenko.
Maia faced a great task but showed off as a worthy opponent despite losing on Decision after five rounds.
We felt Maia could have done more earlier this year too, but Katlyn Chookagian obviously doesn't suit her all too well.
Chookagian denied her through a unanimous decision after three rounds at UFC on ESPN: Kattar vs. Chikadze – which was the record-breaking 8th unanimous decision win for her rival. We will be waiting anxiously to see if Maia can bounce in 2022 already!