Tallest Wrestlers of All Time in WWE – Who Makes the Top 10?
While today there aren't as many super-tall wrestlers in the WWE as there were in the past, these phenomena certainly catch our attention every time we get an opportunity to watch them.
Over the past five decades, we've seen some real giants grace the WWE ring and attract huge crowds.
But even among the tallest wrestlers, a small number of them stand out due to their sheer stature. These are the top ten tallest wrestlers ever to compete in WWE.
10. Robert Maillet – 6'8″ (203 cm)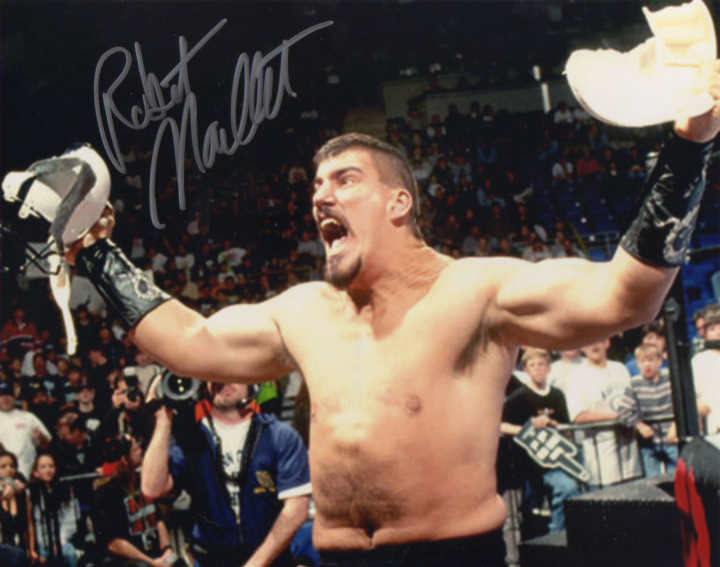 Although Robert Maillet's listed height varies between 6'8'' and 6'11', he's undoubtedly one of the tallest wrestlers to ever compete in the WWE.
Robert Maillet started wrestling in the early 90s, under the name Acadian Giant. During his first few years in wrestling, Robert changed several organizations and nicknames in the process, adopting names like Giant Goliath and Goliath El Gigante.
His big break came in 1997 when he signed with WWE alongside another promising wrestler, The Jackyl.
Known as a heel (i.e., bad guy) for most of his WWE career, Robert was famous for his Iron Claw move in which he would hold and strangle opponents, only letting them go when his wrestling partner The Jackyl slaps him across the face.
Robert only had a short stint with the WWE that lasted for a couple of years. That said, he has also built up quite an impressive acting career outside of wrestling.
He has appeared in blockbuster hits like 300, Sherlock Holmes, Immortals, Pacific Rim, Hercules, and Deadpool 2.
9. The Undertaker – 6'10″ (208 cm)
For people who aren't huge fans of WWE, the 6'10'' tall Undertaker is just one of the tallest wrestlers to do this sport. But, for every WWE follower, he ranks as one of the greatest professional wrestlers of all time.
Imposing in stature, The Undertaker became popular for his horror-themed macabre personality. His style is perhaps the most recognizable example of WWE's ear of outlandish wrestlers and freakish costumes.
He is best known for his long career at WWE, which he wrestled for from 1990 to 2020. A big and scary wrestler by nature, The Undertaker often went a step further to demoralize his opponents before a fight.
This includes having theatrical and creepy entrances, links to the supernaturals, bringing caskets to the ring, and employing other psychological tactics.
During his career, The Undertaker won the WWE Championship four times and the World Heavyweight Championships three times.
He also recorded the famous "Streak," a series of 21 straight wins in WrestleMania, lasting from 1991 to 2013. His legendary wrestling match against Stone Cold Steve Austin is still the highest-rate segment in WWE Raw history.
8. Kevin Nash – 6'11″ (211 cm)
Kevin Nash is one of the few notable WWE wrestlers that have used their real name during their entire career. Standing tall at 6'11' and well built, Nash was prominently a member of two world-class tag teams, The Kliq and the New World Order.
These teams comprised other wrestling legends like Hulk Hogan, Scott Hall, and X-Pac.
During his career in the WWF/WWE, WCW, and TNA, Kevin Nash won 21 championships. This includes six world championships and twelve world tag team championships.
Apart from these wins, Nash also holds the distinction of being the first wrestler to defeat Goldberg, breaking his 173-0 streak.
These wrestling achievements helped Kevin Nash become a two-time WWE Hall of Fame inductee. He was inducted individually in the 2015 class and as a member of the New World Order tag team in the 2020 class.
Despite being well into his sixties, Kevin Nash is still an active wrestler and is still signed to WWE under a legends contract. He has also appeared in tons of movies, TV shows, and video games in the past three decades.
7. Big Cass – 7'0″ (213 cm)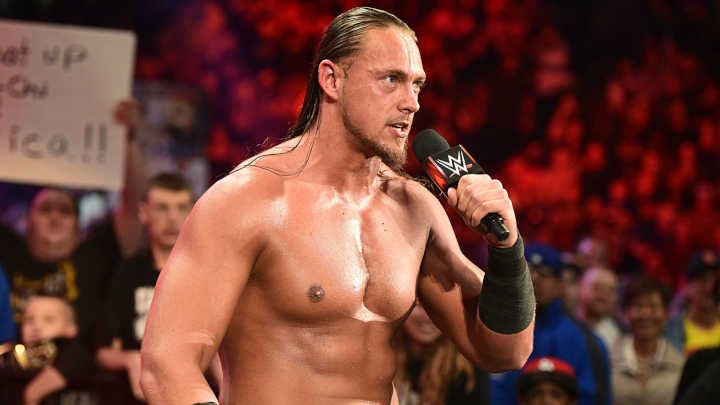 William Morrissey, also known as Big Cass, Big C, or Colin Cassady, is the first of the three seven-footers we'll talk about on this page. He's also the youngest of the three and is still active in the wrestling world.
Even though he's still in his best wrestling years, Big Cass has already enjoyed a lengthy tenure in WWE, which spanned from 2011 to 2018.
During his time, he had a couple of notable fights but is primarily known for his Enzo and Cass wrestling tag team, which he ran with Enzo Amore.
The two have enjoyed great success over the years and have even been named the tag team of the year in 2015 at the WWE NXT Year-End Awards.
After ending his contract with the WWE in 2018, Big Cass continued to wrestle in the independent wrestling circuit for a couple of years before signing up with Impact Wrestling in 2021.
Due to his height and wrestling style, Big Cass has enjoyed great popularity in the WWE and has been featured in a number of WWE video games.
6. Kane – 7'0″ (213 cm)
Kane is the oldest and heaviest of the three seven-footers on our list, with a billed wrestling weight of 323 (147 kg).
Kane's explosive style and brass attitude propelled him to the very top of the WWE during the 90s, commonly known as the "Attitude Era."
Since defeating fan-favorite Stone Cold Steve Austin in 1998, he continued to headline pay-per-view events for more than two decades. Kane held the most PPV cards in WWE history until his record was broken by Randy Orton in 2021.
Kane is often called the best big man wrestler ever, most notably by his former tag team partner Big Show. And, his results certainly justify this reputation.
He won three heavyweight championships during his career and is a twelve-time world tag team champion. Additionally, Kane holds the record for most Royal Rumble match appearances at twenty.
He also leads an active public life outside of wrestling and has appeared in numerous TV shows and movies, even landing a lead role in the 2006 slasher film See No Evil.
Another interesting thing about Kane is that he's been the mayor of Knox County, Tennessee, since 2018 while still being signed under WWE.
5. Big Show – 7'0″ (213 cm)
Big Show is not only one of the tallest wrestlers of all time, but also one of the most famous ones of our generation.
A wrestler for WWE from 1999 to 2021, Big Show has enjoyed a great wrestling career. He started wrestling in 1994 in WCW, where he was first known as The Giant, often initially introduced as the son of Andre the Giant.
During his almost three decades in wrestling, Big Show has recorded some very impressive performances.
He is a seven-time world champion and the only wrestler in history who has won all four heavyweight championship belts.
But, his records don't stop here. Big Show is an eleven-time world tag team champion and has been the headliner for many pay-per-view events during his long career.
While he will always be remembered as one of the tallest WWE wrestlers of all time, wrestling fans have a lot more things to discuss about Big Show apart from his height.
He's even made an imprint in the movie and television industry, having a lead role in the comedy film Knucklehead and the Netflix sitcom The Big Show Show.
4. The Great Khali 7'1″ (216 cm)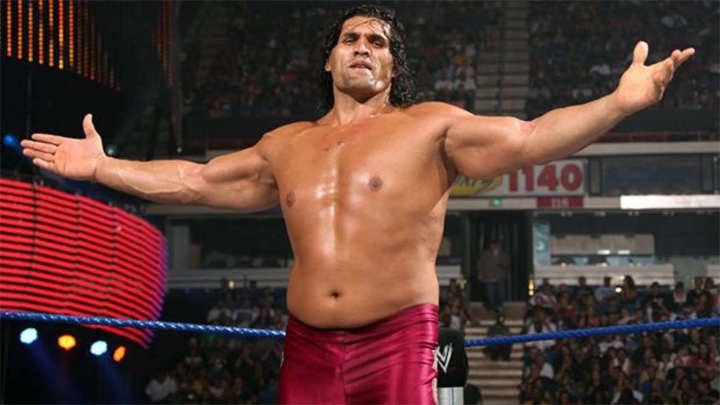 Born in Dhiraina, India, Dalip Singh Rana has come a long way to become a WWE Hall of Fame inductee in 2021. While you might not know him by his real name, his ring name The Great Khali is well-known in the wrestling world.
The Great Khali started wrestling at 28 in 2000 for the All Pro Wrestling organization. In his first few years, he switched several wrestling organizations and even wrestled for the New Japan Pro-Wrestling promotion before signing up with the WWE in 2006.
He first started as a villain in the WWE and saw great success from the very start, recording an undefeated streak during his first year in the organization.
During this period, he fought WWE legends like Rey Mysterio, John Cena, and The Undertaker.
Apart from being one of the tallest wrestlers of all time, The Great Khali can also boast a very successful career in the WWE. His biggest success came in 2007 when he eliminated Dave Batista and Kane to become the new World Heavyweight Champion.
3. Giant Silva 7'2″ (218 cm)
Standing tall at 7'2″, Giant Silva is the tallest Brazilian professional wrestler and one of the tallest wrestlers of all time.
Much like the tallest wrestler on this list, Giant Gonzales, Giant Silva also played professional basketball before diving into the wrestling world. He even played for the Brazilian national basketball team at the 1988 Summer Olympics.
Although Giant Silva spent most of his wrestling career outside the WWF, he did have a short stint in the most reputable wrestling organization in the world.
His most significant highlight was at Summerslam 1998 when he and his team defeated Kai En Tai. He then continued most of his wrestling in New Japan Pro-Wrestling, where he competed from 2001 to 2008.
After ending his professional wrestling career, Giant Silva also tested his skills in MMA, signing up with the famous Pride Fighting Championship for three years.
However, he didn't record as much success in the sport, recording two wins and six losses before retiring from mixed martial arts.
2. Andre the Giant 7'4″ (223 cm)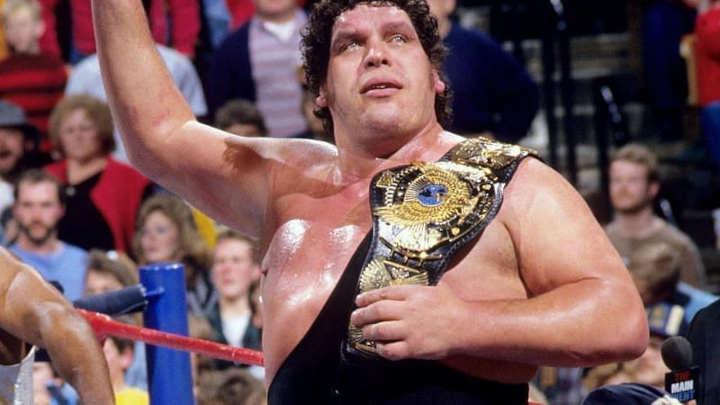 While Andre the Giant might not be the tallest WWE wrestler of all time, he is certainly one of the most important ones that popularized the trend of tall wrestlers in WWE.
Born in France in 1946, Andre the Giant moved to North America in 1971, where he started wrestling a few years later. In the mid-70s, he was part of WWE's predecessor WWWF, later renamed WWF.
Called "The Eighth Wonder of the World," Andre the Giant was a special attraction to every wrestling fan in the country, as no one had previously seen such an imposing wrestler of his stature.
During the 80s, Andre the Giant became one of the biggest WWE stars and developed a fierce rivalry with another WWE legend, Hulk Hogan.
The two went head-to-head in a number of bouts, with Andre's most significant win coming in 1988, when he defeated Hogan to win his sole World Heavyweight Championship.
Andre the Giant died in 1993 and became the inaugural inductee in the WWE Hall of Fame soon after. During his career as a wrestler and entertainer, he also appeared in some cult classics.
This includes the popular show The Six Million Dollar Man, as well as movies such as Conan the Destroyer and The Princess Bride, among many other films. He built a strong legacy in the wrestling world that helped other tall wrestlers find their way into the business.
1. Jorge Gonzales 8'0″ (244 cm)
By far the tallest wrestler to ever compete in the WWE, Jorge Gonzales stood tall at a massive eight feet.
During his six-year wrestling career, Jorge Gonzales competed in WCW under the name El Gigante and under the name Giant Gonzales in the WWE.
Born in Argentina, Giant Gonzales also enjoyed a solid basketball career and is also the tallest Argentine professional basketball player in history.
He even played for the Argentine national team that won a bronze medal at the 1985 South American Basketball Championship. Gonzales was a great prospect, even attracting the attention of the Atlanta Hawks NBA team.
However, prone to injuries and unable to adapt to the NBA, Gonzales found his way into professional wrestling.
During his career as a professional wrestler, primarily in the WWF (today the WWE), Gonzales had some notable feuds. This includes going against The Undertaker at Wrestlemania IX and "Macho Man" Randy Savage.
While Giant Gonzales didn't win any notable wrestling competitions, Giant Gonzales was undoubtedly a fan favorite during the wild wrestling years of the 90s and will always be remembered as one of, if not the tallest WWE wrestler ever.