Tallest Basketball Players – Who Are the Biggest Guys in NBA?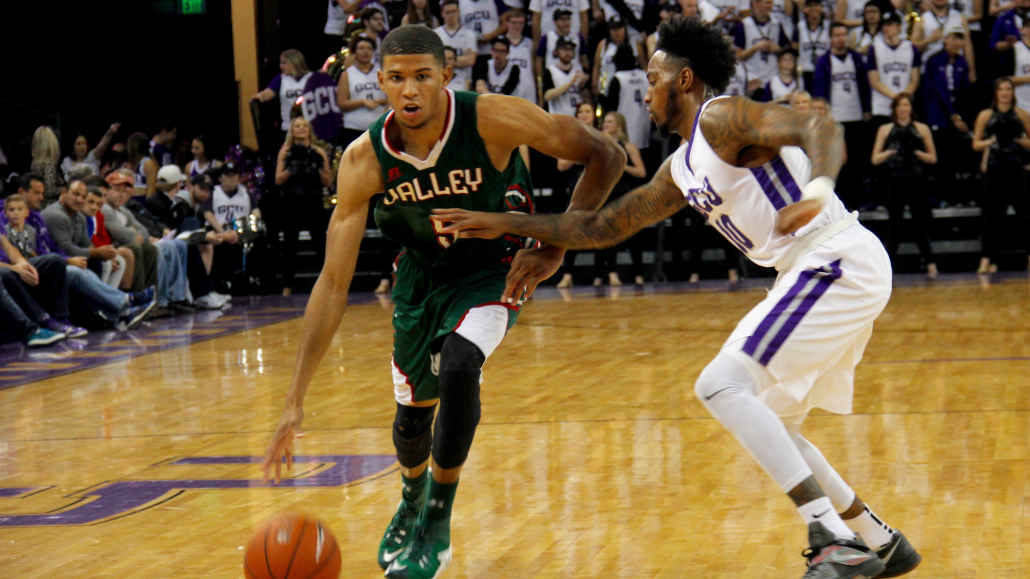 We have obviously seen prominent examples showing height isn't all basketball players are looking for to break through the ranks. However, it's a big deal, and many kids with above-average height get advice to try basketball – and for a reason.
Many of the players we'll mention below surely share that story as we take a look at some of the tallest basketball players in the NBA ever! We will get to the BIG guns but let's start with a couple of honorable mentions first.
Sun Mingming – 7'9''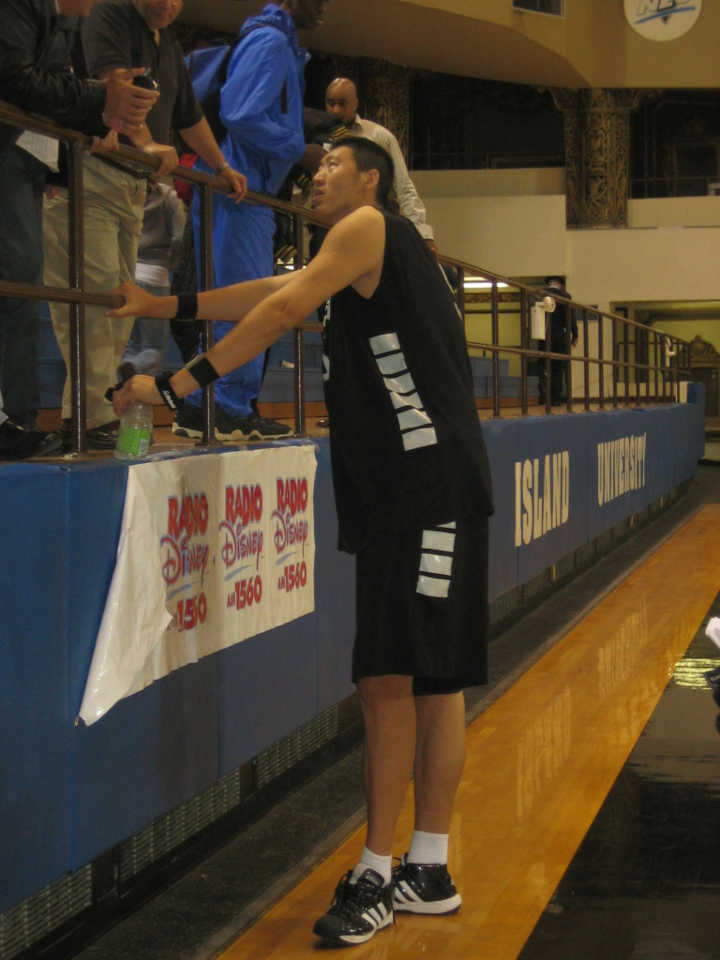 Source: Wikipedia
You will surely recognize Sun Mingming if you loved Jackie Chan and Chris Tucker's blockbuster franchise Rush Hour.
Mingming played the Kung Fu Giant and caught the eye of many for his height there as well. However, fewer people know he is a basketball player and a record-breaking one as well!
Mingming holds the record as the tallest basketball player ever, measured at almost 7 feet 9 inches and appearing together with his wife in the Guinness World Records book in 2016.
He attended Ventura College but went undrafted in the 2005 NBA Draft with many rating his chances killed by a brain tumor, as Mingming moved to minor league basketball and switched between several teams over the next two years.
The Chinese center then spent two years with Hamamatsu Phoenix and had considerable success with Beijing Ducks from 2009 to 2014.
He stopped playing professionally but continued to take on acting roles in the likes of the 2016 title Funny Soccer and the 2017 fantasy Thousand Faces of Dunjia. Unfortunately, Mingming never fully lived up to the expectations many had, but he certainly enjoyed the fame.
Robert Bobroczkyi – 7'8''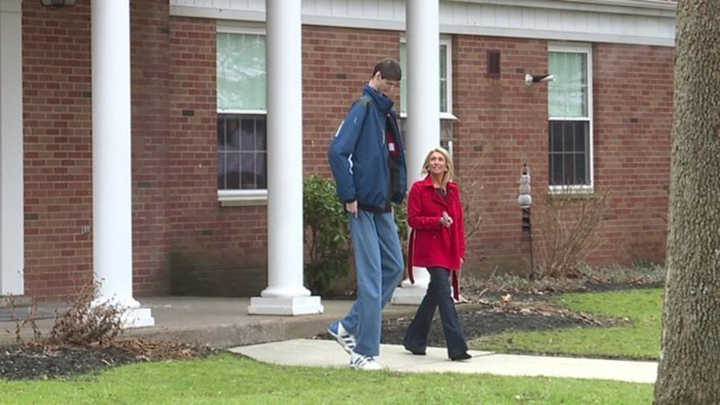 Source: wnep.com
Robert Bobroczkyi is a much younger counterpart to the honorable mention above, born in 2000. The Romanian youngster first went viral back in 2015 for his unbelievable height, which simply had him dominating his peers.
He was first recognized by talent recruiters at A.S. Stella Azzurra from Rome, Italy. The team is renowned for its youth sector, where Bobroczkyi spent almost two years.
At 7'8'', Rob Bob could soon change the answer to our question who is the tallest NBA player, if some of the plans go his way.
He moved to the US back in 2016 and attended SPIRE Institute, where he made a debut in January 2018. Committed to Rochester University, Bobroczkyi felt the effects of COVID-19, too, but it's fair to say expectations plummeted for his physical conditions as well.
As you might expect, Bobroczkyi has encountered numerous health problems through his teens, although he was not diagnosed with any hormonal disease or overgrowth syndrome.
Still, he has scoliosis, and adding body mass and muscles in an attempt to add to fitness and stamina could prove quite difficult.
Gheorghe Mureșan – 7'7''
Source: Yahoo! Sports
Rob Bob's compatriot Gheorghe Mureșan made history and retired from professional basketball right about the time the former was born.
Mureșan was 7'7'' and quickly turned famous with short stints in Universitatea Cluj – Napoca as well as Pau – Orthez. He moved to the US in 1993 and made his NBA debut the same year.
Mureșan joined Washington Bullets and made an immediate impact. He went on to spend five seasons, first with Bullets then Wizards, before moving on to New Jersey Nets in 1999.
The 7'7'' giant then left for France and returned to Pau – Orthez, where he won the French league before retiring.
Interestingly, Gheorghe Mureșan had great vision, and many predicted a much greater career for him. Still, he scored just over 3,000 points in the NBA and even topped the Field Goal Percentage top list twice, impressing in 1996 and 1997.
Injuries kept him back, and it was tough to bounce, especially with the Nets late in his career.
Manute Bol – 7'6''
Source: open-court-basketball.com
Manute Bol is just an inch shorter than Gheorghe Mureșan, standing at 7'6''. Bol was selected by the Washington Bullets as the 31st pick in 1985 and was quick to show off as one of the best blockers in the NBA ever.
He recorded an almost unbelievable average of 5.0 blocks per game in his rookie season with the Bullets.
Bol spent time with the Bullets, Golden State Warriors, Philadelphia 76ers, and Miami Heat, with two tenures at all of the first three. He went on to maintain 2nd best blocks per game average (3.34) in the NBA, behind only Utah Jazz' Mark Eaton and ahead of names such as Hakeem Olajuwon and David Robinson.
He holds a peculiar record too, where Bol's the only player to have made more blocks than scored points in the NBA history.
Reportedly, Bol was quite sensitive about his great height and didn't like to talk about it. He was also a great influence on two other names we mentioned in Gheorghe Mureșan (during his second stint with the Bullets) and Shawn Bradley (during his second spell with the 76ers).
Shawn Bradley 7'6''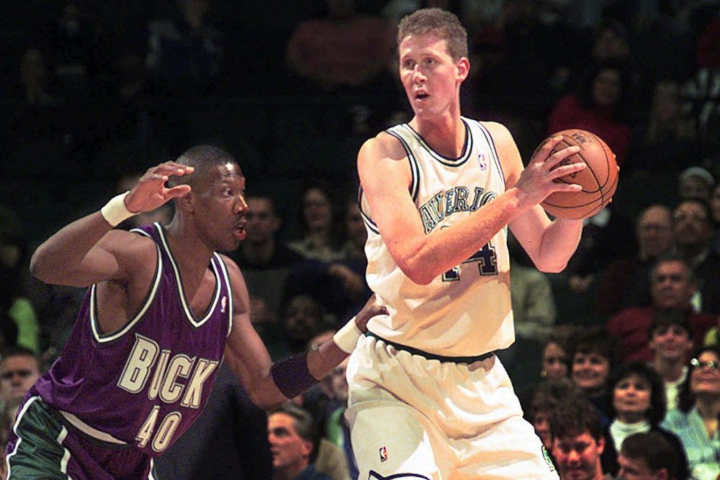 Source: globalnews.ca
Shawn Bradley's jersey number said it all when he was drafted by the 76ers in 1993. Standing at 7'6'', Bradley got the number 76 and the nickname 'The Stormin' Mormon' for his two-year hiatus and full-time missionary with the LDS Church.
He spent two seasons in Philadelphia and two years with New Jersey Nets before moving to Dallas Mavericks, where he spent eight years and played alongside Dirk Nowitzki.
He enjoyed playing defense and collected a total of 2,119 blocks in the NBA with a game average of 2.55 – which is the 7th most in the league ever.
Bradley has been active with a number of charitable organizations since and generally loved his role-model status, which he garnered in Utah especially.
Unfortunately, Bradley was involved in a horrific accident where he got hit by a motorcycle while riding his bike in early 2021. He was left paralyzed with a spinal cord injury and still works to recover, at least partially.
Tacko Fall 7'6''
Source: forbes.com
At 7'6'', Tacko Fall is the tallest current player in the NBA. He was discovered on the streets of Dakar at the age of 15 and moved to the US just a year later.
Fall was quick to adapt to college basketball and set records for height, wingspan, and standing reach in NBA Draft Combine back in 2019.
Still, Fall was undrafted in quite the disappointing turn of events for him. Celtics recognized his potential, though, and signed him on a contract as he joined the team for the Summer League.
Fall was signed on a two-way contract with Maine Red Claws. He went on to play 26 games for the Celtics before moving to Cleveland, where he got a similar contract between Cavaliers and Charge (in the G League).
Fall is known to be a great shot blocker, but as you might expect with his height, he lacks agility and fitness. He's been touted to join teams desperate for height in early 2022, primarily in Detroit Pistons.
Slavko Vraneš – 7'6''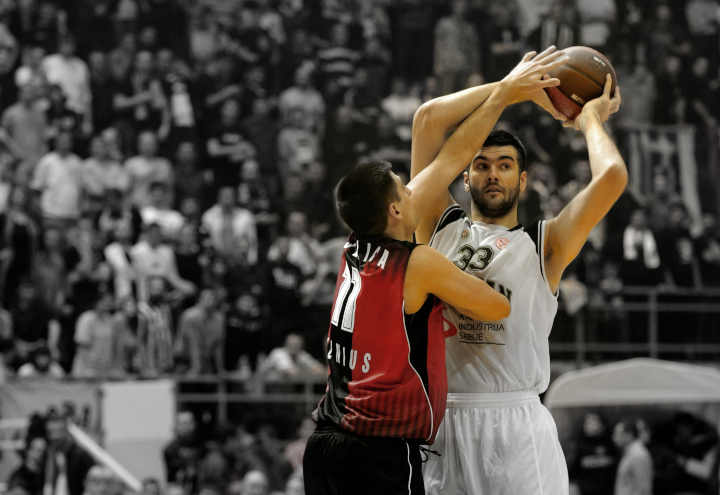 Source: Wikipedia
Slavko Vraneš had a very short spell in the NBA as New York Knicks picked him in the 2nd Round of the Draft back in 2003.
He started his career in Belgrade and played for most Serbian big guns as well as Efes Pilsen, UNICS Kazan. However, it was not meant to be with the Knicks for Vraneš, and he was waived before making an appearance with the team.
Vraneš was picked up by Portland Trail Blazers, and he signed a ten-day contract, only to play three minutes and make no serious mark. He was let go as his contract expired, and Vraneš returned to Europe, where he kept playing until 2018.
He won three Serbian league titles, three Cups, and three ABA League titles, as well as a Eurocup champion with UNICS. Vraneš knew how to make the best of his giant posture in Europe and really made the difference for the Russian team that year, as they joined the EuroLeague.
Yao Ming – 7'6''
Source: chron.com
Yao Ming became a household name and is certainly still one of the go-to names in every discussion of the tallest NBA player ever.
He was the first foreign player with no college experience to be the number one pick of the NBA Draft, as the Houston Rockets selected him in 2002.
Yao quickly rose to fame and had one of the most talked-about matchups ever as he met Shaquille O'Neal. The Chinese superstar would continue his rise but was soon plagued by injuries, and many feel it held him back from becoming one of the best centers in the league ever.
Still, Yao was included in NBA All-Star eight times, twice in All-NBA Second Team and three times in the Third team.
He was renowned for his awareness, fitness, and ability to sprint despite standing at 7'6''. Yao ended his career with a total of 9,247 points and 4,494 rebounds, averaging 19 PPG and 9.2 RPG.
He is still one of China's best-known athletes, and he even became somewhat of a symbol to modern China that had a lot more to offer to the world.
Sim Bhullar – 7'5''
Source: YouTube
Sim Bhullar had somewhat of a drama in college basketball, committing to one team and going on to play for another.
However, he skipped his final two years in college to declare for the NBA Draft in 2014. The 7'5'' giant went undrafted, though, and joined the Sacramento Kings for the Summer League.
Bhullar would go on to play only three games with the Kings in what was hardly a chance to impress. He then moved to the Development league with Reno Bighorns, going to Raptors 905 in 2015 and then overseas.
Bhullar currently plays in Taiwan, and the NBA looks like a distant memory as he works his magic with Hsinchu JKO Lioneers at the age of 29.
Bhullar is the first player of Indian descent to play in the NBA, although his parents migrated to Canada before he was born.
Chuck Nevitt – 7'5''
Source: hoopsmastery.com
Rolling back in time, we get to Chuck Nevitt and his 7'5". He ended his career back in 1994, but Nevitt remains one of the tallest NBA players ever.
He started his career with Houston Rockets, moving to Los Angeles Lakers, Detroit Pistons, Chicago Bulls, and San Antonio Spurs, among others.
While some of these were just ten-day contracts, Nevitt made an impact and played a total of 155 games over the course of nine years.
He enjoyed his time with Detroit and Houston Rockets the most but won the league title with Lakers in 1985, having played 11 games and averaging 5.4 minutes per game with 1.1 PPG, 1.8 RPG, and 1.4 BPG.
Boban Marjanović – 7'4''
Source: thesixersense.com
Boban Marjanović moved around Europe before making his way to the NBA, starting with Hemofarm and moving to CSKA Moscow, Zalgiris, Nizhny Novgorod, Mega Vizura, and Red Star Belgrade.
He was signed on a one-year contract by San Antonio Spurs in 2015, and it's fair to say Marjanović capitalized despite spending just a year with the Spurs.
Marjanović went on and spent years with Detroit Pistons, Los Angeles Clippers, and Philadelphia 76ers before moving to Dallas in 2019.
Mavericks have been a great fit, and Marjanović delivered in 44 games with a 9.6 minutes per game average and 6.6 PPG as well as 4.5 RPG in his debut season with the team.
He is one of the tallest NBA players at the moment, and the fans love his personality too. At 7'4", Marjanović will often play fun with his posture, especially in training with some of his shorter teammates.
Mark Eaton – 7'4''
It's impossible to end this list without the defensive superstar and 1989 NBA All-Star Mark Eaton. He was twice the defensive player of the year and four times the NBA blocks leader, which led him to a total of 3,064 blocks in his career – second only to Kareem Abdul-Jabbar when he retired.
He would be surpassed by Hakeem Olajuwon and Dikembe Mutombo, but Mark Eaton still holds the top spot in blocks per game at an unbelievable 3.50 after 875 games played.
Eaton spent his entire career with Utah Jazz and played a great role as the team rose from the bottom of the table to serious Play-off contenders.
His number 53 was retired, and Eaton's legacy is obviously there for everyone to see – as one of the greatest shot-blockers the league had ever seen in what was largely a mediocre team when he first came there.