Best Arm Wrestlers of All Time – Arm Wrestling Champions You Should Know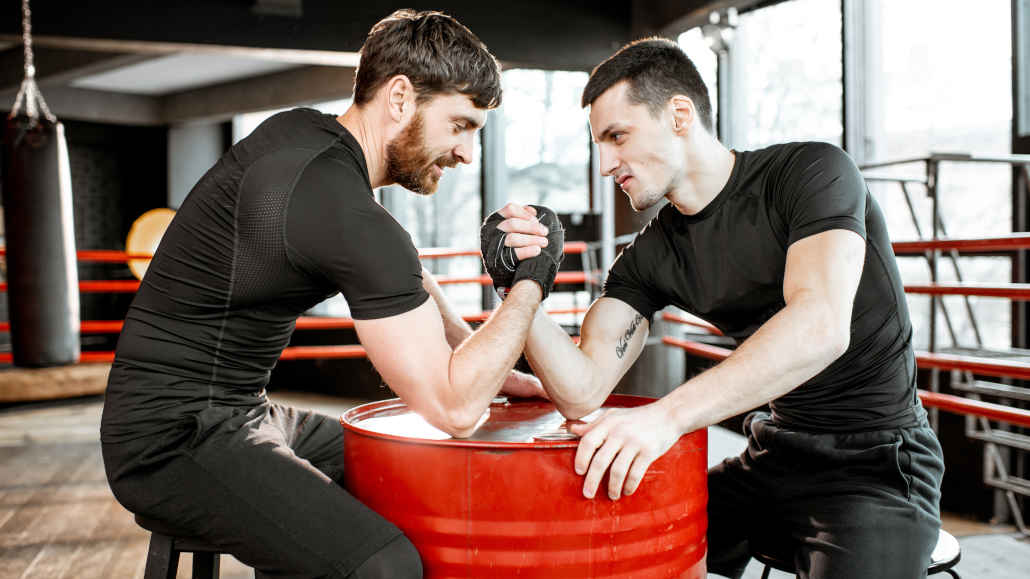 10 minutes
Last Updated: May 31, 2022
Like most other forms of wrestling, arm wrestling has existed in one form or another for many years. Arm wrestling is the ultimate test of strength.
Essentially, professional arm wrestlers prove their strength by relying on the strength of their arm muscles. Arm wrestlers primarily use the biceps brachii, pectoralis major, pronator teres, and flexor carpi ulnaris.
When it comes to the rules of professional arm wrestling competitions and tournaments, competitors must start at the same time.
In addition, the shoulder of both competitors must remain in a square position before the match starts. Also, competitors must start with one foot placed on the ground.
While arm wrestling is an ultimate trial of strength, technique plays an extremely important role. Most experts agree that in arm wrestling, technique and strength play equally important roles. With the right technique, pro arm wrestlers can defeat someone who is way stronger than them.
While the history of the sport, it goes back to ancient Egypt, the very first professional arm wrestling competitions took place in 1905. This year, the very first professional arm wrestling tournament was held in Montreal, the Canadian Armwrestling Championship.
Today, professional arm wrestlers compete in the highly-publicized World Armwrestling Championship organized by the World Armwrestling Federation. In this article, we take a look at the best arm wrestlers of all time, you should definitely know about.
John Brzenk
Born in July 1964 in McHenry Illinois, John Brzenk also known as The Perfect Storm and The Golden Boy was named the Best Arm Wrestler of All Time in the Guinness Book of World Records.
The fifty-seven-year-old arm wrestler was introduced to the sport at a very young age since his father was also a prominent arm wrestler.
In one of his interviews, John Brznek said that he most certainly gained some of his arm strength and size from his father through genetics. When he was at school, he used to arm wrestle with his friends.
Unfortunately, in eighth grade, he suffered a serious injury after breaking his arm. John Brznek participated in his very first official arm wrestling tournament when he was only sixteen years old. At such a young age, he was able to defeat opponents way stronger than him, so he earned the nickname Giant Crusher.
His career took off in 1983 when he won the Wide World of Sports title. He was only eighteen years old. During his career, he faced quite a few prominent opponents, including Alexey Voyevoda and Devon Larratt. Aside from arm wrestling, this armwrestling champion works for Delta Air Lines as a mechanic.
Devon Larratt
When discussing the best arm wrestlers of all time, we have to mention Devon Larratt. Devon Larratt was born in April 1975 in British Columbia, Canada. At the moment, amazing Devon Larratt is ranked number one in North America.
Similar to John Brznek, Devon's interest in arm wrestling started when he was a teenager. One of his first unofficial opponents was his grandmother who was also an avid arm wrestler.
Before making it big in the world of arm wrestling, young Devon started by joining smaller tournaments held in western Canada.
When he was twenty-one years old, he joined the Canadian Armed Forces. He served here for sixteen years. While in the military, he managed to compete. Devon had his big break in 1999 when he competed at a major arm wrestling event held in Japan.
Here, he lost to great John Brznek and defeated also successful Krister Jonsson. Four years later, he competed at the Ontario Championship.
He had more professional success after defeating Mike Gould and Robert Graham. The next year, he also competed at the Ontario Championship. After a series of wins, he lost against John Brznek.
Alexey Voyevoda
Image couresy of viva.org.uk
Alexey Voyevoda is the most successful arm wrestling champion from Russia. Alexey Ivanovich Voyevoda was born in May 1980 in Soviet Ukraine.
Before making it big in the world of arm wrestling, Alexey Voyevoda enjoyed huge success as a professional bobsledder. His bobsledding career kicked off in 2002 when he turned professional.
He competed at the Winter Olympics 2006 held in Turin. Alongside his teammates Alexander Zoubkov, Alexei Seliverstov, and Phillippe Egorov, Alexey won a silver medal in the four-man event.
Alexey also competed at the World Championship 2008 held in Germany. He went home with a bronze medal. He also won a bronze medal at the Winter Olympics 2014 held in Sochi.
When it comes to his arm wrestling career, he won several wrestling championships in Russia. He is also just one of few people who managed to defeat John Brznek. His amazing win over John Brznek was featured in the Pulling John documentary.
Speaking of Pulling John, it is a great documentary for those who want to learn more about his early childhood years. In addition to defeating John Brznek, Alexey also defeated Matt Girdner, Travis Bagent, and Alexey Semerenko. In 2004, Alexey won the World Armwrestling Federation Championship and the European Championship.
Cleve Dean
Cleve Dean was an arm wrestling champion from Georgia, United States. He was born in December 1953. Cleve spent most of his early childhood years on a family farm.
He enjoyed harvesting tobacco and cotton to help his family. He also raised hogs. From such an early age, Cleve had a very strong work ethic.
In addition, he appeared very strong even as a child. His physique also matched his personality. He enjoyed travelling and meeting new people.
When it comes to his arm wrestling career, he most certainly dominated the scene back in the 80s side by side with his biggest opponent Virgil Arciero.
Back in 1979, Cleve Dean competed in the World's Strongest Man competition. For ten straight years, he dominated the scene as the World Champion. In one of his interviews, he said that his skill and strength could be credited to his early childhood years and the fact he grew up on a farm.
Over the years, he competed in many countries besides the United States, including Japan, Italy, and Sweden. Sadly, Cleve Dean passed away in 2011 at the age of fifty-eight.
Travis Bagent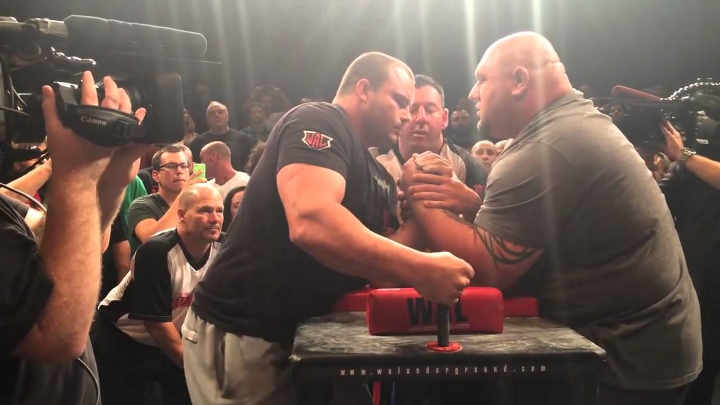 Travis Bagent was born in March of 1976. Alongside other highly-renowned names on this list, Travis Bagent is one of the best arm wrestlers and most successful armwrestling champions in the world.
When he was just fifteen years old, Travis started practicing his arm wrestling technique.
He has been involved in the sport professionally since 1997. At the start of his career, he lost to all opponents.
Nonetheless, this major setback did not stop him from working his way to the top. At the age of fifteen when he started arm wrestling, young Travis worked in a local bar. This is where he met his very first opponents.
Later in his career, he came face to face with many pro arm wrestlers, including Les Whims, Bob Lear, and Ray Patton. Travis' career really took off after 2000.
Throughout the years, Travis has won five AAA Nationals titles and nine Rt and Lt titles. In 2006, Travis won the Mike Could Classic trophy. His arm wrestling journey was featured in the Game of Arms reality television show that also included other big names, such as Dave Chaffee and Mike Ayello.
Dave Chaffee
Fans of arm wrestling most certainly know great Dave Chaffee who exhibits amazing strength and technique. Nicknamed Easy Money, Dave Chaffee was born in the United States. He is best known for hard hitter and top roll techniques.
Over the years, he faced quite a few opponents, including Dmitry Trubin, Devon Larratt, and Michael Todd. When it comes to the beginning of his career, things were not easy for Dave.
This armwrestling champion started his career in 2006. However, that same year he broke his arm and was not able to compete for quite a while.
In addition to his arm injury, Dave also struggled with serious neck problems. Most of his friends believed that he would not be able to compete in arm wrestling ever again after breaking his arm.
However, Dave proved everyone wrong. He was never a person who quits. Just three years after his arm injury, Dave won his very first World Armwrestling Federation title.
In 2015, Dave won the WAL Championship in the Super Heavyweight category. That same year, he won the WAL Southern Regionals in the same category. In 2016 and 2017, he won the WAL Northern Regionals and placed second at the WAL Championships.
Andriy Pushkar
Andriy Pushkar most certainly deserves his spot here. He was born in August 1985 in Ukraine. His interest in arm wrestling and bodybuilding emerged when he was just eleven years old after watching the Hollywood movie Commando that stars Arnold Schwarzenegger.
This is when Andriy decided to make his dreams of becoming a professional athlete come true.
His father Anatoliy Pushkar was one of his biggest fans and biggest supporters.
While we do not know much about his early childhood years, he once told that he grew up in a loving household. His father was also a professional arm wrestler and champion in a local Ukrainian town.
Needless to say, his father was the one who pushed him towards bodybuilding and arm wrestling. His hard work paid off in 2003 when he won his very first world championship medal.
He finished second in the EAF Championship. He also competed at the EAF European Championship in 2004 and landed first place in the 110+ Kg Left Hand category.
He also finished second at the World Championships 2004 in two categories. Sadly, Andriy Pushkar died in 2018 after suffering serious injuries in a car crash.
Levan Saginashvili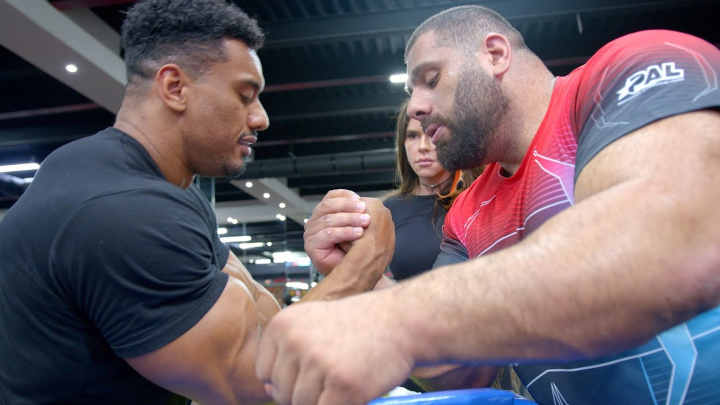 Levan Saginashvili was born in September 1988 in Georgia. Known as Georgian Hulk, he is considered one of the strongest pro arm wrestlers today.
Most arm wrestling fans recognize Levan by his strong, even intimidating physique. Levan also has what many call an inhuman size of arms. His writs are over thirteen inches.
His strong physique accompanied by impressive technique made him one of the most successful professional arm wrestlers of modern times.
Georgian Hulk is a seven-time WAF Champion. In addition, he won the EAF Championship six times and he won the World Cup Championship title in 2017.
This is not everything as Levan is also the winner of the Top 8 tournament held in 2019. Today, he has a contract with PAL (Professional Armwrestling League) based in Tbilisi, Georgia.
Denis Cyplenkov
Image courtesy of dailymotion.com
Denis Cyplenkov also known as the Ukrainian Hulk is another arm wrestling champion ar you should definitely know about. Denis Cyplenkov was born in March of 1982.
In the world of arm wrestling, the Ukrainian Hulk is best known for his inhumanly large forearms and hands. Besides being a professional arm wrestler, Denis is also a professional strongman and powerlifter.
Throughout his career, he had serious health complications mostly due to his very heavy training.
On one occasion, his blood vessels near the kidney suffered a major rupture. This naturally forced him to slow down a bit as he was not able to train with the same power and intensity as he was used to.
Back in 2018, Denis defeated Devon Larratt and this is considered one of the most legendary arm wrestling matches. In 2008, he also defeated Andrey Pushkar.
Gary Goodridge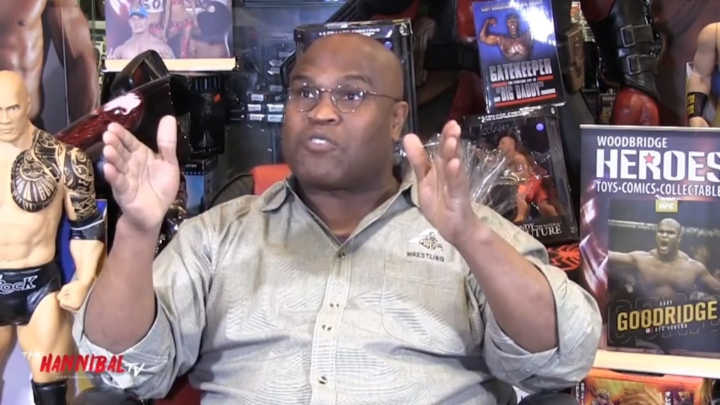 The tenth name on this list is amazing Gary Goodridge. Big Daddy as Gary is nicknamed was born in 1966 in Trinidad and Tobago. In addition to having a successful career in the arm wrestling industry, Gary is also a former martial artist and heavyweight kickboxer.
At a very young age, Gary moved with his family to Canada. Before becoming a professional athlete, he worked at the Honda company in Ontario as a welder.
He is one of just a few individuals who defeated John Brznek, first in 1991 and then in 1994. He rose to prominence in the 90s after defeating Sharon Remez. In 1990, Gary won the Canadian National Championship.
Three years later, he won the Gloucester International Armwrestling Championship. Gary also competed at the Yukon National Championship held in 1994. After a very successful run in the arm wrestling industry, he pursued careers in MMA, boxing, and kickboxing.