Crypto.Games Review – Casino Site Offering a Different Approach To Gambling
Cryptocurrencies and blockchain have revolutionized more than one industry in recent years, and the iGaming world has deeply felt the impact of these emerging technologies.
A variety of crypto-based gaming sites have emerged in those years, not the least of which is Crypto.Games, an online casino owned by MuchGaming B.V, a company situated in Curacao and operating under its gaming license. Check it out.
Despite a fairly small base of casino games offered on the site, Crypto.Games has become a major player in the crypto gaming world and has managed to attract quite a few players to its platform.
In this detailed Crypto.Games review, we will take a deep look at the operator's casino games, promotions, and other operational elements, in order to find out if Crypto.Games is the online casino you have been looking for.

Why Play at Crypto.Games
Crypto.Games Pros:
Games with high RTP rates
Curacao iGaming license
Ultra-fast withdrawal processing
Faucets
Around the clock customer support
Crypto.Games Cons:
No traditional casino bonuses
Lack of game variety
Support only in English language
Crypto.Games Casino Games
One of the most uncharacteristic features of Crypto.Games, compared to most gambling sites, is the fact it only offer a total of nine games on the platform.
Unlike many other casinos, which feature hundreds, if not thousands of games, Crypto.Games keep things quite simple in terms of game variety.
Only the following games are offered on the platform at this time:
Slot
Blackjack
Roulette
Dice
Dice V2
Plinko
Keno
Minesweeper
Lottery
And yet, despite the lack of diversity, the games you can find at Crypto.Games offer quite a bit for any true gambler out there, regardless of the stakes in question.
The games at Crypto.Games come with some of the lowest house edges imaginable, especially in the case of popular Dice, which can feature a house edge as low as 0.8%.
The games are also simple to learn and play, and daily promotions aimed at different games provide plenty of reason to try them all out and become a jack of all trades at Crypto.Games.
Dice at Crypto.Games
Dice is perhaps the most popular game at Crypto.Games, and it is one of the simplest, yet most attractive gambling games we have ever seen.
In Dice, you are allowed to set your own variance and win rates by moving a slider up and down between numbers 1 and 100.
In each spin, the RNG will select a random number, which needs to be higher than the number you set in order for you to win.
If you set the slider low, you will get many wins, but your wins will be smaller. Conversely, if you go for a high number, it will be more difficult to score a win, but you will get paid big when you do.
Dice is an extremely fast-paced game, allowing you to auto-spin at extreme speed, or play at your own pace if you prefer to take it easy.
With a minimal house edge and fast and simple gameplay, Dice is certainly Crypto.Games' flagship casino game, and it comes fully-equipped with a provably fair algorithm that sheds any doubts about the game's randomness.
Slot at Crypto.Game
Modern casino players are often spoiled for choice when it comes to slot games at online casinos, but Crypto.Games offers only a single version of this particular game.
The single slot machine offered by the casino is one of the simplest slots you can imagine, with a single payline across the middle of a 3×5 gameplay grid.
The symbols in the game are also quite basic, all derived from the classic slot experience of the casinos of old.
And yet, the game carries a very low house edge, simple gameplay rules, and is quite satisfying to play, despite the lack of flashy animations or high payout bonus rounds.
Casino Bonuses at Crypto.Games
Another surprising fact about Crypto.Games is that the operator does not provide any Crypto.Games deposit bonuses, reload bonuses, or any other bonus you might expect from regular casinos or even sweepstakes casinos these days.
Lack of any bonus offers definitely stands out in this day and age, with so many competitors offering 100% matches on first and often even subsequent deposits.
However, it is also worth noting that many bonuses offered by other casinos come with very high wagering requirements, effectively making them a lot less valuable than they might seem at first.
Instead, Crypto.Games offer a system called faucets, which is utilized by some other crypto casinos as well, and which allows players to request coins to play with even before they make a real money deposit.
What Are Faucets at Crypto.Games?
The faucets mechanic at Crypto.Games is quite a bit different from what you may be used to at other online casinos, but it works like a charm.
While other sites might let you try their games in play money mode, Crypto.Games allows you to use faucets to request real coins and play real money games before depositing.
The amount of coins you may request from your faucets depends on your standing with the operator, but even new players can request small amounts of coins.
Furthermore, players must be careful not to abuse faucets, as only real depositing players will be allowed to actually benefit from the mechanic in a monetary sense.
Still, when used properly, faucets can be a great way to stay in action in-between your deposits and have a shot at winning back some of the money you may have lost in a bad session.
Crypto.Games VIP Membership
Another mechanic that players at Crypto.Games can greatly benefit from is the VIP Membership, which is only available to a limited number of players each month.
While other casinos often allow anyone who plays for high stakes to reach the highest echelon of the VIP scheme, only select few players can reach the VIP Membership at Crypto.Games.
In order to be awarded a VIP Membership for 30 days, you will need to end a month as one of the players with the most amounts wagered for your particular coin.
If you can get to the top of one of these leaderboards, you will become eligible for a VIP Membership, and you may earn an extra free month if you can keep the membership for three consecutive months.
The Crypto.Games VIP Membership allows you special chat and exchange privileges, access to an exclusive faucet level, birthday gifts, and much more.
Daily Promotions at Crypto.Games
While the lack of welcome bonuses at Crypto.Games is certainly a bit of a downside, the operator does give back some value to the players through a series of daily promotions.
The promotions are designed to get players to play different casino games each day, with valuable prizes for all who complete some pretty simple tasks at the tables.
With these promotions, you can get your hands on a nice little coin bonus each day of the week, and enjoy playing a different game every time, while getting something extra for your time and effort.
Deposits & Cashouts at Crypto.Games
Security, speed, and reliability of payment processing are all sensitive topics to online casino players, as there have been many cases in the past where players had problems with this particular segment of some online casinos.
Before we say anything else about payments at Crypto.Games, it is important to note that the operator only accepts deposits in crypto coins, with no fiat currencies or regular payment processors accepted.
That said, you can deposit most major crypto coins into your balance, including:
Bitcoin
Ethereum
Monero
Dash
Ethereum Classic
Bitcoin Cash
Dogecoin
Litecoin
Binance Coin
You can deposit the funds into your account directly from your crypto wallet, or from any of the popular crypto exchanges out there.
Once you request a deposit, your coins will appear in your balance within a minute or two, and you will be ready to go. In the meantime, you can request coins from a faucet to play with.
When it comes to cashouts, the operator allows you to cash out your coins at any time, without much limitation. All withdrawal requests are completed within two minutes, which is record time compared to most other places.
Crypto transactions are extremely safe, which makes all your deposits and withdrawals very secure and makes it impossible for any third party to interfere with your balance.
Security at Crypto.Games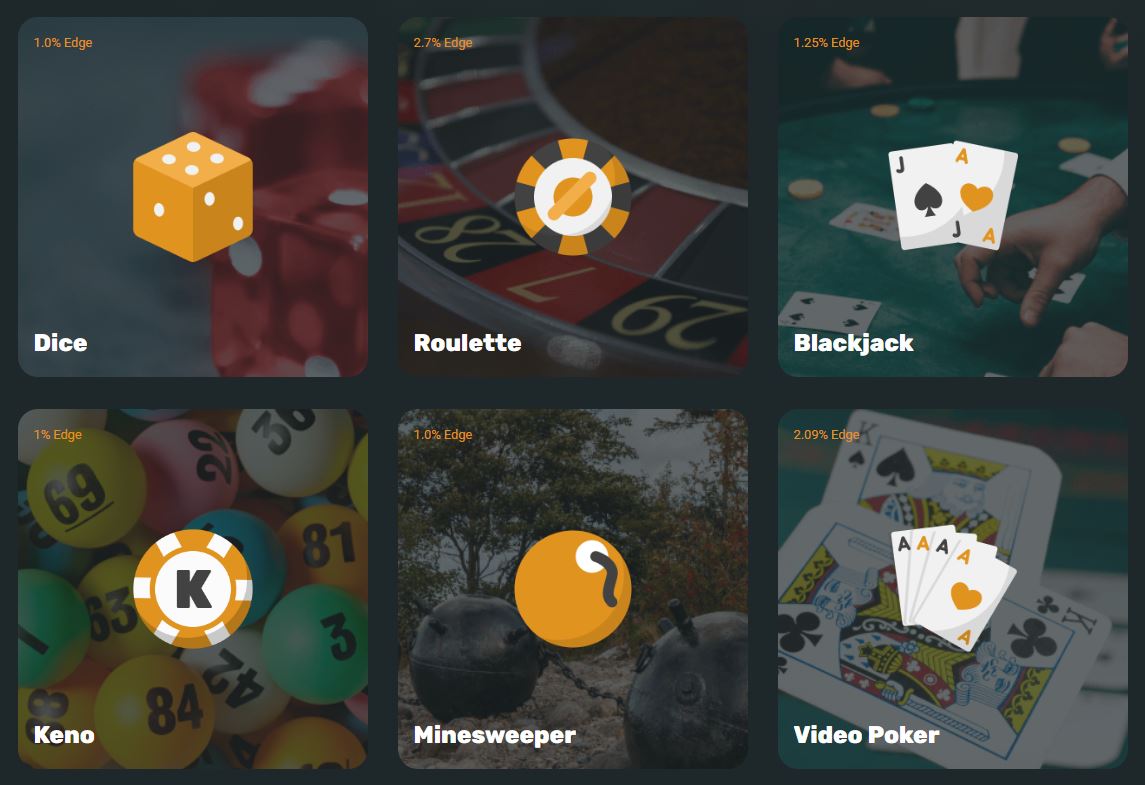 Security is definitely the one department that many players are concerned with when it comes to crypto casinos, as there is a history of such sites going out of commission and leaving player balances unpaid.
Unlike many crypto based casinos, Crypto.Games has an active operating license from Curacao iGaming, which guarantees a degree of security and seriousness from the operator.
The games at Crypto.Games are provably fair, which means you can check the randomness of each game at any time on your own.
Since all cashouts at the casinos are processed so quickly, you are more than able to keep the majority of your coins in your own crypto wallets, and only make deposits when you wish, in order not to feel like your bankroll is at risk.
Based on its history, Crypto.Games has operated with success and without major complaints for a few years now, which is the best credential any online casino could want.
Customer Support at Crypto.Games

Of course, in order to provide players with a high level service, a casino must also be reachable at all times, and Crypto.Games does fairly well in this department as well.
While the answers to all common questions are easily found in the casino's FAQ section, more detailed insights can be gotten from its customer support agents, who are available via the live chat feature 24/7.
The operator is reachable around the clock via both email and live chat, and the support agents are knowledgeable and helpful. The only downside is the fact you can only chat with them in English, which may come as a problem to some international players.
Crypto.Games Conclusion
Compared to a traditional online casino, Crypto.Games may seem a bit different, but the differences are not necessarily for the worse. The limited number of casino games is perhaps the biggest flaw of this casino, but their high RTP rate and simple gameplay compensate for this somewhat.
Crypto.Games processes payments faster than any fiat online casino, but it only accepts crypto coins, again limiting some players from participation.
The lack of a welcome bonus is not ideal, but the daily promotions, VIP membership, and faucets, are all mechanics that add value and compensate for the lack of bonuses.
There are plenty of reasons to try Crypto.Games, and you can do so now with lightning-fast registration, quick deposits and cashouts, and risk-free bets via faucets.
Sign up today to try real money games at Crypto.Games and experience blockchain-based casino gaming!