Arbitrage Betting Basics – How to Secure a Profit When Betting Sports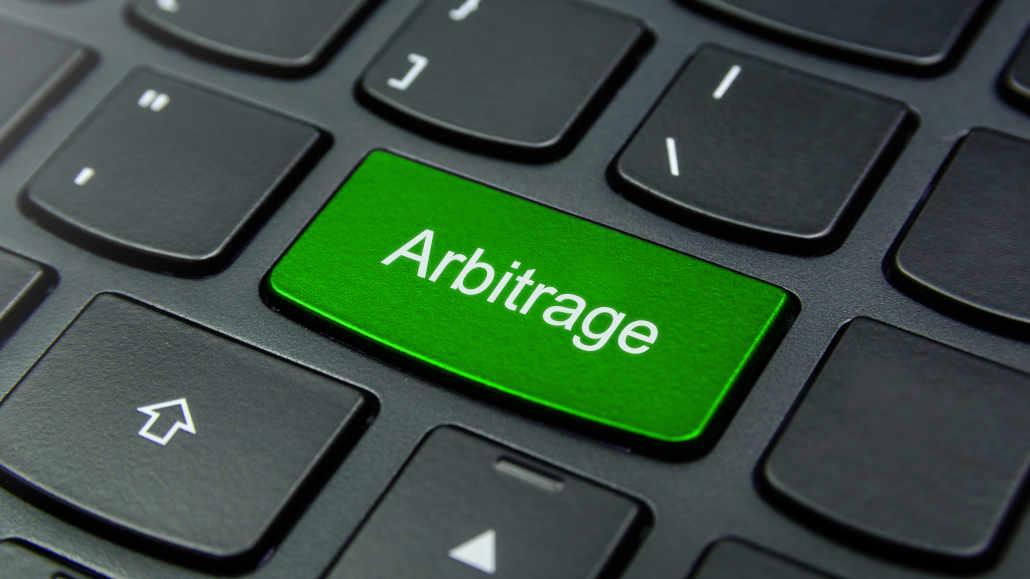 10 minutes
Last Updated: June 15, 2022
Just in the United States, legalized sports betting has grown massively in popularity in 2021, and judging by the latest trends, sports betting will continue to thrive in all other jurisdictions where this activity is legal.
There are many reasons behind the tremendous popularity of sports betting. First of all, the vast majority of individuals involved in standard and arbitrage betting strive to win fast and easy profits.
The effortless way of making profits with arbitrage sports betting and other betting activities naturally appeals to millions of people.
Among sports fans and enthusiasts, sports betting has always been an extremely popular activity and this is not going to change.
Following the introduction of online sports betting sites, the whole sports betting market turned into a multi-billion worth industry.
According to the financial reports from 2020, the global sports betting market generated revenues of over $131 billion.
Experts believe that the global sports betting market will increase by over $106 billion in the next three years. The global sports betting market is expected to grow at a staggering rate of 8.83% in the next six years to generate gains of over $179 billion.
With this being said, the global sports betting industry remains one of the most profitable industries of this kind.
While watching sports is very exciting, wagering on the sports event instantly increases the overall entertainment value.
This leads us to arbitrage betting which may not be as popular as value betting but it remains one of the most powerful betting strategies.
What Is Arbitrage Betting?
Arbitrage betting, also known as arbing, sports betting arbitrage, and sure bets, is one of the most popular betting strategies.
With sports betting arbitrage, sports bettors place multiple real money wagers on the same sports event in order to secure a profit regardless of the result.
In arbitrage betting, a profit comes as a result of different sports betting sites and their differing odds offered on the same sports event.
Arbing, as sports betting arbitrage is called, is when you place multiple wagers on the same outcome on the same sports event.
As you do so, you actually make the most of any mathematical differences that exist between all the different betting odds offered by sports betting sites.
The margin between all different odds is known as an arb, hence the name arbitrage betting.
When utilized correctly with or without using an arbitrage betting calculator, this betting strategy guarantees you a profit even if your lay or back wager losses.
Speaking of your back and lay wagers, in arbitrage sports betting, your back wager must be listed at higher odds than your lay wager.
In order to become a very successful arbitrage bettor, you do not need extensive knowledge about sports since arbitrage betting and the success that naturally comes is all about finding the right winning opportunities.
How Arbitrage Betting Works – Different Types of Arbitrage Bets
The main idea behind arbitrage sports betting is to find betting odds offered by different betting sites with the sum of the outcomes inverse below one.
A small discrepancy between odds offered by different bookmakers is what makes you a profit in arbitrage betting.
Sports betting arbitrage is best understood as a form of hedging since sports bettors place multiple wagers on the same event roughly at the same time.
There are three different types of bets in arbitrage betting and the first two mentioned below are most commonly used.
The first arbitrage option is to place wagers on both sides of the same event at different sites. As previously mentioned, it is crucial that wagers are placed roughly at the same time.
The second option is to place wagers on both sides of the same moneyline option at two or more sports betting sites at the same time.
The third option is to place a wager on the other side once a line moves in your favor following you placing your first wager.
Betting Both Sides on Two Betting Sites at the Same Time
To understand the process better, let's take an example. As explained in the previous section, the first arbitrage betting option presents itself when two bookmakers are offering different odds on the same sports event at the same time.
In this case, an arbitrage bettor places wagers on both sides to get a profit. Let's say you place a wager of $100 on the Toronto Maple Leafs moneyline listed at +110 odds against Edmonton Oilers at a sports betting site. You get $110 if the Toronto Maple Leafs win the game.
At the same time, you need to play a wager on the same game at a different sports betting site. Let's say that the other sports betting sites listed the Toronto Maple Leafs at -105 and the Edmonton Oilers at the same -105 odds.
You can wager $105 on the Edmonton Oilers winning the game. If the team wins, you get $100. You are also guaranteed a break-even or $5 profit.
It should be noted that arbitrage betting opportunities of this kind are generally available when betting on opening lines.
Betting Both Sides on a Moneyline on Two Sports Betting Sites
The second arbitrage betting option is very similar to the first, but instead of wagering on a prop or total, you wager on the moneyline of two teams.
To understand this better, we are using that same Edmonton Oilers/Toronto Maple Leafs example. Let's say that a sports betting site lists the Edmonton Oilers moneyline at -300 and the Toronto Maple Leafs moneyline at +330 on another sports betting site.
To get a profit of $430, you would place a wager of $100 on the Toronto Maple Leafs moneyline. To get the same payout of $430 on the other side, you would bet $322.50 on Edmonton Oilers moneyline listed at -300 odds.
The guaranteed profit, in this case, would be 1.74% or $7.50 based on your total wager of $422.50 and your total payout amounting to $430.
Betting the Other Side When a Line Moves in Your Favor
The third arbitrage sports betting option is the least popular but it should be mentioned. When compared to the two previously mentioned options.
The third one is also the riskiest since there is no way of knowing whether a line will move in your favor or not. The third option is also the least analytical when compared to the two previously mentioned options.
Also, it is very risky to rely on this approach when placing your bet, but if you want to know everything about arbitrage betting, this is something to keep in mind.
To understand this approach better, we will use the same example. Let's say you wager on the Toronto Maple Leafs moneyline listed at -300 odds and the Edmonton Oilers were listed at +250 odds at the same time.
As time goes by, the Toronto Maple Leafs money moves to -400, and the Edmonton Oilers moneyline moves to +350. This creates an opportunity to win a profit as the line just moved in your favor.
Arbitrage Sports Betting – Back and Lay Bets
To understand how arbitrage betting works, we need to examine back and lay bets. The real money wager on a sports event should always be placed on a fixed-odds bookmaker through a retail or online sportsbook.
So, a back bet is where you place a wager on an outcome of a sports event through a fixed-odds sportsbook.
Opposite of back bets are lay bets. A lay bet is when you place a wager of an outcome not happening in an event. You can only place lay bets on sports betting exchange platforms, such as Betadda, 1xBet, 1Win, and 1xBit.
Arbitrage Betting Calculator – Make Sure Your Wagers Are Profitable
The best option to ensure that your sports wagers are profitable is to use an arbitrage betting calculator. An arbitrage betting calculator can make your whole arbitrage betting experience more exciting and rewarding.
Regardless of which arbitrage betting calculator you use, every single one of them does the same. So, you enter the betting odds of at least two bets in order to calculate how much you should wager in order to get a guaranteed profit.
If you get a negative ROI (return of investment), this means that your wager does not guarantee a profit.
You can use an arbitrage betting calculator to calculate profits in both two and three-way betting markets.
Using such tools is the best, completely risk-free approach to arbitrage betting that can guarantee you a profit when used correctly.
Arbitrage Betting – Pros and Cons
Depending on your approach, arbitrage is an excellent strategy to use, but it has its cons. First of all, winning a big sum of money using this approach for the average bettor is not very likely for several reasons.
In addition to profit margins being very small, you need a bigger betting bankroll to place higher bets if you aim for bigger profits. In most cases, you can expect a small profit between 1% and 2% of your total stake.
Secondly, great arbitrage betting opportunities are not easy to find since many sports betting sites list the same odds for many sports events.
In other words, you have to invest a lot of time and effort into finding good arbs and the process is not made any easier since sportsbooks never advertise such betting opportunities.
Even when you find a great arb, you need to be quick to place your bet before the betting odds move.
At the same time, there are many benefits of arbitrage betting and these are the most prominent when using the correct arbitrage betting strategy.
The biggest benefit is earning guaranteed profits and this is something that no other strategy can bring.
However, there is a catch. To ensure generating profits, you need to place arbitrage bets at the right place at the right time, and this alone can be challenging.
Arbitrage betting is also an excellent choice for newbies who plan on making regular bets and are not afraid of a challenge.
Another benefit of this sports betting strategy is the fact that you do not have to be an experienced bettor to win. In addition, you do not have to be an excellent handicapper to ensure guaranteed wins.
With other sports betting strategies, generating regular wins is very tough and just a small portion of sports bettors win on a regular basis.
However, with arbitrage sports betting, you can be a winner if you are good at monitoring betting odds and of course acting quickly.
Even though finding good arbitrage betting opportunities is challenging, many arbs can be found across different sports markets if you look carefully. In fact, there is no shortage of options to make profits using this specific technique.
How to Find the Best Arbitrage Opportunities?
When looking for the best arbitrage betting opportunities, you have three major options. You can look for arbitrage bets by shopping online.
In other words, you open the same sports event at two different sports betting sites and compare their betting odds. You can also use arbitrage betting software when looking for the best betting opportunities.
Many of the best arbitrage betting software programs give you a chance to try them for free for seven or more days.
The best options are OddsBoom which caters to Canadian and American sports bettors, RebelBetting which is very popular in the UK, and OddsJam which is popular in the USA and Canada. The best free options are Surebet and BetBurger.
It should be noted that using these programs for free does not allow you to exploit their full potential. If you want to benefit from all different arbitrage betting options, you need to pay a small price.
When looking for the best arbitrage betting opportunities, you can also use a paid scanner. The best option is KoinKnight.
With paid arbitrage betting scanners, you are expected to make more profit simply because you find arbs faster and you can act fast.
As we know, arbitrage betting is all about finding opportunities and taking advantage of them as fast as possible since they disappear rather quickly!