Fat Soccer Players – Who are the Heaviest and Fattest in the World?
4 minutes
Last Updated: May 31, 2022
Soccer is obviously all about fitness, and physical form can often mean everything for professionals. Stats show remarkable individual and team efforts on the highest levels, but every now and then, there comes a player defying the universal laws of soccer.
You could argue that we are challenging the rules here, but these weight and build exceptions among players could also be proving the general rule with no assumptions whatsoever.
The Examples Are Fewer Nowadays
The ongoing push in competitive soccer over the past couple of decades has seen the game become more physical than ever. This means a dense schedule and straining club and country obligations, as players go above and beyond to produce – with training sessions each and every day.
The talent is undeniable there but is this even more so with fat soccer players? Let's take a look at some of our highlights in search of the fattest soccer player out there!
Adriano
Adriano is a candle that burnt too bright, and while some devastating life events contributed to it, we can freely say his lifestyle saw his career tumbling.
As one of the hottest Brazilian prospects in 2004, Adriano was pivotal for both Inter Milan and the national side. However, his partying and no respect for the training regime soon saw him gaining weight and out of shape as early as 2009.
Adriano had a successful stint at Flamengo afterward but never successfully returned to European soccer or the national team.
Ferenc Puskas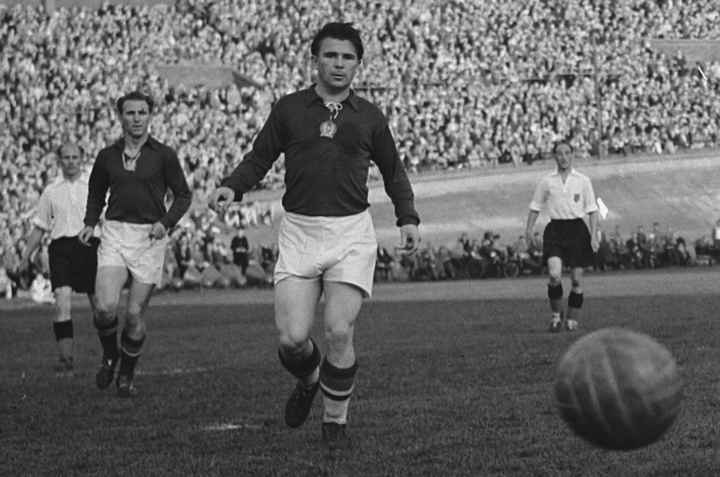 Ferenc Puskas is widely considered the greatest striker of all time and surely the biggest superstar of his time. Puskas scored 514 goals in 530 games, adding 84 in 85 appearances with Hungary.
He was an undeniable and an unstoppable force behind the Mighty Magyars, with his records only to be broken decades later.
However, few now remember Puskas struggled keeping his weight in check and the Hungarian was probably the heaviest soccer player in Real Madrid in 1965/66.
William Foulke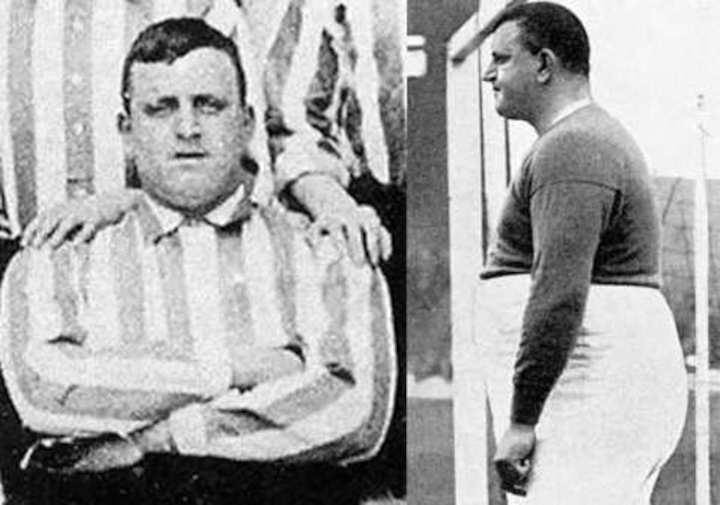 Since we touched base with what feels like ancient history now, it's best to mention William Foulke first. William Foulke is probably the fattest soccer player ever to step foot on the pitch, with reports of him reaching 24 stone towards the end of his career.
Foulke was a goalkeeper best known for his time with Sheffield United but he spent two years with Chelsea as well as a year with Brentford City.
Ronaldo
Ronaldo was simply amazing. There's no going around it, as Il Phenomeno brings a smile to many fans' faces even today.
His speed, technique, and finishing touch were nothing short of phenomenal as he led Brazil to two World Cups despite injury woes that would stop many others.
Ronaldo played for fierce rivals in Barcelona and Real Madrid as well as Inter and AC Milan. However, his years with Rossoneri were overshadowed by new injuries and obvious weight problems before moving to finish his career with Corinthians.
Ailton
Ailton is another Brazilian star earning himself a spot on our list of fat soccer players. He's best known for his time with Werder Bremen, where he scored 88 goals in 169 games and led the side to a Bundesliga title in 2003/04.
Ailton was often emotional in interviews but struggled to keep his night-time trips to the kitchen few, sending his career downhill after a somewhat successful spell with Schalke 04.
Interestingly, Ailton never had a chance to earn a cap for the national side and had a scandal on his hands when Qatar FA tried to pay him €1,000,000 to accept Qatari citizenship.
Tomas Brolin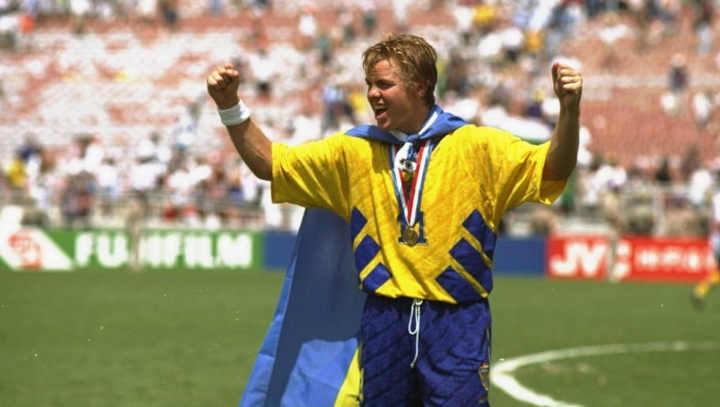 Tomas Brolin had his breakthrough with Parma and won the Cup Winners' Cup as well as the Super Cup in 1993. He went on to enjoy a solid spell with Parma but was unlucky to suffer an injury before Hristo Stoichkov arrived from Barcelona.
Brolin soon moved to Leeds but never really got things going, with stints at Zurich, Parma, and Crystal Palace to follow.
The Swede struggled to cope with injuries and never really got back to the weight or form he enjoyed with Parma. Ultimately, he retired at the age of just 28, mainly because of his health and fitness problems.
Sol Campbell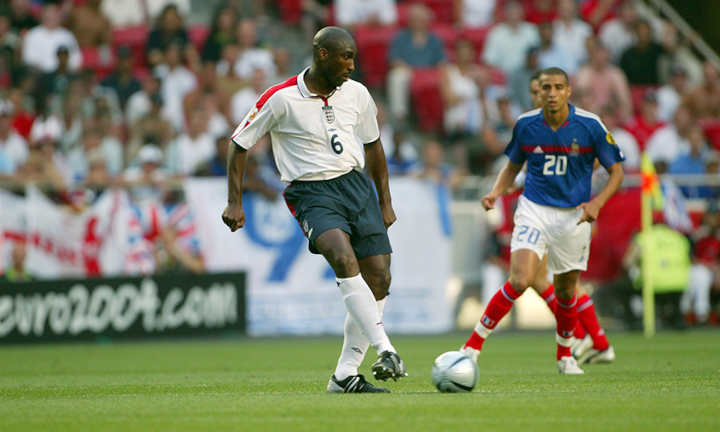 Sol Campbell needs no introduction after two decades in the Premier League, but it's fair to note he failed to end the career on a high, mainly due to his struggles with weight.
Center-backs with his positioning could be forgiven, but Campbell hardly demonstrated much in his second spell with Arsenal or his time with Newcastle in 2010/11.
Interestingly, Sol Campbell showed off his much better shape after he retired, and many were amazed by his figure as he went for managerial and pundit roles, leaving the ranks of fat soccer players.
Adebayo Akinfenwa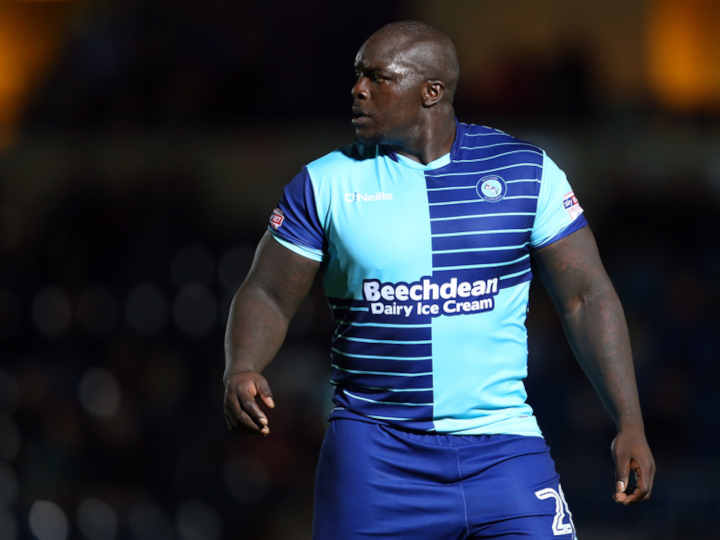 Adebayo Akinfenwa found himself in the spotlight for some of his FA Cup performances, but you could not fail to notice his statue.
At 6 ft 1 in, Akinfenwa boasts a muscular figure and relies on his stature and short passes in his striker role. He currently plays in League Two with Wycombe Wanderers after a successful spell with AFC Wimbledon – scoring 50 goals in 204 appearances since 2016.
Akinfenwa could be the heaviest soccer player around but is also ranked the strongest modern player by many outlets. He is largely famed in online communities for his impressive playing style with his weight.
Andy Reid
With spells at Tottenham, Charlton Athletic, and Sunderland, Andy Reid will surely consider his career successful. Interestingly, Reid reportedly refused moves to Manchester United and Arsenal still in his teens.
He bagged 37 goals in 263 games with Nottingham Forest across competitions. However, many feel Reid would have reached greater heights if it wasn't for his fitness troubles, as he often struggled with his diet and training routine.
Reid made 29 appearances with the Republic of Ireland national team, too, representing his country over a period of ten years from 2003 to 2013.